February 28, 2007
Buck Passers, Puck Passers at Bemidji State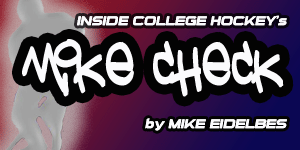 Say this for Bemidji State University president Jon Quistgaard: He's extremely effective at passing the buck, especially when his institution in running short of them.
Earlier this month, Quistgaard announced that the future of the Beavers' men's hockey program lies in its ability to gain membership in the WCHA and raise $2.5 million in pledges over the next 14 months. That the school seeks private funds to boost its athletics programs is no surprise, given the shrinking supply of public dollars for such endeavors. In the same article detailing Quistgaard's plan for the BSU hockey program, the Bemidji Pioneer also reports that school wants to whack $5 million in expenditures from its budget by 2010 and permanently cut $750,000 in athletic department funds.
Pinning the program's survival on admission to the WCHA, however, is the real stroke of brilliance. By linking the program's long-term viability to a future in the WCHA, Quistgaard has effectively washed his hands of any future blame should the BSU hockey program have to drop to the NCAA Division III level or fold altogether.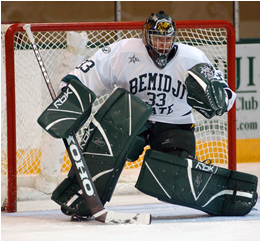 The future of the Bemidji State hockey program appears to lie in the hands of the WCHA.
Say the WCHA denies Bemidji State's application for admission into the conference. Rather than being vilified as the person who set the wheels for BSU's demise in motion upon issuing the ultimatum, he can now point the finger at the league and tell the team's supporters, "Hey, we did everything we were asked to do. But the WCHA said no."
No one can say for certain whether Quistgaard's ulterior motive for announcing the necessity of joining the WCHA is to set himself up for absolution of blame if the hockey program falls victim to budget pressures. It'd be a shame if that were the case, not only because it's disappointing to see Division I programs disappear, but also because Bemidji is a good hockey town and the Beavers have a fine program.
Taking into account the circumstantial evidence, however, it appears as though Quistgaard has laid the groundwork for the demise of Bemidji State's Division I program — while keeping his fingerprints off the corpse.
CRIME AND PUNISHMENT
Last weekend in Denver, Robbie Bina, T.J. Oshie, and Jonathan Toews all suited up for North Dakota's series against the host Pioneers. In Fairbanks, Alaska, meanwhile, Nebraska-Omaha took on Alaska without Adam Bartholomay and Bobby Henderson.
The quintet has more in common that their status as NCAA Division I student-athletes. Within the past month, all five ran afoul of local police for alcohol-related offenses.
Bina is charged with trying to help Oshie and Toews escape a squad car outside a Grand Forks tavern Jan. 28 after police cited the sophomore forwards as minors in a bar. All three entered not guilty pleas in front of a judge earlier this month. Bartholomay and Henderson were cited at a Council Bluffs, Iowa, casino Feb. 4 for public intoxication.
UNO coach Mike Kemp booted Bartholomay, a sophomore, and Henderson, a senior, off the team for the balance of the season just days after the incident for running afoul of a rule that prohibits bringing embarrassment upon the hockey program. And though police last week cleared Bartholomay of all wrongdoing, he remains suspended. Earlier this month, Fighting Sioux coach Dave Hakstol told Kevin Fee of the Grand Forks Herald that disciplinary action for Bina, Oshie, and Toews will be handled privately.
"When it comes to disciplinary action," Hakstol told Fee, "we're not going to see the big car crash or the carnage … out in public."
In one case, the players' punishment was meted out swiftly and harshly. In the other, punishment appears to have been levied in a deliberate, private manner. I have no doubt that Kemp and Hakstol handled the respective matters in a way consistent with previous actions they've taken when presented with similar issues.
That said, Bartholomay and Henderson got off easy. There's no question they embarrassed the UNO program, especially if, as the police report indicates, Henderson said to the arresting officers, "I am a hockey player. I'll get out of this," and "I play for the Mavs, you can't f--- with me." And there's no question UNO misses the contributions of Bartholomay, a productive sophomore defenseman who scored 10 goals and 19 points in 29 games.
But they're gone. The issue is moot.
Because Bina, Oshie, and Toews haven't missed games as punishment for their transgressions — and I'm not saying they should — the prevailing assumption in the court of public opinion is that they're off the hook. Hardly. You want to be these guys this weekend when North Dakota plays at St. Cloud State? You think the Huskies' fans will be on their cases like flies on a field patty the moment the Sioux take the National Hockey Center ice for warm-ups Friday? Think the taunting will be on the blue side? You betcha.
Again, the coaches chose punishments for their players that best suit their programs. And while taking away a student-athlete's privilege to play Division I hockey for any length of time is certainly severe, so is facing the court of public opinion, as Bina, Oshie, and Toews will do this weekend.
LETTERBOX
Normally, this space is reserved for my answers to questions that you, the reader, have lobbed into our inbox. This is a very special Letterbox, however, as I'm running in its entirety an e-mail sent to us by a couple of hockey fans from WCHA country who experienced their first Beanpot earlier this month. This may be the best e-mail INCH has received in its history.
Note: Sprinkled throughout this missive is the term "gay." Please don't view this as some sort of anti-homosexual rant. In the dictionary of everyday vernacular, calling someone or something "gay" has nothing to do with sexual orientation just like referring to someone or something as "retarded" doesn't refer to mental capacity.
Now that we've got that straight, here's the epic Beanpot e-mail from two WCHA fans. And with God as my witness, I didn't write this.
Just got in from my first Beanpot and I have to be honest — this thing really is overrated. Maybe since I'm not from Massachusetts I will never get it but … [h]ere are some thoughts from a first-timer.
BU fans are the gayest bunch of fruit loops I've ever seen at a college hockey game, correction, at any sporting event ever. It was like I was at an Elton John concert whenever they showed BU fans on the Jumbotron. And the jumping up and down ... my good God. Is there mass castration going on at BU? I'm not sure what's up with the soccer-hooligan chanting, either. This is hockey, right? Just a strange experience watching those kids.
The BC kids seemed normal. Not much going on in terms of cheering but they at least kept things under control on the gay-o-meter. Bland is better than blatantly gay, in my opinion.
I was amazed at the amount of crap that goes on in Hockey East and how bad the officiating is. BU scores early, then clutches and grabs for the next two periods trying to sit on the lead. And the refs just let them do it. I [talked to] Ray Ferraro at the game and … he was shocked at how much they let BU get away with trying to sit on a one-goal lead. He said they'd never get away with that in the new NHL. No doubt about it!
Stunt Double

BU coach Jack Parker: Former centerman, straight shooter

VP Dick Cheney: Right winger,
can't control his shot
Even though BU took a lot of penalties, the officials still allowed a ton of obvious penalties go or got the call wrong in the first place. For instance, Gilroy diving in the corner like he was shot from the grassy knoll, or Gerbe getting cross-checked in the face by Morrow. Unreal.
I hear Yip is good, but BU's forwards left a lot to be desired. BC, on the other hand, had several kids that looked fantastic. Boyle was a beast. Gerbe was unreal — no one on the ice is even close to his skill. [It was] a real shame the refs didn't keep penalizing BU. That kid took a pounding, the majority of which were cheap shots! BC's defense is not that good. It took them two periods to figure out how to work with the puck.
Popko was clearly designated as Boyle's shadow and he did a terrible job. The only thing he did was win a lot of face-offs in the first period vs. Boyle. Boyle then went on a massive streak at the face-off dot and they were using him on face-offs exclusively — [they] had him change immediately when his line wasn't out there.
[On] the GWG, however, BU trots out some line. BC has last change and takes Boyle's line off the ice. What follows is the worst coverage ever in hockey face-off history. Game over. Wow. Terrible decision by York. Have to second-guess the decision not to leave Boyle on the ice to get the face-off win. At least he'd have covered the guy if he lost it.
Mike Check Fan Poll
Version 1.4
1. St. Cloud State
2. Notre Dame
3. New Hampshire
4. Minnesota
5. Boston University
6. Clarkson
7. North Dakota
8. Denver
9. Boston College
10. Maine
11. Miami
12. Michigan
13. Michigan State
14. St. Lawrence
15. Vermont
And, as promised, the Mike Check Hobey Baker Memorial Award Fan Poll
1. David Brown, G, Notre Dame
2. Ryan Duncan, F, North Dakota
3. John Curry, G, Boston University
4. T.J. Hensick, F, Michigan
5. Bobby Goepfert, G, St. Cloud State
In the third period and overtime, BC beat BU's brains in. Is BU seriously going to go to the national tourney and BC might not? BU has no business in the national tourney, or with a high ranking in any poll or mathematical system. If they are high up in anything, it's time to rethink the way rankings are done.
A real shame no one was at the consolation game. That's just pathetic and goes to show you how meaningless and overrated this tournament is. If this tourney is so great, this game would mean a lot and people would come to see it. Give me a break about Boston being a hockey town and this tournament being so beloved. Harvard vs. Northeastern and no one is there. Embarassing. Credit to NU students for showing up to their game.
The more BU wins this the more irrelevant the tournament becomes, so it is funny to see them celebrate [it]. BU will be an easy win for someone in the NCAAs.
Here's what my pal and I concluded after going to this "event:" BU's gay fans + BU always winning + BU getting referees help + no one at consolation game = incredibly overrated tournament.
IT'S GOTTA GO SOMEWHERE ...
Edmonton received these notes as part of the Ryan Smyth trade
• On the topic of e-mail missives, I got quite a few responses from people I can only assume are Boston College supporters jumping to Brian Gionta's defense after inferring he was a whining crybaby in the last Mike Check.
Allow me to explain. My thinly veiled reference was neither a blast regarding Gionta's admirable NHL career, nor his skills. Instead, it was a crack at his overtime dive against Michigan State in the 2000 NCAA West Regional. That was the one where he crumpled like the front quarter panel on a Volvo, writhed around on the ice like World Cup soccer player, then returned to the game roughly 10 seconds after play resumed with a Spartan in the penalty box serving a five-minute major. And BC would go on to score the game-winning goal during said power play thanks to one of the of the all-time biggest jakes in college hockey history.
Here's what's really funny about the whole Gionta thing, though. Out of all the e-mails I got calling me a miserable s.o.b. for the jab, none left a return e-mail address. So you pretty much did what I accused Gionta of doing. Way to nut up, Superfan. Next time, I'll include my home address so you can fling paper lunch bags filled with soggy dog poop at my door like Patrick Dempsey's character in "Can't Buy Me Love."
By the way, Gionta's play-dead routine in 2000 had its silver lining for non-BC fans in that it led to the creation of the greatest parody song in college hockey history. Sung to the tune of "What Would Brian Boitano Do?" from the South Park movie, here's the first verse of "What Would Brian Gionta Do?"
What would Brian Gionta do
if he were here right now?
He'd take a dive and slash at you.
That's what Brian Gionta'd do.
I used to have the complete lyrics, but have since lost the file. When I find it — and I will find it — I'll run the song in its entirety, including the part about Gionta and referee Matt Shegos drinking herbal tea.
• Ohio State hosts a first-round CCHA playoff series against Northern Michigan this weekend at OSU Ice Rink, which seats roughly 16,300 fewer fans than does Value City Arena. Seriously, Greg Oden can stand at center ice with his arms outstretched and touch the crossbars on both nets.
The Buckeyes were kicked out of their normal barn because John Markell keeps leaving half-used containers of Bed Head scattered around VCA. Actually, I think it's because of the state girls basketball tournament. Anyway, how'd you like for your team to scratch and claw to get a home series for the first round of the playoffs only to end up playing in a mausoleum? Tough break for the Tree Nuts.
• If you read the small print in the Mike Check Fan Poll box above, I also asked our civilian voters to submit their top three choices for this year's Hobey Baker Memorial Award as a way to take the pulse of the fan.
The truth is, I'm obsessed — no, that's too strong — fascinated with the award this year. It's like trying to figure out the 2008 Presidential race today. The pro- and anti-candidate buzz changes almost daily.
• It was bound to happen: Former Minnesota Duluth and NHL standout Brett Hull, now a talking head on NBC's sporadic NHL broadcasts (seriously, does Dick Ebersol decide which games the network will broadcast that morning?), complained in Wednesday's USA Today that he doesn't get enough air time.
The Meaning-list
Everyone likes lists. Sometimes, the Meaning-List will be relevant to college hockey. Other times it'll be, well, meaningless.
A Wholly Unscientific Listing of the Top Five Underclassmen Likely to Turn Pro in the Off-Season
1. Jonathan Toews, North Dakota: Taken by Chicago with the third overall pick in last year's draft, a number of media types believe Toews will sign with the Blackhawks as soon as North Dakota's season is over.
2. Jack Johnson, Michigan: Yeah, I know he says he's having fun in college and I know the team that holds his draft rights, Los Angeles, stinks. But the Kings desperately need him.
3. Erik Johnson, Minnesota: John Davidson would like the Gopher to stay in St. Louis after the Frozen Four, and when J.D. talks, people listen. At least, they did when he was on CBC's Satellite Hot Stove.
4. Kyle Okposo, Minnesota: He's property of the New York Islanders. Can you imagine if GM Garth Snow convinces free agents-to-be Ryan Smyth and Jason Blake to stay and adds Okposo to the mix? That'd make a pretty good first power-play unit.
5. Andreas Nodl, St. Cloud State: The Phildelphia Flyers hold his rights and they're in a serious rebuilding mode. Plus Nodl, who celebrated his 20th birthday today, is a little older than the average freshman and probably ready to test his game at the next level.