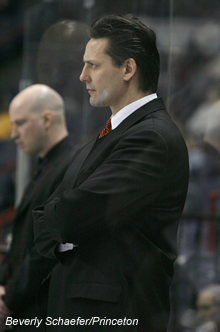 Guy Gadowsky
Princeton
Record: 21-14-0 (14-8-0 ECAC Hockey)
ECAC Hockey Champions
NCAA Tournament Participants
Through the first three years of Guy Gadowsky's head coaching tenure at Princeton, there were sure signs that the program was on the rise. Just how high it would rise, and how quickly, were the unknowns. The Tigers took huge steps forward this season and recently wrapped up the best year in program history.
The indicators were evident in the most essential numbers over the last three years, since Guy Gadowsky became head coach. Princeton increased its win total every year by increasing its offensive production every year and reducing its goals allowed every season. This season featured another huge step forward. The Tigers won a program-best 21 games, an ECAC Hockey playoff championship, and went to the NCAA Tournament for the second time in program history. There, they faced North Dakota and outshot the Sioux 39-18 in a 5-1 loss, in which North Dakota scored two power-play goals and two empty-net goals.
After starting the year with five wins and eight losses in its first 13 games, the Tigers went 16-6-0 over the last 22 contests. Junior forward Lee Jubinville ranked among the nation's top scorers and is a Hobey Baker Memorial Award finalist as well as ECAC Hockey and Ivy League Player of the Year. Senior forward Landis Stankievech is a Rhodes Scholar and said that's an achievement that wouldn't have been possible without being in an atmosphere and on a team that supports it.
Prior to his arrival in the Ivy League and ECAC Hockey, Gadowsky was the head coach of the CCHA's Alaska Nanooks for five years, where he led a similar turnaround for a somewhat dormant program. That progression was cut short when he opted to come on board at Princeton, where he has cultivated a winning team on the ice, balanced with success off the ice and in the community, where Princeton fans are hoping the success will continue, and grow, in the coming years.
Runner-up: Red Berenson, Michigan