May 5, 2009
10 For '10: The Teams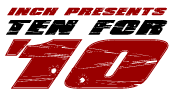 We're only a few weeks removed from the 2009 national championship game, but here at Inside College Hockey we can't resist casting our gaze toward the future. A lot can change between now and the drop of the puck in October, but that doesn't stop our 10 For '10 feature.
We looked at 10 Hobey Baker contenders last week, and this week we take a look at the top 10 teams headed into next season. Coming soon, our thoughts on 10 big questions headed into the upcoming campaign.
No.

Team

Of Note

1.

Miami
2008-09 record: 23-13-5
Key returnees: F Carter Camper, F Pat Cannone, F Tommy Wingels, D Chris Wideman, G Cody Reichard, G Connor Knapp
Key losses: F Justin Mercier, F Brian Kaufman, D Kevin Roeder, D Ray Eichenlaub
Assuming they can put behind them the visage of the final minute of last month's NCAA title game, the RedHawks should enter the 2009-10 season as a prohibitive favorite to return to the Frozen Four. Of the nine players who scored 20 or more points for Miami last season, seven return, led by the prolific Camper. The RedHawks also bring back five of their six defensemen as well as goaltenders Reichard and Knapp, who split time last season before Reichard seized the starting gig for the NCAA Tournament.

2.

Denver
2008-09 record: 23-12-5
Key returnees: F Rhett Rakhshani, F Joe Colborne, F Tyler Ruegsegger, D Patrick Wiercioch, G Marc Cheverie
Key losses: F Tyler Bozak, D Patrick Mullen, D J.P. Testwuide
The Pioneers should be the prohibitive favorite in the WCHA heading into the season, with dynamic forwards Rakhshani and Ruegsegger returning along with Colborne and Wiercioch, both of whom had tremendous rookie seasons. The supporting cast, with leading scorer Anthony Maiani, Kyle Ostrow, Luke Salazar, and Jesse Martin, may be the best coach George Gwozdecky has had at DU. The defensive corps will be the team's primary question mark with the losses of the versatile Mullen and gritty Testwuide.

3.

Boston University
2008-09 Record: 35-6-4
Key Returnees: F Nick Bonino, G Kieran Millan, D Kevin Shattenkirk, D Colby Cohen
Key Losses: F Colin Wilson, D Matt Gilroy, F Chris Higgins, F Brandon Yip, F Jason Lawrence
The defending national champs certainly have some holes to fill, but a number of talented players return and they'll be expected to take on bigger roles. It starts on the blueline, where Hobey Baker winner Matt Gilroy is gone, but five other regular defensemen return for the Terriers including NHL draft picks Kevin Shattenkirk, Colby Cohen, David Warsofsky, Brian Strait and Eric Gryba. Millan backstopped 29 of BU's 35 wins as a freshman.

4.

Minnesota
2008-09 record: 17-13-7
Key returnees: F Jordan Schroeder, D Cade Fairchild, F Jay Barriball, F Mike Hoeffel, G Alex Kangas
Key losses: F Ryan Stoa, F Justin Bostrom, D R.J. Anderson
How can a team that a) didn't qualify for the NCAA Tournament and b) loses its top scorer be tabbed as one of the nation's best heading into the 2009-10 season? Sure, Stoa is a big loss, but Schroeder and Fairchild are exceptional talents and, when he's on his game, Kangas can be a difference maker. Another goal scorer needs to step up -- Hoeffel or Ryan Flynn, perhaps? The most intriguing newcomer is waterbug forward Jacob Cepis, a Bowling Green forward who'll be eligible after Jan. 1.

5.

Notre Dame
2008-09 record: 31-6-2
Key returnees: F Calle Ridderwall, F Kevin Deeth, F Ryan Thang, D Ian Cole, D Kyle Lawson
Key losses: F Erik Condra, F Christian Hanson, F Garrett Regan, G Jordan Pearce
With Ridderwall, Deeth, Thang, Billy Maday, and Ben Ryan back in the fold, the Irish have enough depth up front to make up for the losses of Condra and Hanson, and five of the team's top six defensemen, led by All-American Cole and the steady Lawson, return. The question mark is in goal, where the underappreciated Pearce must be replaced. Sophomore backstop Brad Phillips, who missed all of last season with a knee injury, is the heir apparent.

6.

Cornell
2008-09 Record: 22-10-4
Key Returnees: F Riley Nash, G Ben Scrivens, F Colin Greening, D Brendon Nash
Key Losses: F Evan Barlow, D Jared Seminoff, F Michael Kennedy
The Big Red were less than 20 minutes away from making the Frozen Four in a tie game with Bemidji State in the third period of their regional in March, but things didn't work out. They've got enough talent available to come back and plenty of experience to make another run at ECAC Hockey titles and a Frozen Four trip to Detroit in 2010. Junior-to-be Riley Nash stirs the drink for the Big Red and if he returns, Cornell's top three scorers will be back in the lineup. Goalie Ben Scrivens owns a 1.96 goals-against average, .928 save percentage and 12 shutouts in 79 career starts.

7.

Princeton
2008-09 Record: 22-12-1
Key Returnees: G Zane Kalemba, F Dan Bartlett, F Cam MacIntyre, D Jody Pederson, D Taylor Fedun
Key Losses: F Lee Jubinville, F Brett Wilson, F Brandan Kushniruk
For all that the Tigers have accomplished in the last two years – back-to-back NCAA Tournament appearances and school records for wins each year – skeptics will point to what they haven't done in the big games. They'll be able to count on standout seniors Zane Kalemba, Dan Bartlett, Mark Magnowski and Jody Pederson in the 2009-10 season. A big year from the group that helped make Princeton a national power will help the Tigers reach the next level.

8.

Michigan
2008-09 record: 29-12-0
Key returnees: F Louie Caporusso, F Carl Hagelin, F David Wohlberg, D Chad Langlais, G Bryan Hogan
Key losses: F Aaron Palushaj, F Travis Turnbull, F Tim Miller, D Mark Mitera

Regardless of who comes and goes, it's usually a safe bet to pencil the Wolverines in the top 10. This year is no exception. They lose the graduating Mitera (but Michigan got used to playing without him this past season when he was injured) and Palushaj, who signed with the St. Louis Blues. Which begs the question: Will Caporusso be as effective without the playmaking Palushaj getting him the puck? Wohlberg, who had a terrific freshman campaign, is the likely candidate.


9.

UMass Lowell
2008-09 record: 20-16-2
Key Returnees: F Scott Campbell, F Kory Falite, D Maury Edwards, G Nevin Hamilton, G Carter Hutton
Key Losses: F Mike Potacco, F Mark Roebothan
UMass Lowell was one of the pleasant surprises of the second half last season. They went 12-5-2 after Jan. 16 and return their top seven scorers and both members of a solid goaltending tandem. The key for the RiverHawks is experience – a junior class of 11 will be playing their final seasons of college hockey. Last year's run ended with a loss to Boston University in the Hockey East championship game. The pieces are in place for a stronger run next year and a return to the NCAA Tournament for the first time since 1996.

10.

St. Cloud State
2008-09 record: 18-17-3
Key returnees: F Garrett Roe, F Ryan Lasch, D Garrett Raboin, F Aaron Marvin, G Jase Weslosky
Key losses: F John Swanson, F Michael Olson, F Brent Borgen
Not only did the Huskes not qualify for the NCAA Tournament in 2009, but they also failed to advance beyond the first round of the WCHA playoffs. That shouldn't be a problem this coming season, because SCSU is loaded. Eight of the team's top nine scorers from last season return, led by the prolific Roe and Lasch. The progression of four freshman forwards — Jordy Christian, Jared Festler, Drew LeBlanc, and Travis Novak — is crucial. So, too, is an improved team defense.