April 5, 2010
2009-10 INCH Freshman All-Americans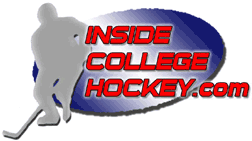 Inside College Hockey is proud to announce its eighth annual INCH Freshman All-America teams. The selections were made by Inside College Hockey editors and staff, with input from media and coaches from around the country.
The INCH All-America teams are not affiliated with those of the American Hockey Coaches Association, which will release its East and West All-Americans this week.
We prefer to see college hockey as a national game — thus our Freshman All-American Team is not divided on regional lines.
INSIDE COLLEGE HOCKEY
2009-10 FRESHMAN ALL-AMERICA TEAM

Joe Howe
Colorado College
Goaltender

Statistics: 17-15-3, 2.80 GAA, .907 sv%.

Thrust into the workhorse role early in the season, Howe's rookie numbers mirrored those his predecessor, Richard Bachman, posted in his final season before turning pro. Howe played 20 more minutes than Bachman, making 10 fewer saves while facing three fewer shots, but also earning three more wins.

Matt Donovan
Denver
Defenseman

Statistics: 36 GP, 7-14—21

The rugged blueliner from that hockey hotbed of Edmond, Okla., quickly established himself as the Pioneers' most versatile defender. He led DU rearguards with seven goals and really came on strong during the second half of the season, scoring 14 of his 21 points in a two-month span between Jan. 22 and March 20.

Chris Tanev
RIT
Defenseman

Statistics: 40 GP, 10-18—28

Tanev is the latest in a long line of offensive-minded defensemen at RIT, joining the likes of Dan Ringwald and Al Mazur in that role. The 6-2, 185-pound Toronto native did most of his damage in even-strength situations — he scored just two power-play goals — and he was whistled for a total of four penalty minutes all season.

Jerry D'Amigo
Rensselaer
Forward

Statistics: 35 GP, 10-24—34

He gained a ton of noteriety for his play at the World Junior Championship for the gold medal-winning U.S. team, but D'Amigo was a model of consistency for the Engineers. He really hit his stride upon his return from the WJC, scoring five goals and 18 points in 11 games from Jan. 10 to Feb. 19.

Stephane DaCosta
Merrimack
Forward

Statistics: 34 GP, 16-29—45

The simplest measure of DaCosta's impact is that he made everyone around him better. He had 29 assists for the Warriors, who scored 109 goals this season, up from 72 a year ago. And, as evidenced by his 16 goals, he's more than just a playmaker.

Danny Kristo
North Dakota
Forward

Statistics: 41 GP, 15-21—36

Is it a coincidence that North Dakota's late-season surge and Kristo's offensive explosion occurred at exactly the same time? Perhaps, but the fact remains that the Fighting Sioux went on 12-1-0 run that ended with a win against St. Cloud State in the WCHA playoff championship game, and Kristo had seven goals and nine assists during that span.