Setpember 29, 2009
Recruiting Trail: Top 20 Forwards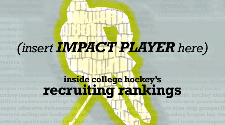 Previous Top Forwards
2008: Jordan Schroeder, Minnesota
2007: Kyle Turris, Wisconsin
2006: Kyle Okposo, Minnesota
2005: Phil Kessel, Minnesota
2004: Travis Zajac, North Dakota
2003: Brady Murray, North Dakota
The seventh installment of the Inside College Hockey Recruiting Rankings is historic in that, for the first time ever, the No. 1 spot on the list of forwards does not belong to a WCHA freshman. That honor is bestowed upon Harvard's Louis Leblanc, last season's USHL Rookie of the Year and the first-round pick of the Montreal Canadiens in the NHL Entry Draft this past summer.
Of the top 20 forwards in our rankings, six are WCHA rookies, five are from the CCHA, and Hockey East and ECAC Hockey each have four skaters mentioned. USHL alums comprise six of the 20 spots in this year's rankings; five hail from the U.S. National Team Development Program.
Inside College Hockey compiled its 2009 Recruiting Rankings with extensive input from college coaches as well as professional scouts. Participants were asked to evaluate recruits based on their projected impact at the college level, not on their professional hockey prospects.
Also: Top 20 Defensemen | Top 10 Goalies
Name

School
Last Team

Louis Leblanc

Harvard
Omaha (USHL)

The pressures of balancing the rigors of an Ivy League education and athletics is nothing compared to being a Montreal kid selected in the first round by Les Habitants.

Kyle Palmeiri

Notre Dame
U.S. NTDP

NHL Central Scouting compared Palmeiri, who was taken by Anaheim in the first round of the 2009 NHL Draft, to Chris Drury. Bonus note: His godfather is former New York Met Bud Harrelson.

Chris Kreider

Boston College
Phillips Andover (Mass.) Academy

The Eagles have had their share of fleet-footed forwards, but Kreider—who some believe was the fastest skater in the 2009 NHL Draft pool—has a 6-foot-2, 200-pound frame to go with those wheels.

Riley Sheahan

Notre Dame
St. Catherines (GHJHL)

A possible first-round pick in the 2010 NHL Draft, Sheahan is a former junior teammate of Michigan State's Daultan Leveille, who appeared on this list last season.

Drew Shore

Denver
U.S. NTDP

Shore, who hails from the Denver suburb of Englewood, scored 49 points in 62 games for the U.S. National Team Development Program last season.

Mike Cichy

North Dakota
Indiana (USHL)

Cichy skyrocketed into the top half-dozen on our list; panelists were impressed with his efforts in leading Indiana to the USHL playoff championship.

Andrew Miller

Yale
Chicago (USHL)

The Bloomfield Hills, Mich., native was the USHL Player of the Year, USHL Forward of the Year, and USA Hockey Junior Player of the Year for 2009.

Danny Kristo

North Dakota
Omaha (USHL)

Is everyone one this list a Canadiens prospect? Kristo, like Cichy and Leblanc, is property of the CH. He slid on our list due to questions about his hockey sense.

Jerry D'Amigo

Rensselaer
U.S. NTDP

D'Amigo was the leading scorer for the U.S. team that captured the gold medal at the 2009 Under-18 World Championships in Fargo, N.D., last spring.

Steve Whitney

Boston College
Lawrence (Mass.) Academy

Steve joins older brother, Joe, in the Eagles' lineup. He'd do well to emulate his brother's rookie campaign two seasons ago—11 goals, 50 points, and an NCAA title.

Craig Smith

Wisconsin
Waterloo (USHL)

Brandon Pirri

Rensselaer
Georgetown (OJHL)
Ben Hanowski
St. Cloud State
Little Falls (Minn.) H.S.

Alex Chiasson

Boston University
Des Moines (USHL)

Kenny Ryan

Boston College
U.S. NTDP

Curtis McKenzie

Miami
Penticton (BCHL)

Derek Grant

Michigan State
Langley (BCHL)

Chris Brown

Michigan
U.S. NTDP

Zach Budish

Minnesota
Edina (Minn.) H.S.

Eric Delong

Sacred Heart
Portage (MJHL)