April 4, 2011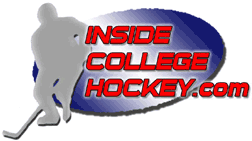 2010-11 INCH All-Americans
Inside College Hockey is proud to announce its ninth annual INCH All-America teams. The selections were made by Inside College Hockey editors and staff, with input from media and coaches from around the country.
The INCH All-America teams are not affiliated with those of the American Hockey Coaches Association, which will release its East and West All-Americans later this week.
We prefer to see college hockey as a national game—thus our first-, second-, and third-team All-Americans are not divided on regional lines.
INSIDE COLLEGE HOCKEY
2010-11 ALL-AMERICA FIRST TEAM

Aaron Dell
North Dakota
Sophomore
Goaltender

Statistics: 30-6-2, 1.81 GAA, .924 sv%

He might have started the season as an afterthought, but Dell had the most prominent goaltending season of the year among all Division I netminders, leading the nation with a 1.81 goals-against average and backstopping the Sioux to a 30-6-2 record and a Frozen Four berth.

Brian Dumoulin
Boston College
Sophomore
Defenseman

Statistics: 37 GP, 3-30—33

The leading point-getter from the blueline in Hockey East was also the winner of the conference's Defensive Defenseman of the Year award. Dumoulin really hit his stride over the final two-thirds of the season, scoring 29 of his 33 points in the Eagles' last 24 games.

Justin Schultz
Wisconsin
Sophomore
Defenseman

Statistics: 41 GP, 18-29—43

Schultz led NCAA defensemen in goals (18) and points (47) this season and ranked tied for fifth in the WCHA in scoring. There may be no player in the country with a deadlier shot—one of every six shots Schultz fired on target this season ended up in the back of the opposing net.

Cam Atkinson
Boston College
Junior
Forward

Statistics: 39 GP, 31-21—52

Atkinson may have been the most consistent player in college hockey in terms of offensive production—he had 15 goals and 11 assists in the first half of the season and 16 goals and 10 assists in the second half, and was held scoreless in back-to-back games on just one occasion.

Matt Frattin
North Dakota
Senior
Forward

Statistics: 43 GP, 36-24—60

The nation's leading goal-scorer led North Dakota to the WCHA regular-season and postseason titles. The Fighting Sioux are 24-2-2 when Frattin, the WCHA Player of the Year, scores a goal. He heads into the Frozen Four with a 15-game point streak, scoring 16 goals and 14 assists during that span.

Andy Miele
Miami
Senior
Forward

Statistics: 39 GP, 24-47—71

Miele's 71 points are the most by a collegian since 2002-03 and his numbers down the stretch were otherworldly—before being held scoreless in the RedHawks' East Regional loss to New Hampshire, he had a 17-game point streak during which he scored 14 goals and added 24 assists.
INSIDE COLLEGE HOCKEY
2010-11 ALL-AMERICA SECOND TEAM

Pos.
Player
School
Year
Statistics
G
Shane Madolora
RIT
So.
17-3-7, 1.93 GAA, .935 sv%
D
Danny Biega
Harvard
So.
34 GP, 11-19—30
D
Chay Genoway
North Dakota
So.
35 GP, 6-31—37
F
Jack Connolly
Minnesota Duluth
Jr.
40 GP, 17-41—58
F
Chase Polacek
Rensselaer
Sr.
38 GP, 21-27—48
F
Paul Thompson
New Hampshire
Sr.
39 GP, 28-24—52

INSIDE COLLEGE HOCKEY
2010-11 ALL-AMERICA THIRD TEAM

Pos.
Player
School
Year
Statistics
G
Keith Kinkaid
Union
So.
25-10-3, 1.99 GAA, .920 sv%
D
Matt Donovan
Denver
So.
41 GP, 9-23—32
D
Jake Gardiner
Wisconsin
Jr.
41 GP, 10-31—41
F
Carl Hagelin
Michigan
Sr.
42 GP, 18-30—47
F
Brian O'Neill
Yale
Jr.
36 GP, 20-26—46
F
Reilly Smith
Miami
So.
39 GP, 28-26—54