April 15, 2012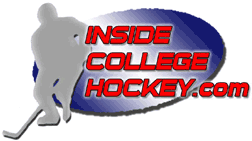 2011-12 INCH All-Americans
Inside College Hockey is proud to announce its tenth annual INCH All-America teams. The selections were made by Inside College Hockey editors and staff, with input from media and coaches from around the country.
The INCH All-America teams are not affiliated with those of the American Hockey Coaches Association, which released its East and West All-Americans earlier this month.
We prefer to see college hockey as a national game—thus our first-, second-, and third-team All-Americans are not divided on regional lines.
INSIDE COLLEGE HOCKEY
2011-12 ALL-AMERICA FIRST TEAM

Shawn Hunwick
Michigan
Senior
Goaltender

Statistics: 24-12-3, 2.00 GAA, .932 sv%, 5 shutouts

A former walk-on thrust into the starter's role two seasons ago, Hunwick was the Wolverines' linchpin this season, especially during the last two thirds of the season as Michigan pushed its way toward the top of the CCHA standings, earning a No. 1 seed in the NCAA Tournament along the way.

Brian Dumoulin
Boston College
Junior
Defenseman

Statistics: 44 GP, 7-21—28, +27

An INCH first-team All-American last season, Dumoulin had five fewer points than one year ago but scored four more goals and, more importantly, helped the Eagles to the national championship for the second time in his career. In BC's 33 wins, he had an impressive plus-minus rating of +36.

Torey Krug
Michigan State
Junior
Defenseman

Statistics: 38 GP, 12-22—34, +21

The CCHA Player of the Year, Krug posted 34 points in 38 games, including a seven-game stretch from late January through mid-February in which he scored 13 points as Michigan State went 5-2-0 and solidified its place in the CCHA standings. He helped the overachieving Spartans to the team's first NCAA Tournament berth since 2008.

Spencer Abbott
Maine
Senior
Forward

Statistics: 39 GP, 21-41—62, +14

Filling the void left by Gustav Nyquist's departure, Abbott, the nation's leading scorer, sparked Maine's return to the NCAA Tournament after a four-year hiatus. Abbott also paced the country in assists and was a primary reason the Black Bears sported the seventh-best offensive output in the NCAA.

Jack Connolly
Minnesota Duluth
Senior
Forward

Statistics: 41 GP, 20-40—60, +20

While he didn't lead the Bulldogs to a second straight national title, he did become the fifth UMD player to win the Hobey Baker Award. He had at least one point in 35 of the Bulldogs' 41 games, including an impressive 22-game point streak during which he scored 15 goals and 23 assists.

Austin Smith
Colgate
Senior
Forward

Statistics: 39 GP, 36-21—57, +25

Scoring goals is the hardest thing to do in hockey, but not for Smith, who led the country with 36 goals, including 29 while the Raiders had equal or fewer players on the ice as the opponent. He was also remarkably consistent throughout the year; his longest streak without scoring a goal was two games.
INSIDE COLLEGE HOCKEY
2011-12 ALL-AMERICA SECOND TEAM

Pos.
Player
School
Year
Statistics
G
Troy Grosenick
Union
So.
22-6-3, 1.65 GAA, .936 sv%, 5 shutouts
D
Danny Biega
Harvard
Jr.
34 GP, 10-25—35, +14
D
Justin Schultz
Wisconsin
Jr.
37 GP, 16-28—44, +11
F
Alex Killorn
Harvard
Sr.
34 GP, 23-23—46, +12
F
Jaden Schwartz
Colorado College
So.
30 GP, 15-26—41, +6
F
Reilly Smith
Miami
Jr.
39 GP, 30-18—48, +26

INSIDE COLLEGE HOCKEY
2011-12 ALL-AMERICA THIRD TEAM

Pos.
Player
School
Year
Statistics
G
Taylor Nelson
Ferris State
Sr.
21-7-3, 2.10 GAA, .924 sv%, 3 shutouts
D
Chad Billins
Ferris State
Sr.
42 GP, 7-22—29, +11
D
Tim Kirby
Air Force
Sr.
39 GP, 12-16—28, +10
F
Nick Bjugstad
Minnesota
So.
40 GP, 25-17—42, +21
F
Brock Nelson
North Dakota
So.
42 GP, 28-19—47, +18
F
Jeremy Welsh
Union
Jr.
40 GP, 27-17—44, +18