April 15, 2012
2011-12 INCH Freshman All-Americans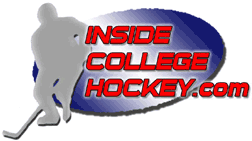 Inside College Hockey is proud to announce its tenth annual INCH Freshman All-America teams. The selections were made by Inside College Hockey editors and staff, with input from media and coaches from around the country.
The INCH All-America teams are not affiliated with those of the American Hockey Coaches Association, which released its East and West All-Americans earlier this month.
We prefer to see college hockey as a national game—thus our Freshman All-American Team is not divided on regional lines.
INSIDE COLLEGE HOCKEY
2011-12 FRESHMAN ALL-AMERICA TEAM

Frank Slubowski
Western Michigan
Goaltender

Statistics: 17-11-4, 2.03 GAA, .911 sv%, 3 shutouts

Slubowski quickly assumed the No. 1 goaltending gig for the Broncos and backstopped them to their first CCHA playoff title since 1986 and a second straight NCAA Tournament appearance, making coach Andy Murray's inaugural season in Kalamazoo a memorable one.

Shayne Gostisbehere
Union
Defenseman

Statistics: 41 GP, 5-17—22, +18

On a team with loads of firepower, Gostisbehere emerged as another weapon as the Dutchmen won both the ECAC Hockey regular-season and playoff championships and earned the school's first-ever trip to the Frozen Four. Union was 16-1-2 in games in which he scored at least one point.

Joey LaLeggia
Denver
Defenseman

Statistics: 43 GP, 11-27—38, +13

LaLeggia was expected to produce a lot of points for the Pioneers during his rookie season, and he didn't disappoint. With 11 goals and 38 points, LaLeggia had the best offensive output by a DU rearguard since Matt Carle's 53 points in his Hobey-winning season of 2005-06.

Johnny Gaudreau
Boston College
Forward

Statistics: 44 GP, 21-23—44, +20

The nation's highest-scoring freshman, Gaudreau gave the country a glimpse of his immense talent with the game-clinching goal he scored against Ferris State in the national championship game. In Boston College's final 20 games, Gaudreau netted 14 goals and 14 assists.

Kyle Rau
Minnesota
Forward

Statistics: 40 GP, 18-25—43, +23

The Golden Gophers enjoyed a resurgence this season, and with youngsters like Rau in the fold, it's likely to continue. Rau got off to a quick start with 15 points in his first 10 games, and he led the WCHA regular-season champs with 9 power-play goals and 6 game-winners.

Scott Wilson
UMass Lowell
Forward

Statistics: 37 GP, 16-22—38, +12

The River Hawks' revival was one of the pleasant surprises of the past season, and Wilson had a major role in the turnaround. The Hockey East rookie of the year scored 38 points in 37 games—28 points in 26 league games. UML was 19-4-1 in games in which he scored at least one point.
INSIDE COLLEGE HOCKEY
2011-12 FRESHMAN ALL-AMERICA SECOND TEAM

Pos.
Player
School
Year
Statistics
G
Juho Olkinuora
Denver
Fr.
9-8-3, 2.18 GAA, .924 sv%, 1 shutout
D
Andrew Prochno
St. Cloud State
Fr.
38 GP, 5-24—29, +11
D
Trevor van Riemsdyk
New Hampshire
Fr.
37 GP, 4-15—19, +7
F
Austin Czarnik
Miami
Fr.
40 GP, 10-27—37, +25
F
Alex Grieve
Bentley
Fr.
39 GP, 15-19—34, +16
F
Alex Guptill
Michigan
Fr.
41 GP, 16-17—33, +14