September 30, 2008
2008-09 Atlantic Hockey Preview
By Ken McMillan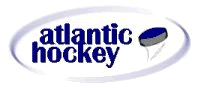 THE SKINNY
For two seasons running, the champions of Atlantic Hockey reside high in the Rocky Mountains.
Air Force has proven it does not need to win the regular-season title in order to win the tourney title and automatic berth into the NCAA tournament. The Falcons won as a No. 4 seed in 2007 and as a No. 3 seed in 2008, the first time a team has repeated in the league's short history.
The Falcons are the favorites to repeat as champion, returning most of their lineup, including stone-cold playoff netminder Andrew Volkening, who prevailed in a double-overtime thriller over Mercyhurst in the 2008 finale.
Jeff Hajner shared the team scoring lead at Air Force last season. The Falcons return 93 percent of their offensive production from last season.
Mercyhurst has a stacked lineup and is the coaches' pick for second. Rochester Institute of Technology lost some crucial offensive pieces – including league scoring champion Simon Lambert – but is still in good shape. Likewise for Sacred Heart, which must first find a way to replace Alex Parent and then find a way to win in March. Defending regular-season champion Army must find a way to replace 12 players, but the Black Knights do have some talent to work with.
As the league celebrates its fifth birthday (or tenth, if you count the Metro Atlantic Athletic Conference days), there isn't much change in the power structure of the league. All 10 head coaches return, and the league has decided to extend two major contracts: the league tourney will be hosted by Rochester's Blue Cross Arena through 2010, and the B2 Networks will webcast all league games.
Ten of the league's 18 all-stars will return, including All-American goalie Josh Kassel from Army. All-star teammates Zach McKelvie and Owen Meyer are also back.
Other all-stars back in the fold are defensemen Dan Ringwald and Bobby Raymond of Rochester Institute of Technology and Greg Flynn of Air Force, forwards Bear Trapp of Sacred Heart and Brodie Sheahan of Holy Cross and goalies Beau Erickson of Connecticut and Joe Calvi of Bentley.
BREAKTHROUGH TEAM
Canisius finished only three points out of first place in 2004-05. Roster losses, a bit of off-ice troubles and a coaching change dropped the Golden Griffins into the bottom half of the league in the years following. Head coach Dave Smith brought in some new talent, and the Griffs used points in seven of eight contests at mid-season to slowly climb the ranks to sixth place.
Goalie Andrew Loewen had the hot hand for stretches, and freshman Vincent Scarsella put up nine goals and 22 assists on the way to winning rookie of the year honors. The Griffs return nine of their top 11 scorers from last season, and have some promising recruits coming aboard.
Yes, Canisius tends to play a rugged game but if the Griffs can cut down on the trips to the penalty box, they will cause problems throughout the league.
PRIMED FOR A FALL
Army's best hope for an NCAA tourney berth came and went when Mercyhurst eliminated the regular-season champs with a crushing semifinal loss. The Black Knights were a senior-ladened lineup and it showed on the ice. Twelve seniors are moving on, and coach Brian Riley joked recently that he doesn't recognize the team he's putting on the ice this season.
Riley saw the same thing happen to him when he took over the team from older brother, Rob, four years ago. The Black Knights are probably in better shape for upheaval than they were in 2004 because they still have the league's top goalie in All-American Josh Kassel, a dominant forward in Owen Meyer, an all-star defenseman in Zach McKelvie and a tremendous sophomore in Cody Omilusik.
PRESSURE TO PERFORM
Sacred Heart is the only Atlantic Hockey team to finish in the top five in all five seasons of Atlantic Hockey play. What do the Pioneers have to show for it? Nada, bupkis, zero playoff titles. The Pioneers lost to Holy Cross in the 2004 finals, and have been nothing but unimpressive in the postseason ever since, losing in the 2005 and 2006 quarterfinals, a 2007 semifinal and 2008 final-five game.
How much longer can coach Shaun Hannah keep the Pioneers in the title hunt? At least for another season or two. Sacred Heart graduated Alex Parent and a solid defenseman in Scott Marchesi but the rest of the lineup remains intact. Bear Trapp is primed to re-write the league's career scoring records, Eric Giosa is another solid senior forward and the Pioneers have three productive junior forwards in Dave Jarman, Erik Boisvert and Nick Johnson.
Come March, though, this team has to find a way to produce in the playoffs.
TOUGHEST ACT TO FOLLOW
RIT pushed Army to the final weekend of the season before settling for second place. Then both the Tigers and Black Knights got ousted in the Atlantic Hockey semifinals. Like Army, RIT loses some big pieces to the puzzle, not least of which are leading scorers Simon Lambert and Matt Smith. In all, RIT loses seven seniors accounting for 741 career games, 184 goals and 266 assists.
All is not lost, though. The Tigers return 10 players who produced double-digit points, and RIT remains strong on the defensive end with the likes of blue liners Dan Ringwald, Al Mazur and netminder Louis Menard. Ritter Arena remains one of the best home-ice advantages in the league.
BEST PLAYER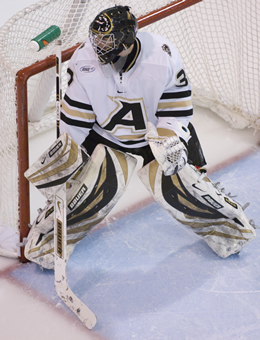 Josh Kassel emerged from the end of the Army bench and became one of the nation's top goaltenders last season.
Army's Josh Kassel was the most pleasant surprise of last season – and an embarrassment for coach Brian Riley. Riley gave Kassel just one look as a freshman and nothing more. Kassel has since taken his team to the Atlantic Hockey finals and to the school's first regular-season championship. Oooops.
Kassel posted the nation's fourth-best goals against average (1.92), the tenth-best save percentage (.925) and earned 18 victories. He's re-writing the Academy record books for netminders, and another strong season is not out of the question, though he will have to shoulder a bit more of the defensive burden with a younger blue-line corps.
BEST NEWCOMERS
This is a tough call in Atlantic Hockey. There are no NHL draftees coming aboard, and just one Division I transfer by my count. There are some junior hockey all-stars coming aboard, but they hail from some of the lesser-known circuits throughout North America.
Canisius has brought in goalie Dan Morrison, the MVP of the Midwestern Junior League in Elmira. The Griffs also signed centerman Adam Brace from Pembroke, a first-team Central Ontario League first-teamer.
Holy Cross recruit Matt Gordon, a center, put up 40 goals and 108 points with Smiths Falls of the Central Ontario League, and is a two-time third-team all-star. Army defenseman Marcel Alvarez was a first-team Central Ontario all-star from Brockville. Air Force defenseman Mark Williams was a third-team Central Ontario pick from Cornwall.
Sacred Heart has signed center Matthew Gingera, who put up 66 goals and 111 points for the Winnipeg Saints of the Manitoba Junior Hockey League. Left winger Scott Knowles has signed with RIT. He produced 26 goals and 90 points for Surrey in the British Columbia league.
UNSUNG PLAYER
Dain Prewitt of Bentley has been overshadowed just a bit in each of his first three seasons. The forward has finished second in team goal scoring each campaign. He has raised his production from 11 goals to 13 and then 15 last season. Prewitt has proven himself when it counts, scoring four game-winners, 11 goals on the power play and five in short-handed situations.
BURNING QUESTIONS
1. Will the top seed actually win the Atlantic Hockey tournament? Three out of five seasons, the regular-season champ (or No. 1 playoff seed in 2007) has failed to win the post-season tournament.
2. Is expansion in the future? So far, league officials say no, but the shaky standing of College Hockey America will always leave Atlantic Hockey as a potential liferaft.
MARK IT DOWN
Three things you can take to the bank in Atlantic Hockey this season
• Bear Trapp will set the Atlantic Hockey record for career points. Trapp needs 25 goals for the all-time goals mark, so that looks like it will be out of reach. He needs 28 assists for the all-time assists mark and 36 points for the all-time points mark, well within reach for the three-time 40-point scorer.
• Goal production could take a dip with the return of every starting netminder. Nine of ten starters produced goals against averages under 3.00 and nine of ten stopped more than nine of ten shots fired at them.
• Sadly, American International will finish last for the sixth season in a row. The Yellow Jackets lost a lot of senior leadership and critical points.
Predicted Finish

No.

School
Of Note

1.

Air Force
The two-time defending tourney champs return 93 percent of their offense, and the best money goalie in the league in Andrew Volkening. Advantage: Falcons.

2.

Mercyhurst
The Lakers were just one shot away from the NCAA tournament. Ben Cottreau is gone but everyone else is back.

3.

RIT
As long as Rochester remains host to the Atlantic tourney (through 2010), the Tigers remain the sentimental favorite for the home crowd.

4.

Sacred Heart
The Pioneers have the offensive firepower, but need to tighten up the D to go deep into March.

5.

Army
The Black Knights must replace 12 seniors and half of their offense but there is still enough talent to stay in the top division.

6.

Holy Cross
The Crusaders lose 10 seniors but return seven of their top nine point getters and two young goaltenders.

7.

Canisius
The Griffins will tickle .500 in league play if they can stay out of the penalty box and ride some young talent.

8.

Bentley
The Falcons return their top nine point scorers. Fill a few holes on defense and Bentley will be formidable.

9.

Connecticut
The Huskies showed a bit of life at the end of the season but this team remains very young.

10.

American International
AIC has improved its win total each of the past four seasons but the Yellow Jackets will have a tough time replacing seven seniors and 41 goals from a starving offense.