October 2, 2008
2008-09 CCHA Hockey Preview
By James V. Dowd

THE SKINNY
The coaches say Notre Dame and the media says Michigan, but everyone agrees there's not much difference between the natural rivals in the upcoming season's race for the CCHA title. The two teams have lost just four and three regulars from last year's Frozen Four squads, respectively, and with two college hockey coaching legends behind the benches, it's hard to imagine either squad faltering.
There is, however, a small twist to this year's campaign: the shootout.
Ever aiming to be a pioneer in opening up the game for skill players and making it more exciting for the fans, CCHA Commissioner Tom Anastos was the first leader to jump at the chance to prevent teams from kissing their sisters when the NCAA rules committee made the shootout available this past offseason.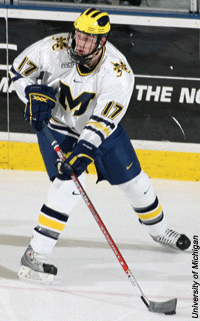 Defenseman Mark Mitera posted a plus-minus rating of +30 last season for Michigan, which won both the CCHA regular-season and playoff titles.
Many of the league's coaches voted against the idea, concerned that each extra point earned in a shootout would have a proportionately larger effect on the standings in the 28-game conference season than the 82-game NHL marathon, and that it might cost their team a chance at the regular-season championship or home ice for a given round in the CCHA playoffs. But most everyone agrees that ties need to go, and without an efficient alternative like there is available in football and basketball, it's the only viable method to guarantee that someone goes home a winner.
While the results of a shootout won't factor into the Rating Percentage Index and NCAA tournament selection process directly, there's a good chance the results may just be the difference between Michigan and Notre Dame — both would have been faced four shootouts last year. Factor in that the fifth through eighth seeds in last year's CCHA standings were separated by just two points, and playoff matchups, and therefore results, may have changed considerably.
What'll the impact be? Hard to say, but it'll make an already compelling CCHA race even more intriguing.
BREAKTHROUGH TEAM
Northern Michigan opened some eyes last year with an extended run in the conference tournament that was kept alive by an overtime upset at Michigan State and culminated with a win over Notre Dame in the third-place game. While they won't exactly sneak up on people this year — the coaches ranked them fourth and the media fifth — a strong start could throw the 'Cats into the championship mix.
Sophomore Mark Olver is a dynamic puck handler who might be the league's best player if he stays healthy, and he has a strong supporting cast with nine of the team's top ten scorers returning. Rearguard Erik Gustafsson contributed 27 assists last year and plays an important role in spreading puck throughout the offensive zone and in the transition game. Combine that with reliable netminder Brian Stewart, and the Wildcats should be making noise throughout the season rather than just in February and March.
PRIMED FOR A FALL
Miami was one of the nation's top teams throughout all of last year, and was an overtime goal away from knocking off eventual national champion Boston College in the NCAA Northeast Regional final. While key scorers Carter Camper and Justin Mercier are back this season, the loss of several critical contributors will be tough to overcome.
Ryan Jones was the heart of the team and Alec Martinez was a rock on the blue line, but the toughest player to replace will be netminder Jeff Zatkoff, who led the nation with a 1.72 goals against average. Freshmen Connor Knapp (who stands at an impressive 6-foot-5 and 215 pounds) and Cody Reichard will split time until one wins the job outright. The hope in Oxford is that Miami can duplicate the second -place finish last time the RedHawks used two freshman netminders — Brandon Crawford-West and Steve Hartley in 2003-04, or the championship with rookie Zatkoff and untested sophmore Charlie Effinger in 2005-06. Unlike Zatkoff's freshman year, however, there's no Andy Greene to lead the troops in front of Reichard and Knapp.
PRESSURE TO PERFORM
Ohio State boasts seven NHL draft picks and a revamped coaching staff that is scarlet and gray through and through, but might just have a fan-driven mutiny on its hands if it can't improve the on-ice results. The Buckeyes have found themselves mired in tenth, seventh, and, most recently, eleventh place in the CCHA standings over the past three seasons — this stretch followed three straight top-four finishes from 2002-03 to 2004-05 and the 2004 league playoff title.
Junior goaltender Joseph Palmer had a strong showing at the Chicago Blackhawks' prospect camp this summer, and, as one of only three upperclassmen on the roster, needs that success to carry over into the season after a mediocre sophomore year. There are a few exciting players up front, including Peter Boyd, Kyle Reed, and freshman Zac Dalpe, who will score points, but the name of the game in Columbus will be finding the chemistry coach John Markell's recent clubs have lacked.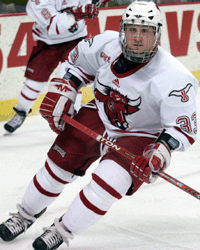 Dan Charleston and his Nebraska-Omaha teammates will be hard pressed to duplicate last season's power play, which led the country with a 23.9 percent success rate.
TOUGHEST ACT TO FOLLOW
Nebraska-Omaha's power play was tops in the nation last year, converting 23.9 percent of its opportunities with a unit everybody thought would falter each of the last two seasons. Most wondered whether Bryan Marshall could get the job done without Bill Thomas and Scott Parse, but Marshall, Mick Lawrence and Brandon Scero picked up the slack and combined for 30 of the Mavericks' 53 power play markers last year.
Returning defensman Eddie Del Grosso and forward Dan Charleston played key roles in Nebraska-Omaha's successes last year and the Mavericks return their entire second power play unit. And while coach Mike Kemp consistently puts out exceptional power-play brigades, he admits there's no secret formula and says its up to DelGrosso, Charleston, and others to find the opportunities outside of the X's and O's drawn up in the locker room.
BEST PLAYER
Michigan's Mark Mitera does it all. He has become the team's unquestioned leader on the ice and in the locker room. Heading into last season, the Wolverines' defensive corps was decimated, but Mitera, according to coach Red Berenson, played an integral role in molding Chad Langlais, Tristin Llewellyn, and Scooter Vaughan into reliable players who contributed to the Wolverines' success.
Mitera's ability to mentor young defenseman develop gives Berenson the ability to move Chris Summers to forward and count on freshmen Brandon Burlon and Greg Pateryn to step in quickly with Mitera's mentorship.
Don't be fooled though, Mitera's more than a selfless feel-good story. He finished with a plus-minus rating of +30 last year, and uses size, strength, and powerful skating to dominate opponents in Michigan's own zone. Combine these aspects with the aforementioned leadership abilities and the Anaheim Ducks, the team that used a first-round selection on Mitera in the 2006 NHL Draft, must be drooling over the prospect of adding him to the lineup when the Wolverines' season ends, as he will be a big part of their future plans.
IMPACT NEWCOMER
Michigan State's Daultan Leveille was anything but your typical first-round NHL draft pick this past June. Leveille became the first-ever opening-round selection from Canada's Junior B ranks after his blazing speed and great offensive abilities caught scouts' eyes. The catch with Leveille is that his hockey sense may not be as polished as someone who came from a higher-profile league, but you can still expect to hear his name early and often on a Michigan State team that lost a lot of skill over this summer.
Leveille's a classic example of a player who can take great advantage of his college years to develop. This year, his speed will help him generate opportunities and, more important, he'll begin to tack some weight on his 5-foot-10, 163-pound frame. As he gets bigger and more intelligent on the ice, he should emerge as one of the league's top players. In the meantime, coach Rick Comley should become a big fan of the newly-implemented fourth on-ice official, who will catch some of the hooking and holding a skinny rookie like Leveille isn't strong enough to fight through.
UNSUNG PLAYER
Ferris State's Cody Chupp is a hometown hero in Big Rapids who will give Bulldogs' fans plenty to cheer for this year. You're not likely to hear his name mentioned in a debate about the top players in the CCHA and he didn't receive any votes for the preseason all-conference teams, but Chupp led his team with 11 goals and 19 assists as a sophomore and was named captain for this year. The Bulldogs could be a dark horse in the fight for a top-four spot, and Chupp will be the catalyst to make that happen.
BURNING QUESTIONS
1. Which Billy Sauer will Michigan see this season — the cool, calm, consistent one who played very well all year long to lead Michigan to the Frozen Four, or the erratic, inconsistent one from his first two seasons and the loss to Notre Dame in Denver?
2. Can the Jeffs (Lerg and Petry) put Michigan State on their collective back and keep the Spartans in the league's top four despite so many important graduations and defections this summer?
3. Will Dallas Ferguson finally bring some stability to an Alaska program that will be dealing with its third coach in as many years?
MARK IT DOWN
Five things you can take to the bank in the CCHA this season
• At least one coach will cry foul at the end of the year when his team gets the short end of the stick with respect to a title or a home-ice playoff berth because of the extra points given in the shootout.
• MSU's Rick Comley will become the fourth coach in NCAA history to reach 750 total wins, as he starts the season with 739 victories.
• Michigan's strong secondary scorers, including Travis Turnbull, Matt Rust, Carl Hagelin, and Louie Caporusso will easily transition into primary roles — as has happened with countless generations of Wolverines' scorers.
• For the fourth season in a row, four CCHA teams will make the NCAA tournament
• If you don't know the names already, you'll know Zach Redmond and Scott Wietecha of Ferris State by the end of the year as they emerge as one of the league's most defensively reliable and offensively productive blueline pairings
Predicted Finish

No.

School
Of Note

1.

Michigan
The defending champions lost their top line of Kevin Porter, Chad Kolarik, and Max Pacioretty. But they pick up four strong freshmen, return all seven defensemen, and have a solid backup netminder in Bryan Hogan if Billy Sauer falters.

2.

Notre Dame
Once the Frozen Four rolled around, the Irish got the best of Michigan. But they also lost some key cogs from last year's team, and didn't show the consistency needed to take the regular-season title last year

3.

Northern Michigan
An exciting bunch that has a good chance to upset the CCHA hierarchy; expect an up-tempo offense that will be difficult for many teams to contain.

4.

Michigan State
The Spartans took a huge hit during the off-season, losing some major offensive firepower, but they still have their trump card in goaltender Jeff Lerg.

5.

Miami
Whether Miami contends for a first-round bye depends on just how well their freshman goaltending tandem adapts and the reliability of the defensemen front of them.

6.

Ferris State
The Bulldogs are another team that hopes to jump into the top four and might finally have the offensive capability to do it with 14 of their top 15 scorers returning

7.

Ohio State
With such a young team, it's hard to know how far the underclassmen will be able to carry the Buckeyes, but they have enough talent to stay competitive every night.

8.

Lake Superior State
Coach Jim Roque is counting on juniors Nathan Perkovich and Zac MacVoy to improve their offensive totals and help the Lakers avoid their 2-11-1 start from a year ago.

9.

Nebraska-Omaha
Dan Charleston should become the ninth Maverick to reach the 100-point mark for his career — he enters the season with 89 career points.

10.

Bowling Green
The graduation of Derek Whitmore will cost the Falcons 27 goals, but the team didn't lose much more than that. Jimmy Spratt and Nick Eno will team up again in goal and can keep games close.

11.

Alaska
Goaltender Wylie Rogers graduated, but Chad Johnson has proven adequate when called upon. Freshman forward Carlo Finucci has potential to be an exciting scorer, but there isn't a lot of depth on the roster.

12.

Western Michigan
The goal-starved Broncos' leading scorer last season was Cam Watson with 10, and while some key contributors have another year under their belt, Western Michigan will struggle to keep pace offensively.