September 29, 2008
2008-09 College Hockey America Preview
By Warren Kozireski

THE SKINNY
Bemidji State won its third regular season title, Niagara advanced to the NCAAs for the third time, Wayne State discontinued its program, and the only commissioner the league has known, R.H. Peters, retired. Just another year and offseason in a league that has also seen Findlay and Air Force also leave within the last four years.
Niagara Athletic Director Ed McLaughlin was announced as interim league Commissioner and the conference playoffs were awarded to Bemidji State March 13-14, 2009.
Oh, and the NCAA awarded the fledgling league another reprieve by granting their request for an auto-bid for the 2008-09 season.
As for this season, the league is literally up for grabs.
Playoff champ Niagara not only lost senior captain Matt Caruana and defenseman Scott Langdon, but watched Les Reaney (left during the season) and power forward Kyle Rogers sign pro contracts before their eligibility expired.
Regular season champ Bemidji State lost two prime minute-munching defensemen in Riley Weselowski and Dave Deterding along with their four-year starter in goal with the departure of Matt Climie.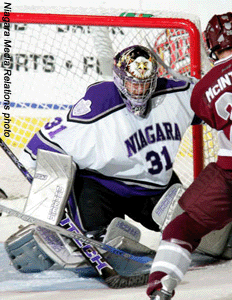 Niagara goalie Juliano Pagliero is the most proven netminder in College Hockey America.
Robert Morris will be re-tooling after having 14 seniors complete their eligibility. But the rebuild will be helped a bit with the addition of three transfers from the defunct Wayne State roster in defensemen Matt Krug and Brock Meadows and forward Chris Kushneriuk.
And Alabama-Huntsville's freshmen have spent a year in the Danton Cole system and found their legs late in the season with two of their season total six victories and a tie over their final six games.
BREAKTHROUGH TEAM
Alabama-Huntsville. After winning just two games over the first half of the season, the Chargers were victorious four times and added two ties in the second half as the young squad began to grasp Cole's system and college hockey in general. Included were a road win and a tie at Robert Morris and another road tie at Niagara.
The unit lost just one senior who played significant minutes in Tyler Hilbert and returns the majority of its offense including blueliner Brandon Roshko, who was the only defenseman in Division I to lead his team in scoring.
And the team plays four of their final six regular season games in front of the largest fan base in the conference. With the youth of Robert Morris, the Chargers could make things interesting deciding who plays the first place team in the first round of the playoffs.
PRIMED FOR A FALL
Robert Morris. As was the case one year ago with conference mates Wayne State and UAH, the Colonials lost more than a dozen seniors after last season. RMU will have only three players returning on defense and one of those – Jake Obermeyer – didn't play after January. Warrior transfers Matt Krug and Brock Meadows on the backline will help take some of the pressure off, but losing four-year starter Christian Boucher in net leaves Wes Russell and Jim Patterson as returnees. The two failed to win a game last year in 16 appearances.
PRESSURE TO PERFORM
Bemidji State Goaltending. Four year starter Matt Climie has moved on leaving senior Orlando Alamano, sophomore Matt Dalton and freshman Dan Bakala. The two returners combined to appear in just eight games with a 3-8 record and Dalton did not appear in a single conference game. In addition, without Weselowski and Deterding on the backline, it will be tough to repeat their best-in-the-conference 39 goals allowed over 20 games.
Defensemen Cody Bostock, Pittsburgh draftee Chris Peluso and Graham McManamin will be asked to play in all situations and the newcomers, including Wayne State transfer Ryan Adams, need to step in right away.
The Beavers have the makings of a great first line with Matt Read, Tyler Scofield and Travis Winter, but then it's a long way down last season's scoring chart to who plays on the second line with Brandon Marino.
TOUGHEST ACT TO FOLLOW
Niagara. After a third trip to the NCAA tournament, the Purple Eagles will again re-tool their offense and power play without captain Matt Caruana and forward Kyle Rogers, who gave up his last year of eligibility to sign with the Toronto Maple Leafs organization.
But again the cupboard is far from bare with All-CHA First Team selection and leading scorer Vince Rocco, Ted Cook, Chris Moran and Egor Mironov all back from the top five scorers last year. The four combined for 56 goals and 73 assists.
The Purps also lost just one defenseman in Scott Langdon, so the backline corps led by Tyler Gotto and Ryan Annesley in front of senior netminder Juliano Pagliero should be solid.
Like many teams, Niagara has two solid forward lines and the season will hinge on how new and returning players perform on the third line.
BEST PLAYER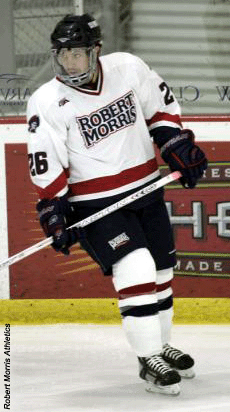 Robert Morris senior Chris Margott is a big point producer for the Colonials and could shine even brighter this season following the graduation of Ryan Cruthers.
Chris Margott, Robert Morris. After scoring 25 goals with 23 assists over his first two seasons combined, the senior netted 18 goals and 26 assists last season earning him a spot on the All-CHA second team (he should have been a first team selection, in this writer's opinion).
This year, it's expected that Nathan Longpre will take Ryan Cruthers' spot on Margott's line with the Colonial brain-trust hoping the pair can come close to the 63 points the two put up last season.
Though the Colonials don't have the depth they enjoyed last season, Margott is used to being the focus of attention and shouldn't have any trouble repeating his performance if Longpre continues to progress.
Honorable Mention: Vince Rocco, Niagara
BEST NEWCOMER
Trevor Lewis, Robert Morris. He recorded 31 goals and 36 assists last season with the Syracuse Stars to lead the Eastern Junior Hockey League. Was named EJHL Player of the Year and EJHL Offensive Player of the Year. Will get plenty of ice with the departure of so many seniors and could see time on the second power play unit which will help his numbers.
UNSUNG PLAYER
Niagara defenseman Dan Sullivan. The senior appeared in all but one game last season for the Purps and accomplished the rare feat among blueliners of not spending a single minute in the penalty box (also done by Bemidji State's Cody Bostock).
He scored a goal with an assist and was plus-4 in Niagara's CHA semi-final playoff victory over Robert Morris and was plus-4 over the final four games of the regular season. And the Scarborough, Ontario native almost tripled his offensive output from his disappointing sophomore campaign.
Generally on the third pair, he just quietly and efficiently gets solid position in his own zone. Having the reliable third pair allows the top two to still have legs left in the third period.
THREE BURNING QUESTIONS
1. Everywhere you go, everyone asks "What's going to happen with the CHA?"
2. Who will be the All-CHA Second Team goaltender after Pagliero?
3. Will the Beavers keep the trio of Matt Read, Travis Winter and Tyler Scofield together on the same line or will they be split up to add offensive depth?
MARK IT DOWN
Seven things you can take to the bank in College Hockey America this season
• There will be further rumors about Atlantic Hockey—this time with Robert Morris and Niagara agreeing to surrender some scholarships over time to join.
• Bemidji's Winter and Read will score more than the two goals each tallied in non-conference games a year ago.
• Alabama-Huntsville sophomore goaltender Wyatt Russell finally plays in a game and there's a free screening of the movie "Miracle" starring his dad Kurt Russell as Herb Brooks immediately after the game on the Von Braun Center scoreboard.
• Robert Morris falls well below the 600 penalty minute mark after Brett Hopfe and Jeff Gilbert among others depart.
• UAH wears their Devil-like image third jersey at Robert Morris for their Halloween night tilt in Pittsburgh.
• After losing just one defenseman to graduation, Niagara goaltender Juliano Pagliero again finds himself on the national leader board in goals against and save percentage.
• Niagara and Bemidji State will have another once-in-a-lifetime event decide one of their four regular season games – or maybe they'll wait for the playoffs and really throw the Glas Center fans into a tizzy.
Predicted Finish

No.

School
Of Note

1.

Niagara
If you believe the adage that it all starts with goaltending, the Purps are the only team in the conference without a question mark.

2.

Bemidji State
Home ice for the playoffs could pay off if Dalton proves to be the answer in goal.

3.

Robert Morris
As Margott and Longpre go, so go the Colonials and they will need to score often to win.

4.

Alabama-Huntsville
Could challenge for third if one or more of the forwards can beat out the defensemen in scoring.