October 1, 2008
2008-09 ECAC Hockey Preview
By Joe Gladziszewski

THE SKINNY
Cheesy infomercial investment offers often warn that past performance does not necessarily guarantee future results. And let's be honest, preseason polls in almost every instance, at every level of every sport are simply a reflection of what happened the previous season. So it was again this year in ECAC Hockey, and nobody should have been surprised to see Princeton ranked atop the preseason coaches and media polls, announced last week in Albany.
It's difficult to argue with the reasoning that voters applied in naming the Tigers preseason favorites. Princeton finished second in the regular season last year and went on to win the ECAC Hockey playoff championship in Albany. It earned the Tigers a trip to the NCAA Tournament for just the second time in the program's 105-year history.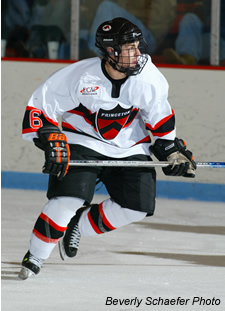 Reigning ECAC Hockey and Ivy League Player of the Year, senior Lee Jubinville leads preseason favorites Princeton.
Defenseman and team captain Mike Moore graduated after leading ECAC Hockey defensemen in scoring. Depth forwards Landis Stankeivech, Kyle Hagel, Keith Shattenkirk and Erik Pridham also graduated, but the Tigers are in great shape to repeat or improve upon last season's accomplishments. Princeton ranked first in overall offense among ECACH teams and returns it top two forward lines. Defensemen Jody Pederson (16 points) and Taylor Fedun (14 points) should help account for the loss of Moore's blueline production.
Princeton won 12 of 14 games down the stretch to get into ECACH contention before finishing second to Clarkson. Goaltender Zane Kalemba came alive in the playoffs, shutting out Yale twice in a quarterfinal series and Colgate in the semifinals. He made 35 saves in the championship game during a 4-1 win over Harvard and stopped 62 of 63 that weekend in Albany.
At this time last year, Princeton was pegged for eighth in the preseason league polls. Union was picked for last place and ended up finishing tied for fourth and earning a first-round playoff bye. This year's preseason polls look an awful lot like last year's standings, but this season's future is anything but guaranteed.
BREAKTHROUGH TEAM
Yale enters its third season under head coach Keith Allain and has taken strides forward during his first two campaigns. Improving the team's offensive depth and attitude has seen an uptick in scoring by the Bulldogs, especially from underclassmen. Four sophomores and two freshmen comprised Yale's top six scorers last year and all of them return, including Sean Backman who has 58 points in 61 career games.
The news is also good on the defensive side of the puck. Only one of Yale's six regular defensemen last year was a senior, and goaltenders Billy Blase and Alec Richards have proven to be capable Division I goalies at times throughout their careers. Yale has reduced its team goals-against average by an entire goal under Allain's supervision, and by more than a goal and a half in the last four years.
PRIMED FOR A FALL
Harvard used a second-half surge to finish third in the regular-season standings and advanced to the league's championship game in Albany during the playoffs. If not for a brutal 0-7-2 run during nine games in December and January the Crimson probably would've made the NCAA Tournament as an at-large selection.
The graduation of standout forwards Mike Taylor and Jon Pelle and veteran defenseman Dave MacDonald would've hurt enough. Then offseason news came down the pipe that all-league goalie Kyle Richter wouldn't be with the team this year and senior defenseman Jack Christian is out for the year due to injury.
Harvard's first nine regular season games are league games, with an exhibition game whittled in against the US NTDP Under-18s. They'll have to find their skating legs quickly with new personnel in important roles before they sink too far in the ECAC Hockey standings.
PRESSURE TO PERFORM
Clarkson's highly-regarded class of 2008 rightfully earned accolades and praise for what they achieved over a four-year span. The likes of David Leggio, Grant Clitsome, Nick Dodge, Steve Zalewski and David Cayer brought Clarkson back into the national picture. Now it's up to the Golden Knight seniors of 2008-09 to continue Clarkson's recent success.
Forward Shea Guthrie and defensemen Tyrell Mason and Phil Paquet are NHL draft picks that have shown glimpses of greatness as supporting actors during the last three years, but never fully stood in the spotlight. Classmates Adam Bellows, Chris D'Alvise, and Dan Tuttle all played at least 34 games last year. This group has been a part of success, including a regular-season title, a playoff title, and two NCAA Tournament appearances in the last two years. How they perform in a starring role will determine the Golden Knights' fate this season.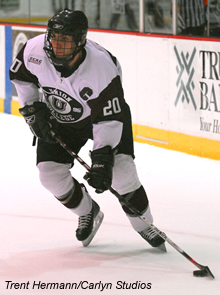 Matt Cook led Union with 10 goals last season as a junior co-captain.
TOUGHEST ACT TO FOLLOW
Union improved throughout last year and earned a first-round playoff bye and the fourth seed with excellent play down the stretch. The Dutchmen faced eight consecutive weekends of conference play to close the season – 16 games when points were on the line and positions were at stake. Union responded by going 9-4-3 over the course of those games, grabbing 21 vital points in the standings. Two wins against Cornell, a win against Princeton, and a three-point weekend against St. Lawrence and Clarkson let the league know that Union's program is on the rise.
It resulted in Union's highest-ever finish in the standings, and just the third winning record in 17 seasons of league play. But there are other goals within reach. Union has hosted a home-ice playoff series in five of the last six years, but hasn't won one. Two sixth-place and two eighth-place finishes in a four-year span were followed by Union crashing to 12th place in 2007. The challenge for Union is to build on last year's momentum and advance in the playoffs.
BEST PLAYER
Simply stated, Princeton's Lee Jubinville is the best player in ECAC Hockey. He showed signs as a freshman, improved steadily as a sophomore, and became one of the elite forwards in the league and in the nation as a junior. He totaled 39 points in his first two years, and then doubled his career total with 12-27–39 last year. He was the ECAC Hockey and Ivy League Player of the Year, a Hobey Baker Memorial Award finalist, and first team All-American.
IMPACT NEWCOMER
Colgate's Austin Smith committed to the Raiders after playing prep at Gunnery </Bob Norton> and spent last year in the BCHL with the Penticton Valley Vees, where the forward had 43 goals, 47 assists and 90 points in 75 regular season and playoff games. Smith was a fifth-round draft pick of his hometown Dallas Stars in the 2007 NHL Entry Draft.
Smith is a driven, exciting, competitive player who will be thrust into an important role with the Raiders. Tyler Burton and Jesse Winchester graduated, leaving a scoring void up front for Colgate. Those highly-skilled players are the types of student-athletes that Colgate has been able to attract since beginning to offer a limited number of athletic scholarships in recent seasons. Smith is the next in that line of players and will be counted on to fill that role right away with tons of ice time – expect him to get a spot on the top two lines and on the power play.
UNSUNG PLAYER
Quinnipiac's Dan Henningson hasn't received the same notoriety or recognition as former Bobcat blueliner Reid Cashman but he's proven to be just as important to Quinnipiac's success. He logs tons of minutes and balances skilled offensive play with defensive zone tenacity. He was an alternate captain for the Bobcats last year as a junior, was the unanimous choice by his teammates to wear the "C" this season, and also earned team most valuable player honors. He wasn't unsung in Hamden, Conn. but few ECAC pundits would mention his name when polled on the league's top defensemen.
BURNING QUESTIONS
1. What are the chances that Brown players have posted the preseason coaches poll – in which they were picked unanimously last with 11 points – in their dressing room and weight room as motivation for the upcoming season?
2. How far ahead of the rest of the league are Princeton and Cornell, who enter the season with proven, veteran starting goaltending in their lineups?
3. How long will it take for other teams such as Harvard, Clarkson and Colgate to find an answer between the pipes?
MARK IT DOWN
Five things you can take to the bank in ECAC Hockey this season
• Cornell forwards Colin Greening and Riley Nash will once again finish among the top 10 in the league's scoring race. Each was named to a preseason all-league team, Greening by the coaches and Nash by the media.
• At least one other scoring tandem will join the Cornell duo in the top 10, perhaps even sophomore standouts Chase Polacek and Tyler Helfrich of Rensselaer.
• St. Lawrence's goaltending situation is still working itself out. Juniors Kain Tisi and Alex Petizian both have starting experience, and are joined on the roster by freshmen Robby Moss and Joe Spadaccini. Four Saint goalies started at least five games last year.
• Evan Stephens of Dartmouth will make a strong bid to be the first ECAC Hockey defenseman to lead his team in scoring since RPI's Jake Luthi two years ago (tied with Kirk MacDonald).
• Tributes and rememberances of legendary hockey coach Ned Harkness will be meaningful and appropriate at Cornell and Rensselaer this year. Ddeservedly so.
Predicted Finish

No.

School
Of Note

1.

Princeton
You know all about Lee Jubinville, Brett Wilson and Cam MacIntyre. Keep an eye on Matt Arhontas, Mike Kramer, and Mark Magnowski as well.

2.

Clarkson
Shea Guthrie showed his talent on a national stage during last year's NCAA regional in Albany. Consistently playing at that high level will make him one of the league's elite players.

3.

Cornell
Members of ECAC Hockey media named Ben Scrivens as the preseason all-league goalie after Scrivens started 35 games, posted four shutouts, stopped 93 percent of the shots he faced and allowed just 2.02 goals against last year.

4.

Quinnipiac
The Bobcats closed last year's regular season with six straight losses, then scored seven goals on back-to-back nights in playoff wins over Brown. That was followed by an 11-0 loss to Harvard. Consistency will help the Bobcats get back into the top four of the league standings.

5.

Yale
Ingalls Rink is being renovated and improved, matching the positive strides that Yale's team has taken on the ice in recent seasons.

6.

Harvard
The Crimson's non-league schedule includes two games against North Dakota, one at Boston College, a Beanpot opener against Boston University, and a Badger Showdown opener against Lake Superior State. Based on tournament results, another game against Boston College and a game at Wisconsin could round it out.

7.

Union
Defenseman Lane Caffaro was the first Dutchman ever named to an All-ECAC Hockey preseason team. Corey Milan will have an opportunity to win the starting goaltending job after splitting time with Justin Mrazek last year.

8.

Rensselaer
Incoming freshman defenseman Mike Bergin and goalie Allan York hope to have the same impact on the Engineers that Polacek and Helfrich did last year.

9.

Colgate
Think Mark Dekanich will be missed? He played more than 90 percent of the minutes in goal for Colgate over the last three years since taking over for Steve Silverthorn.

10.

St. Lawrence
Seniors Brock McBride and Kevin DeVergilio will very likely become the first Saint seniors to record 100 career points since T.J. Trevelyan and John Zeiler in 2005-06.

11.

Dartmouth
Seniors Nick Johnson (35) and J.T. Wyman (30) accounted for 75 points. The next highest scorer last season was rookie defenseman Evan Stephens with 22 points.

12.

Brown
Brown junior captain Devin Timberlake on the upcoming season: "We will work as a team to be successful and make this an exciting program to be a part of. We have 10 new players coming in and we want to let them know right away what we stand for – hard work, discipline, and a winning attitude."