October 6, 2008
2008-09 Hockey East Preview
By Jeff Howe

THE SKINNY
Hockey East seemed to take it on the chin last year when just two teams earned a bid in the NCAA Tournament, the league's lowest total since 1997. Boston College went on to save face, though, storming through the field in impressive fashion to capture the school's third national championship and the fifth title for the league. Now in its silver anniversary, Hockey East is hoping to have more power in numbers when spring rolls around. The root of the problem last season was the league's poor play against non-conference competition. Even though Boston University and Vermont finished higher in the regular-season standings than BC, the pair ended up watching the national tourney from their respective dorm rooms and campus apartments.
Per usual, Hockey East squads have lined up another powerful slate of national competition, including dates against Wisconsin, Notre Dame, Michigan State, North Dakota, Michigan, Bemidji State, Cornell, Minnesota, Miami and possible matchups with Denver, St. Cloud State, and Air Force. Boston College and Boston University head into 2008-09 with strong enough rosters to contend for a national championship, and there are four or five more teams with legitimate chances to get reacquainted with the NCAA tourney. Hockey East has plans to celebrate its 25th season throughout the next six months, and there's a great possibility Joe Bertagna and company will be in the nation's capital celebrating the most important prize of all.
BREAKTHROUGH TEAM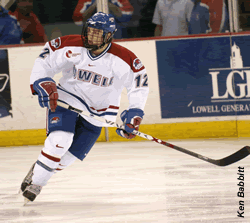 Junior forward Kory Falite scored 18 goals for UMass Lowell last season.
There's a lot to like about UMass Lowell. For starters, the team returns all but three players from a year ago, and the departed were responsible for just two goals, two assists and 66 minutes in net. Of the 30 players on this year's roster, 15 are juniors (the class that all coaches look at to make the most productive jump from one year to the next). The River Hawks return five 20-points scorers and four players who lit the lamp at least 10 times last season, and that crew is led by junior forward Kory Falite (18-14—32; more on him later). UMass Lowell scored 2.70 goals per game last year, fifth highest in Hockey East, and it surrendered 2.59, good for third. Also, junior goalies Carter Hutton (7-11-2, 2.48 goals-against average, .909 save percentage) and Nevin Hamilton (8-6-2, 2.56, .911) will be back to splitting duties in the crease. The biggest – and perhaps only – immediate area for concern will be improving upon last year's penalty kill, which was successful 83.8 percent of the time, ranking eighth in Hockey East.
Behind the scenes, there should be a tremendous amount of optimism surrounding the arrival of assistant coach Shawn McEachern, who worked in the same capacity for Northeastern over the last year and a half before the two sides mutually agreed to part ways. McEachern has been highly regarded for his ability to get players to respond to his coaching style, and it's only a matter of time before he lands a head coaching job somewhere.
The River Hawks finished in seventh place last year, five points behind Boston College for the last home-ice position. Consistency appeared to be the biggest issue with the young team, as it won back-to-back games just once after December. The second half of the schedule is on the difficult side in 2008-09, particularly a nine-game stretch from late January into February when the River Hawks play eight road contests. UML hasn't hosted a playoff series or advanced to the Garden since 2001-02, but it will certainly contend to end that drought this season.
PRIMED FOR A FALL
Two teams will slip a bit from two different areas of the standings. (As a disclaimer, there aren't any teams in the league that figure to plummet due to roster turnover.) First is New Hampshire – hold the hate mail, the Wildcats aren't in grave danger – which will fall a bit in the sense that it won't dominate regular-season play like it did last season. The two-time defending regular-season champions bombed the field last year, claiming the crown by eight points, becoming the first Hockey East team to take that honor by more than a point since the Wildcats also did it in 2001-02.
UNH loses Hockey East Player of the Year Kevin Regan, who was arguably the best goaltender in the country last year. The Wildcats always seem to replace their uber-talented forwards, and that'll be in focus again in 2008-09, as their two leading scorers – Matt Fornataro (18-28—46) and Mike Radja (19-24—43) – have graduated. Sophomore James van Riemsdyk will be leaned on heavily to become the scoring force he's always been, and he should be in the running to be the Player of the Year. After van Riemsdyk, senior Jerry Pollastrone, sophomore Danny Dries and junior Bobby Butler will be asked to fill the void.
Then, there's Providence, which finished fifth in the league standings last season despite going 1-7-2 in the last month, including being swept out of the playoffs by Boston College. The Friars seemed for real in the first half, but they dropped off heavily in mid-February. It doesn't figure to get much easier this season, especially since there's very little room for error among the league's second crop of teams that will stretch between third and ninth in the Hockey East standings. Senior Matt Taormina returns to the blue line and is one of the best at the position in Hockey East, but the Friars lost leading scorer Jon Rheault (17-14—31) and Cody Wild. What's more, goalie Tyler Sims, who has been a work horse in net, is gone, so senior Chris Mannix, junior Ryan Simpson and freshman Justin Gates must answer the call between the pipes.
PRESSURE TO PERFORM
Tim Whitehead took a beating from the Maine faithful for the team's disappointing ninth-place finish last season. There's an obvious and understandable demand for excellence in Orono, but they quickly forgot about Whitehead's three Frozen Four appearances in the previous four years. He isn't on the hot seat, but the Black Bears are still in a full rebuilding mode, which will again cause for a tighter collar.
Whitehead has always taken a great deal of pride in developing players for a full four years, but he's lost his top freshman forward in two consecutive summers, an especially tough blow for a team that struggles with offensive consistency. After Teddy Purcell bolted Maine following the 2006-07 season (and really, who could blame him?), Andrew Sweetland followed suit this past summer. Purcell was part of a group that saw seven of the team's top-10 scorers leave the program. Sweetland, who had eight goals and nine assists last season, was fourth in point production in his rookie campaign. This time, the Black Bears' top-six scorers are gone (and seven of the top eight), and defenseman Simon Danis-Pepin returns as the leading scorer from a year ago with four goals and eight assists.
Piling it on, Whitehead is also forced to deal with, quite literally, the biggest departure of them all in goalie Ben Bishop, who bounced for the pro ranks after his junior season and was so good so fast that he made the Maine diehards forget about Jimmy Howard almost instantaneously. Bishop started every game last season and went 13-18-3 with a 2.43 goals-against average and .920 save percentage. Junior Dave Wilson, who had a 6.78 GAA and .791 save percentage in four games last year, is the starter for now, but freshman Scott Darling is at his heels.
TOUGHEST ACT TO FOLLOW
Joe Fallon broke every significant goaltending record at Vermont and shattered a few NCAA marks, as well. Not to mention, he had been the face of the program since it entered Hockey East in 2005-06. Last season, Fallon backboned the squad that finished third in the league, earned its first home-ice playoff series in Hockey East and rolled all the way to the title game before falling to Boston College.
Now that the four-year starter has departed from Burlington, junior Mike Spillane will take the pole position between the pipes. As the guy behind the guy, Spillane has gone 3-4-4, and he was 2-2-2 with a 3.64 goals-against average and .868 save percentage last year. Those numbers aren't otherworldly, but Spillane did show flashes of excellence when he briefly assumed the starting position last season as Fallon suffered a brief bout with confidence issues. It's Spillane's job to start 2008-09, but coach Kevin Sneddon is excited with freshman Rob Madore, who will get a chance as a backup and could steal the starting position if Spillane struggles.
BEST PLAYER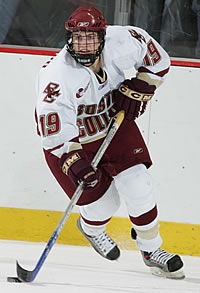 Boston College must cope with the loss of dynamic forward Nathan Gerbe, but a healthy Brock Bradford will lessen that sting.
This is the most difficult call in recent memory, but Boston College appears to have cornered the market among the candidates. Sophomore John Muse is the best goalie, and he'll try to be the third consecutive netminder to win Player of the Year honors (John Curry in 2006-07, Kevin Regan in 2007-08). Junior forward Ben Smith has been dynamite since he joined Nathan Gerbe's line prior to the 2006 postseason, but he'll have to do it without Gerbe this season.
But let's go with the underdog, and someone who will be backed by the fans as soon as he steps on the ice. Senior forward Brock Bradford broke his arm twice last season – in nearly the same exact spot, though doctors declared the injuries were unrelated. He played in just five games, recording three goals and two assists. The 21-year-old will see the game better this year because he transformed into an immediate extension of the coaching staff last season, studying the game from the stands and reporting what he saw in the locker room between periods and during midweek meetings with the coaches. Bradford already has a tremendous talent. He's a crisp passer and can be a deadly sniper. He was the MVP of the 2006 Hockey East tournament and finished his sophomore season with 19 goals and 26 assists.
IMPACT NEWCOMER
Defenseman David Warsofsky has been a Boston University diehard since he was old enough to hold a hockey stick, and he'll be taking his game to Agganis Arena this season. He's an offensive-minded player (imagine the possibility of him skating with Matt Gilroy) who starred locally at Cushing Academy, which churns out more blue chips than a Jet Blue flight, before spending time with the U.S. Under-18 National Team, where he put up nine goals and 23 assists. Warsofsky, who is 5-foot-9,170 pounds and a fourth-round pick of the Blues, headlines a second straight ridiculously talented freshman class for Jack Parker.
UNSUNG PLAYER
Quick, name Hockey East's active leader in goals per game. Stumped, huh? Well, it's UMass Lowell junior forward Kory Falite, whose 22 goals in 53 games give him a 0.42 average, currently the best in the league. If the River Hawks figure to make any noise this season, Falite will be the guy to lead the way. The 22-year-old junior was the team's MVP last season and is one of just four Hockey East All-Stars to return this year (First Team: BU senior defenseman Matt Gilroy; Second Team: NU senior forward Joe Vitale, PC senior defenseman Matt Taormina, Falite), and Falite headlines UMass Lowell's ridiculously large junior class. He was the team's leading scorer last season with 32 points, and his 18 goals were tied for fifth in the league. Most importantly, he scored when it counted, potting four game-winning goals to tie for third in Hockey East in that category.
THREE BURNING QUESTIONS
1. Can Maine return to prominence?
2. Boston College and Boston University will lock down the top-two spots in the standings, but who will emerge out of the next group of teams?
3. What will happen with Boston University's goaltending situation?
MARK IT DOWN
Five things you can take to the bank in Hockey East this season
• John Muse will be Boston College's iron man in net once again. He was the only goalie to set foot in the crease last season, and he got better over the course of those 44 games. BC coach Jerry York wasn't shy to say he'd do anything differently with Muse this season.
• Boston College and Boston University will make it interesting. While the Comm. Ave. foes will finish 1-2 in the standings, they won't run away from the field. BC suffered a letdown during its last title defense in 2001-02 and didn't always bring its best effort last year. That's also been an issue for Boston University through parts of the last few seasons.
• Consistency will determine the fate of the league's second group. When the regular season comes to a close, it wouldn't be surprising to see the ninth place team finish about six to eight points behind the third place team. That group is as close in talent as it's ever been, which is saying a lot for a league that has prided itself on balance more than ever in the last couple seasons. The teams that find their identity early will ultimately finish closer to the top.
• Goalies are under pressure. Vermont (Joe Fallon), New Hampshire (Kevin Regan), Maine (Ben Bishop), Boston University (Brett Bennett), and Providence (Tyler Sims) are entering 2008-09 without their primary goalies from a season ago. Of the new crop, only UNH's Brian Foster seems to have a stranglehold on the starting position. That could create some friction among teams depending on how their respective situations play out.
• Merrimack will be better. That's the good news in North Andover. Coaches around the league raved about Merrimack's impending improvement behind Rob Ricci and the goaltending tandem of Andrew Braithwaite and Patrick Watson. The bad news is the Warriors look like they're slated to finish last for the fifth straight season.
Predicted Finish

No.

School
Of Note

1.

Boston College
The national champs are stacked at every position. Nathan Gerbe is no longer around to take over games, but there's so much scoring depth, it's flat-out ridiculous.

2.

Boston University
Who knows what will happen in net, but the defensive corps might be the most talented in Hockey East, and sophomore forward Colin Wilson will break out and become a national star.

3.

New Hampshire
Brian Foster went to Durham with a lot of credentials. Now's his chance to put a perennial contender on his back.

4.

UMass Lowell
Having 15 juniors is impressive. Imagine what that group could do as a senior class in 2009-10 after breaking through this year.

5.

Northeastern
Greg Cronin is talking about his team like it's ready to do some big things this season. The Huskies return their top-seven scorers, including four guys who put up 20 points last year, and goalie Brad Thiessen, so it's hard not to believe him.

6.

Vermont
The Catamounts return all three captains and their top-11 scorers. They could be the best sixth seed in league history.

7.

Massachusetts
Statistically, the Minutemen finished fourth among scoring offense and defense last year, but they were stuck as the eighth seed.

8.

Maine
The Black Bears won five of their last six games last season, including four straight at home. The young group needs to first establish an attitude at home and learn how to take that on the road.

9.

Providence
Matt Taormina is a tremendous talent who really broke out last year, but it's always scary when a team's high returning scorer from a year ago plays on the blue line.

10.

Merrimack
Merrimack has never finished higher than fifth in the Hockey East standings, and its only trip out of the first round of the HEA playoffs came in 1998.