October 2, 2008
2008-09 WCHA Preview
By Jess Myers

THE SKINNY
No, North Dakota is not gunning for the NCAA title with the senior quartet of T.J. Oshie, Jonathan Toews, Brian Lee and Taylor Chorney leading the way. And no, Minnesota will not be unstoppable thanks to the senior duo of Blake Wheeler and Phil Kessel, with juniors Kyle Okposo and Erik Johnson coming over the boards. Super sophomore Kyle Turris will not be answering any questions you might have about the Wisconsin offense. And by the way, Minnesota Duluth's drive for an NCAA playoff invite will not be led by seniors Mason Raymond and Matt Niskanen.
Early departures have quickly become old news in the WCHA, where the debate rages in some programs: Is it better to have a four-star player for a year, or a two-star player (with room for growth) for four years? Golden Gophers coach Don Lucia acknowledges fan dissatisfaction with his team's seventh-place finish last year, then notes the 11 early departures that he's endured in the past three seasons, and says that with that in mind, 2007-08 was "a great success."
In a bit of a change from that trend, Colorado College's defending league champs return mostly intact, top talents like North Dakota's Ryan Duncan and Joe Finley return for a fourth year, and an upperclassmen-laden Minnesota State looks to make a northerly move this season. There's suddenly some sentiment that experience, not youth and flash, may be re-gaining value in the volatile college hockey market.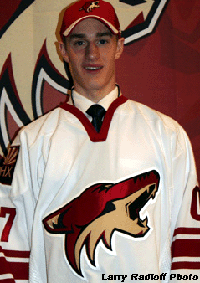 Former Wisconsin Badger Kyle Turris, like many other former WCHA stars, has left college early to play professional hockey.
Tigers coach Scott Owens says at least two of his underclassmen, maybe more, had opportunities to turn pro over the summer, and chose to return to school. He thinks that part of that has to do with the disappointing end to the Tigers' 2007-08 season, and a drive to finish in April, not March, this time around.
"Maybe that's a trend we'll see," said Owens. "Maybe guys won't be as hot to get out as quickly as they have been. And maybe they'll better position themselves for that second contract."
The NHL's collective bargaining agreement makes all rookie contracts roughly the same, with some flexibility regarding bonus money. So a player's second NHL contract, which can mean the difference between a lucrative, long-term hockey career and an avenue toward civilian life, is something about which players are learning.
"When the new CBA came out and all those kids left early the first few years, some of us said wait and see how it plays out. Some kids are a little bit more educated about it now," said Minnesota Duluth coach Scott Sandelin, who stresses the importance of being ready to make a pro impact right away, with an eye toward that second pro contract. "When I was playing for Gino (Gasparini) at North Dakota, he used to tell us that anybody can get that first contract. It's the second and third ones that really set you up for life."
With the tide of early departures perhaps waning just a bit, coaches like Sandelin and Michigan Tech's Jamie Russell say now is the time, more than ever, to stress college hockey as a developmental league, both on the ice and in the classroom. The idea is to give players four years of on-ice and off-ice development, so whether or not that second contract comes, with an education to fall back on, they'll be set for life.
"The challenge at a place like Minnesota or Wisconsin is different than it is at Michigan Tech, where we don't get a lot of first-round NHL draft picks," said Russell. "But we have our own strengths, and we pride ourselves on our ability to develop players."
As for what develops on the ice between October and March, when the MacNaughton Cup and Broadmoor Trophy will be awarded, Colorado College was the clear favorite as picked by coaches and the media. That's an acknowledgement of the Tigers' solid returnees like defending league MVP and rookie of the year, goalie Richard Bachman. It's as much an acknowledgement of the significant weak spots in nearly every other team's lineup.
Denver and North Dakota are prime examples of the "holes" theory, with both in possession of tons of offense, but plagued by questions about goaltending. Wisconsin has assembled an amazing array of defensive talent, but may need more scoring to contend. Minnesota is awash in young talent, but it's more about potential until their 12 freshmen prove themselves. St. Cloud State is blessed with scoring talent and solid goaltending, but one wonders how that lethal Husky power play will function without Andreas Nodl.
Those are questions that can't be answered over the Internet or on paper. Thankfully, the 10 ice sheets in the league's home rinks have lots of seats around them, so we can watch as the pop quizzes, the midterms and the final exams unfold.
BREAKTHROUGH TEAM
You won't find many Minnesota State players looking for positive spin when they describe the abrupt end of last season.
"It was brutal," said junior forward Kael Mouillierat, after his team played five overtime periods and fell at home to Minnesota in the opening round of the WCHA playoffs. "It was a devastating loss. We despise those guys."
The Mavericks got home ice by finishing the regular season on a 9-4-0 run, and just missed the NCAA Tournament after the selection criteria determined that sub-.500 Wisconsin, not 19-16-4 Minnesota State, got an invite. All but three Mavericks from last year return to an upperclassmen-laden team that looks to benefit from experience, and from the bitter taste left in their mouths last March.
"They got to the point where they were close, but they learned close doesn't count," said Mavs coach Troy Jutting. "A lot of these kids are juniors now and have played a lot of important college hockey games. This group knows what it takes, they just haven't achieved it yet."
PRIMED FOR A FALL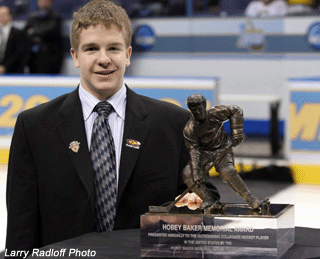 North Dakota doesn't have any superstars, unless you count a former Hobey Baker winner.
The words sound like a sports cliché, until you remember that the guy uttering them has a Hobey on his resume.
"There are no superstars on our team this year," said North Dakota senior forward Ryan Duncan, who took home the game's top individual award as a sophomore. "There's a different team aspect here than in previous years."
The list of would-be Fighting Sioux who have elected to take a paycheck instead of a fourth (or in some cases, a third) year of college hockey is impressive. What remains in Grand Forks is a close-knit group of seven seniors determined to lead North Dakota on a fifth straight Frozen Four trip, and to win two more games than they have in previous years. Still, there are myriad questions to be answered about defense, goaltending (returning senior Aaron Walski has less than two full games worth of playing time in his college career) and who will lead the offense. Duncan welcomes the challenge, and invites opponents to make him the center of attention at their peril.
"If you're going to concentrate on me, you're going to have a whole heap of trouble from other guys," said Duncan, who is the team's top returning scorer with 40 points last season. "I'm just one piece of the puzzle, so if they want to focus on me, that's fine."
PRESSURE TO PERFORM
Four years ago, life could hardly have been better for Scott Sandelin and his Minnesota Duluth Bulldogs. They'd just gone to the Frozen Four, they were ranked number one in the league and in the nation, a top-end recruiting class was on its way to the Twin Ports, Sandelin had the Spencer-Penrose award in his office, and his name was mentioned as the next hot coach in the game.
Then a cold snap hit Duluth, and the Bulldogs haven't made a trip to the NCAAs, or finished in the top half of the WCHA, since. Sandelin has two years remaining on his contract, and acknowledges that on-ice results this season may be a determining factor in the possibility of an extension at the end of the 2008-09 campaign. There's a new rink on the way, along with a new assistant coach, a new equipment coordinator and a new video coordinator in Duluth this year, so Sandelin heads into the season hoping to change the environment around Bulldog hockey a bit.
"Expectations have to be higher," he said. "If you set your goal to be in the top five, it's not good enough."
Sandelin's boss, athletic director Bob Nielson (who also coaches the nationally-ranked Bulldog football team), understands the importance of hockey to UMD and to the community. He said he won't put any specific expectations on Sandelin this season, but admits that in the wins and losses department, they hope to be better.
"We will likely talk about a contract extension sometime before the final year of the current contract, but right now the focus is on this year," Nielson said. "I'm a firm believer that the program is close to where we want it to be."
TOUGHEST ACT TO FOLLOW
Wisconsin coach Mike Eaves begins every season by telling his players that there's a mountain to climb, and only one team (the eventual NCAA champion) weathers all of the storms to reach the summit. But this season, for the first time in nearly four decades, the Badgers will be making the climb without one of their key sherpas.
In August, renowned goaltending coach Bill Howard resigned from the program after helping produce scores of netminding All-Americans, NCAA champions and NHLers for Wisconsin. Eaves has handed the reins to former Badger goaltender Mike Valley, who will work with Shane Connelly and Scott Gudmandson off campus a few times a week.
"One of the most difficult things in life is knowing when to step away," said Eaves. "But this was the right time. Bill was an important part of this program for 36 years and had at least a finger in all the national championships."
Eaves said that Valley, who studied under Howard as a player, will utilize many of the traditional goaltending coaching methods Howard employed. The notable difference will be Valley's tendency to focus on a goaltender's current strengths, rather than breaking their game down and teaching them new methods of stopping the puck, as Howard did.
BEST PLAYER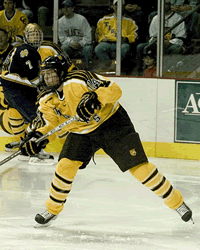 Colorado College forward Chad Rau scored 28 goals last year as a junior and earned All-American recognition.
Some coaches have to remind their forwards to shoot the puck when they have a chance. Colorado College coach Scott Owens has never had that problem with Chad Rau. As a junior, as the Tigers marched to the MacNaughton Cup, Rau's assist numbers actually fell from previous years, but his goals doubled, from 14 to 28, leading the WCHA en route to being named a second team All-American.
The success is nothing new for Rau, who was the USHL's rookie of the year one season, and the Tigers rookie of the year the next. Owens marvels at Rau's complete game, and his aggressive style that has him creating danger for the opponents even when the Tigers are out-numbered.
"He's so skilled and so tenacious, and he definitely does not like to be denied," said Owens. "Chad brings all of that, but still within a team framework, which is not easy to find. He's a gamer, and loves to take advantage of others' mistakes."
Critics accuse Rau of cherry-picking, and the coach acknowledges that his star forward loves to jump the play when the Tigers are short-handed. Of course in this time of elections and positive spin, the kind of player Tiger-haters would call a "cherry-picker" is labeled an "opportunist" by Owens.
IMPACT NEWCOMER
They know a little bit about impact freshmen at Wisconsin (see: "Turris, Kyle") and there looks to be another great one in the fold in Madison. Jumping directly from high school to college doesn't scare Badgers rookie defenseman Jake Gardiner, who will take his place alongside Jamie McBain, Cody Goloubef, Brendan Smith and Ryan McDonagh on one of the most talented blue line units in the nation.
"The way he skates, he can be one of our best breakout players," said Badgers coach Mike Eaves, who notes that the Badgers defensemen were among the top-scoring rearguards in the nation last season, and he expects more of the same this year. "I always want our defensemen to be the second wave of offense, and we have a young, talented group."
A converted forward, Gardiner averaged nearly two points per game last season as a high school senior in Minnetonka, Minn., and was named the Twin Cities metro area's player of the year by the Minneapolis paper. Those accolades were just a warmup to the June NHL draft, when Anaheim plucked Gardiner with the 17th overall pick.
"Jake is one of those unique players with unbelievable speed and skills," said David McNab, the Ducks' assistant general manager. "That's a tough combination at any level of sports. You can teach a player a lot of things, but it's very hard to teach exceptional speed."
UNSUNG PLAYER
One year ago, the most coveted position in college hockey was being the "other guy" on North Dakota's top line, with Ryan Duncan and T.J. Oshie. For much of the second half of last season, that anonymous forward was Andrew Kozek. But instead of just keeping his stick on the ice and trying not to get in the way of the two superstars, Kozek elected to shoot the puck a few times, and ended up tied for the team lead with 18 goals by the end of the season.
"He has a natural ability to score goals, be opportunistic and always be able to find a hole," said Oshie, now in training camp with the St. Louis Blues. "It seems like he's always going 100 miles an hour on the ice and loves to shoot the puck."
Kozek says he scored quite a few goals in junior hockey, but came to college in more of a checking mind-set. He admits benefiting from the attention opponents paid to Oshie and Duncan last season, and thrives with open ice.
"If you don't have guys all over you, it makes it a lot easier to do stuff with the puck," Kozek said. "I live for odd-man rushes and anywhere I can find some space on the ice."
THREE BURNING QUESTIONS
1. Is this one of those years that Denver misses the WCHA Final Five, or will the Pioneers win it again?
In the past seven seasons, the league's post-season tournament has been a bit of an all-or-nothing proposition for Denver. Since 2002, the Pioneers have only made three trips to the Xcel Energy Center for the nation's best-attended college hockey tournament, but they've captured the Broadmoor Trophy all three times – in 2002, 2005 and 2008. If you believe there's a pattern developing there, look for the Pioneers to next visit St. Paul, and leave with the trophy, in 2011.
2. Do scouts from the New York Islanders dare set foot on Minnesota's campus?
With the mid-season departure of Kyle Okposo to the New York Islanders last year, and general manager Garth Snow's subsequent unkind words about Okposo's development (or lack thereof) as a Golden Gopher, there hasn't been this much anti-Isles sentiment in the Twin Cities since the 1981 Stanley Cup Finals. Did Snow take it up a notch in June, when he drafted Minnesota freshman Aaron Ness in the second round? Not really, according to the Gophers' coach. "They're looking out for their interests, and they got a very good hockey player," said Don Lucia, who seems to have found peace with the Okposo affair. "They were looking to do what they thought was right for Kyle, and so was I."
3. Is there life after New Year's in Anchorage?
More than one of us has certainly risen to face the first morning of a new year feeling sluggish after a particularly harsh New Year's Eve bender. But at Alaska Anchorage, those post-New Year's hangovers have been lasting for months recently, and that's trouble for the Seawolves. Last season a 6-7-5 mark on Jan. 1 gave way to a 1-14-3 finish. The past two seasons combined, the Seawolves are 16-15-7 before Jan. 1 and 4-27-4 after they hang up the new calendar, finishing last in the 10-team league both years. With four trips to the Lower 48 in the second half of the 2008-09 campaign, the pressure is on to turn that trend around.
MARK IT DOWN
Five things you can take to the bank in the WCHA this season
• Write whatever nasty things you want about Don Lucia in your blog or on that message board. He doesn't read it, and doesn't care. After an uncharacteristic playoff road trip last season, and the departure of long-time assistant coach Mike Guentzel, the partisan grumbling has sometimes threatened to drown out the football stadium construction noise near Mariucci Arena. Gopher coach Don Lucia, who has won two-thirds of the games he's spent behind the Minnesota bench, acknowledges the dissatisfaction of some vocal fans, and meets it head on. "I've been here nine years, and in that time we've won more banners than any team in the league, so I take it with a grain of salt," said Lucia, noting that the season concluded with an eighth-consecutive trip to the NCAA tournament. "I'll put our record up against anyone."
• There are significant climate differences between Florida and Illinois in January. Players and fans from Minnesota Duluth, including a host of snowbirds who spend their winters in the Florida sun, were looking forward to the Bulldogs playing in the Lightning Classic in Tampa on January 2-3. Then in August, Notre Dame coach Jeff Jackson called UMD to let them know that all four teams (Union and UMass-Lowell round out the field), were moving to the Sears Centre in suburban Chicago for what's now known as the Shillelagh Tournament. But there still might be some unique fun to be had, as the teams may get an invite to the Chicago Blackhawks' outdoor game on New Year's Day. "Jeff called and told me instead of sitting on a beach with palm trees, we might have you sitting at Wrigley Field freezing your butt off," said Bulldogs coach Scott Sandelin.
• Rob Nolan's time as "the guy" in goal for Michigan Tech is something he's been waiting for. For much of his career in the WCHA, Nolan (a senior from Sherwood Park, Alberta) has watched Michael-Lee Teslak play on Friday, then gotten the call on Saturday. "He's split most of his college career, and at times he's struggled with that aspect of things," said Huskies coach Jamie Russell. "There were times when Robbie would get himself wrapped up in what (Teslak) did on Friday night. I needed to remind him that his job was to beat the guy at the other end of the ice." Russell has two freshmen who he thinks will challenge Nolan, but says that if all goes according to plan, the senior should play three-fourths of the Huskies' games. After allowing just one goal while taking top-ranked Michigan to double overtime at last winter's Great Lakes Invitational, Nolan already knows a little bit about the spotlight.
• If Garrett Roe claims he doesn't know where the 2009 Frozen Four will be played, he's feeding you a line. The native of Vienna, Va. (16 miles from the Verizon Center) says that even before he committed to St. Cloud State, and made a huge splash as a rookie with 45 points for the Huskies, he was hearing from friends and family about how cool it would be to lead a team to DC. "My dad said he would do anything at all that I'd ever ask him to do if I helped get him tickets to watch his son play at the Frozen Four in Washington," Roe said, claiming that despite the hype, he's focusing on the tasks at hand in October, not April. "It still seems like a far-fetched idea, and it's a long way away. But you kind of do think about it from time to time."
• In two WCHA towns, there's no sweeter smell than the aroma of freshly-poured concrete. Despite a looming state budget deficit, legislators came through with significant arena money in Minnesota last spring, meaning construction begins soon on a new arena for Minnesota Duluth, and significant upgrades to the National Hockey Center at St. Cloud State. After getting $38 million from the state, city leaders in Duluth are hoping for a gala opening of the new 6,800-seat home of the Bulldogs on Dec. 31, 2010. Another $6.5 million was sent to St. Cloud, where they're raising more money before kicking off a project that will add a huge lobby, team offices, a pro shop and suites to the Huskies' home rink. And with another $20 million headed to Bemidji to help with the construction of a new 4,000-seat home for Bemidji State hockey, don't think the Beavers' burning desire to join the WCHA is going to abate anytime soon.
Predicted Finish

No.

School
Of Note

1.

Colorado College
Yes, Jack Hillen is gone. But so many formidable elements return as the Tigers seek their fourth MacNaughton Cup in the past seven seasons.

2.

Denver
Rakhshani and Ruegsegger (with a hefty helping of Bozak) make the Pioneers as hard to stop as they are to spell. The lone question is in goal.

3.

St. Cloud State
Good goaltending and great offense return to the fold, as Husky fans swear this is the year they'll be playing in April, in Roe's backyard.

4.

Wisconsin
With Gardiner joining McBain, Smith, Goloubef and McDonagh on the back side, the Badgers have arguably the most defensive talent in the nation.

5.

Minnesota State
The political world isn't the only place where you'll find hard-working Mavericks who talk about the importance of veteran experience.

6.

Minnesota
Thirteen members of the Gopher roster didn't play college hockey last year. A dozen of them are freshmen, and one, thankfully, is Ryan Stoa.

7.

North Dakota
A lack of proven talent in goal is the big question for the Sioux. Of course, we had similar thoughts about CC last year, and that turned out fine.

8.

Minnesota Duluth
The offensive depth and the goaltending are the bright spots at the DECC. But defensive questions need answers for the Bulldogs to move up.

9.

Michigan Tech
The duo of Nolan in goal and Kinrade on the blue line is a good place to start. But the Huskies need goal-scorers to stay in the home ice race.

10.

Alaska Anchorage
The trio of Lunden, Crowder and Clark combined for 73 points last season. Beyond them, well, did we mention that you can see Russia?