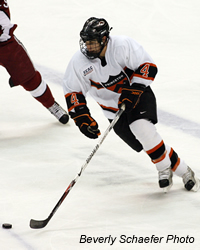 Fedun had two assists in the deciding third game of Princeton's ECAC Hockey quarterfinal series win over Yale.
---
Key Statistics: Tiger defenseman Taylor Fedun contributed four goals and 14 points while playing 32 games for Princeton during his freshman year. He logged lots of minutes and had the team's best plus-minus rating, at plus-15.
What He Does: There are two sides to Fedun's game, and when looking at both of them, a complete player comes into view. With the puck, Fedun is patient and skilled, and uses great vision to set up teammates or to move the puck up the ice. Without the puck, Fedun brings snarl and tenacity to the game. His toughness in the defensive end of the rink gives opposing forwards fits.
The Bigger Picture: Fedun was paired for most of the end of the season with Mike Moore, Princeton's senior captain and leader on the blueline. Even as a sophomore, Fedun will inherit some of Moore's responsibilities simply because of his talent level. Princeton coach Guy Gadowsky said it's not the age or experience of a player that determines leadership, but that a team's best players need to be the leaders every day. Fedun is certainly one of those for the Tigers.
Princeton head coach Guy Gadowsky on what makes Fedun special: "He is a very intelligent guy with the puck, and you don't usually find those gifted, talented offensive players mixed deceptively with a tough, tough guy to play against when he doesn't have the puck."
— Joe Gladziszewski