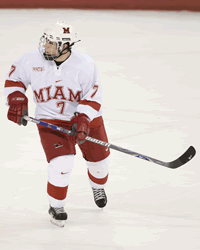 Miele had 14 points in 18 games with the Redhawks but was limited to just one assist in six postseason contests.
---
Key Statistics: While academic issues kept Miele from joining Miami until Christmas break, he made good use of the first half of the season. In just 29 games with the USHL's Chicago Steel, Miele knocked in 30 goals and added 11 assists for 41 points en route to breaking the Steel's career goal-scoring mark. After joining the Redhawks, Miele continued his torrid pace, scoring a game-winning goal in his first game and finishing with a 6-8—14 line in 18 games.
What He Does: One of Miele's best assets is his ability to see and process what's going on around him on the ice, a skill which elevates his own play and the play of his linemates. Miele will be forced to take on a more prominent offensive role with the graduation of Nathan Davis and Ryan Jones, and will rely on his vision to spread the puck to potential linemate Tommy Wingels and scoring threats Carter Camper and Justin Mercier, as well as picking the right spots to take advantage of his effective scoring touch.
The Bigger Picture: Joining a team in the middle of a season can be a challenging feat for all sides involved, especially a team which had only lost three of its first 24 games. At that point in the year, each element of a successful team has bonded into a unique chemistry, and even a very talented addition could throw that chemistry into a state of unbalance. Fortunately for the Redhawks, Miele, according to assistant coach Chris Bergeron, came in with "his mouth shut and his ears open" and quietly earned the respect of his teammates. While he may never be the most vocal leader in the locker room, the coaching staff at Miami knows it can count on Miele to lead by example on the ice.
Miami assistant coach Chris Bergeron on Miele: "Losing guys like Ryan Jones and Nathan Davis, we lost a lot of scoring and the onus is on guys like Andy Miele. We think he can score a lot of goals and a lot of points, play on the power play and be one of the top guys to pick up the slack."
— James V. Dowd