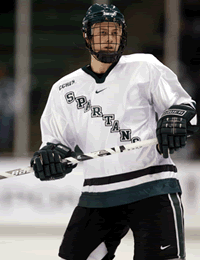 A second-round pick of the Edmonton Oilers, Petry will return to East Lansing for his sophomore season in 2008-09.
---
Key Statistics: Petry finished his freshman year with three goals and 21 helpers for 24 points and was +2 on the season, earning him a few notable additions to his personal trophy case. After being tabbed as USA Hockey's Junior Player of the Year in 2007, Petry was named to the NCAA West Regional All-Tournament Team, the CCHA All-Rookie team and won Michigan State's Top Rookie and Outstanding Defenseman awards.
What He Does: To hear Michigan State coach Rick Comley say it, Petry "doesn't really have any deficiencies." He's a complete player who handles the puck well, has great skating ability, can get physical and is strong defensively as well. While people have been praising him for all of these things since his days in Des Moines and at Orchard Lake St. Mary's High School in Michigan, he continued to polish all parts of his game at Michigan State.
The Bigger Picture: With the early departure of forwards Justin Abdelkader and Tim Kennedy, as well as blueliner Mike Ratchuk, Petry, for better or worse, will be thrust into the spotlight with Lerg this season as the team's top two returning players. Count on Petry playing a lot of minutes as a member of the Spartans' top defensive pairing and on the power play. As for his future at Michigan State beyond this year, it's hard to say; the Edmonton Oilers have certainly made it known that they envision him suiting up in copper and blue in the not-too-distant future. At least Petry has adequate mentorship about what it takes to make it: his father, Dan, is a former Major League Baseball All-Star and World Series-winning pitcher.
Michigan State head coach Rick Comley on Petry: "I thought that on some nights he was our best player and other nights, he played more like a freshman. All-in-all he's certainly an offensive defenseman and I think where we'll really see improvement this year is on the power play."
— James V. Dowd