April 1, 2004
NCAA Frozen Four
INCH Measures Up Maine's Todd Jackson
By Joe Gladziszewski

Maine's Todd Jackson, a senior captain, has seen all of the extreme highs and lows surrounding the Black Bear program over the past four years. He played in all 39 of his team's games as a freshman, and was a key player as a sophomore when the team rode the emotion from coach Shawn Walsh's death and played into overtime in the national championship game.
Jackson leads his team with 21 goals and ranks third in scoring with 33 points. Plus, he was named Hockey East's Best Defensive Forward. Next week's semifinal against Boston College will be Jackson's 160th in a Maine jersey, so who better to weigh in on this year's Black Bears and the upcoming Frozen Four?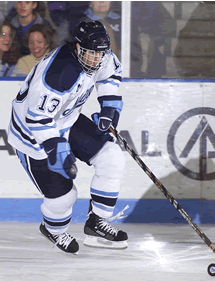 Senior Todd Jackson was named 2004 Hockey East Best Defensive Forward last month.
Inside College Hockey: Your team has gone through a lot over the last four years. What does it mean to be able to end your career at the Frozen Four?
Todd Jackson: It means the world. I came to the University of Maine for the chance to win a national championship. We've had our chances but haven't quite done it yet. It's my senior year. This is it for me and the rest of the seniors. I think in the past few years it's been a little different because you can always have next year. This is it.
INCH: Do you feel that even though you're ranked number one in the polls that you might not be getting the same respect and notoriety as some other programs?
TJ: I don't think that stuff's important, what other people are saying or who's getting more press. All that matters is who's holding the trophy at the end of the year, and we want that to be us.
INCH: What makes you guys so succesful in one-goal games? (Maine is 14-4-0 in one-goal games and its last seven games have been one-goal wins.)
TJ: I think it's a combination of things. The ultimate factor is the character of our team. I think everyone is accepting their role and our depth is incredible and our goaltending has been great. It's just been a combination of things that's made us successful.
INCH: Describe your leadership style as a captain.
TJ: I don't think I speak up that much but if something comes up that needs to be said, I won't hesitate to say something. I try to lead by example and hopefully guys respond to that.
INCH: Tell us something about your team that we don't know. Are there certain things that you guys do off the ice together?
TJ: We have our kangaroo court before every road trip where guys get fined for doing stupid things or whatever. It keeps everyone on their toes, and it's a fun thing. Just little things like that are what I'm going to miss most about Maine.
INCH: What about superstitions?
TJ: Everyone's got their own little superstitions, but I'll keep those private right now because we don't want to ruin anything.