March 25, 2004
NCAA Tournament
Midwest Regional Preview | Grand Rapids, Mich.
Van Andel Arena
Saturday, March 27
Noon EST: No. 1 Minnesota vs. No. 4 Notre Dame
3:30 p.m. EST: No. 2 Minnesota Duluth vs. No. 3 Michigan State
Sunday, March 28
1 p.m. EST: Regional Final
By Jess Myers
HOT TOPIC
On Halloween weekend, after Minnesota lost at home against Denver, the Gophers coach declared his team effectively out of the WCHA title hunt at 1-3-0 in league play. And at the time, Don Lucia didn't seem to have a care in the world, and remained calm for weeks later as his team started 2-7-1. Just a few weeks ago, the Gophers were in a must-win series versus St. Cloud State, needing to beat the Huskies twice to secure home ice in the WCHA playoffs. They did, and have emerged from conference play as one of the hottest teams in the nation.
One wonders how often Lucia thinks of his time at Colorado College and the lessons he learned at the foot of the Rockies. In six seasons there, his teams won the WCHA title three times, and advanced to the Frozen Four twice, but didn't win a NCAA title. In his first four seasons at Minnesota, Lucia's teams haven't won a WCHA title (they finished a non-threatening fifth this season), but have brought the NCAA crown back to Minneapolis twice.
As four teams gather at Van Andel Arena in Grand Rapids, looking for a route to Boston, here we go again. The Gophers, who were left for dead a month ago when they were swept at Denver, have won six in a row and save for one missing forward (Garrett Smaagaard) are healthy. Thomas Vanek, who clearly can turn his game on and off at will, is posted at the top of the oppnents' crease daring others to try and move him.
And if anyone thinks the Gophers might lack confidence, freshman goalie Kellen Briggs told the media at the WCHA Final Five that he realizes he doesn't have to play his best and the team can win anyway.
BACK STORY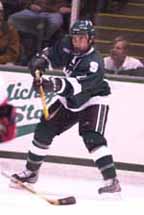 Michigan State's Mike Lalonde
Speaking of teams that were left for dead, the Michigan State Spartans see a ray of light 70 miles to the west, as they head for the west shore of the Grand River. Their one-and-done performance in the CCHA Super Six make it easy to forget that the Spartans finished just two points back in the race for the league title, and that they'll have a good-sized contingent of fans rooting for them in Grand Rapids.
Of course, it's ridiculous to think that an underrated and perhaps underachieving team from the state of Michigan could parlay home ice at the NCAA regional into a trip to the Frozen Four, right? Anyone who believes that has apparently been in a coma since March 2001.
And if the close-to-home ice advantage wasn't enough, the Spartans have drawn Minnesota Duluth in the opener. Michigan State has beaten the Bulldogs once already this season (5-4 in October at Munn) and should have a serious shot at advancing to the regional final when one looks at Minnesota Duluth's growing injured reserve list.
ON A ROLL
If Minnesota's opponents want to shut down Potulny, they've now gut twice as much work on their hands. Brothers Grant (a senior) and Ryan (a freshman) Potulny played together for the season's first eight games, before the younger Potulny was seemingly lost for the season with a knee injury that required surgery. By March, Ryan was ready to go again, and gave up a medical redshirt in favor of getting to play with his brother for anywhere from a week to a month.
In his first five games back in the Gopher lineup, Ryan has six goals, and his older brother admits that the pressure to uphold the family name has even snapped Grant out of a funk. We're into one-and-done territory now, and the siblings know that every game they play together could be the last. The thinking here is that they want this family reunion to run into April.
MR. CLUTCH
While You're There
The folks in Grand Rapids have made it easy for hockey fans, locating the arena and the entertainment district in close proximity to one another. To that end, in the heart of downtown Grand Rapids is The B.O.B. Under the roof of that Big Old Building (B.O.B., get it?) is a collection of bars and restaurants that had hockey fans raving in 2001 when the NCAA regional last visited these parts. Heck, the B.O.B.'s comedy club even has once-popular comedian Emo Phillips on the docket Friday and Saturday. Bulldog fans, go see Emo wearing your old Darin Illikainen jersey and it'll feel like 1986 all over again.
The second period of Notre Dame's Feb. 28 contest against Michigan at the Joyce Center was arguably the season's defining moment. The Fighting Irish trailed 2-1 as Michigan, attempting to give backup goaltender Noah Ruden goal support, threw everything it had in Notre Dame's direction. Three straight Wolverine power plays only added fuel to the fire.
The Fighting Irish killed the first penalty, then the second and then the third. On two of those power plays, Notre Dame's top PK unit was on the ice for the entire two minutes. They scrambled, dove, bodied and poked their way through the kill. The Wolverines didn't score. Less than two minutes after the last of the three power plays ended, Neil Komadoski and Matt Amado scored to give the Irish a 3-2 lead in a game the home team would win 5-2.
What makes Notre Dame's penalty kill so amazing (the Irish are the CCHA's best in that category) is that it often features four freshmen – Dave Poulin's top three forwards in that situation are rookies Michael Bartlett, T.J. Jindra and Jason Paige and lanky blueliner Wes O'Neill joins veterans Komadoski, Tom Galvin and Brett Lebda in front of rebound-swallowing newcomer David Brown in goal.
They've proven they can frustrate a high-octane power play like Minnesota's. The Wolverines can certainly provide a testimonial.
SOMETHING TO PROVE
This collective honor goes to the Fighting Irish, who are making the school's first-ever NCAA appearance after being saddled with the "underachiever" label for years. And while this year marks Notre Dame's postseason debut, they've got all the trappings of a team that can make a scene in the tournament – two goaltenders (David Brown and Morgan Cey) capable of stealing games on their own; a solid defensive corps led by veterans Brett Lebda, Tom Galvin and Neil Komadoski; an offensive stud in senior Rob Globke; and the CCHA's best penalty-killing unit. Even if they're NCAA Tournament newbies, we're pretty sure Dave Poulin can tell his troops a thing or two about playoff hockey.
ONE TO WATCH
Minnesota Duluth forward Evan Schwabe kicked it into high gear last weekend at the WCHA Final Five. He scored a pair of goals in the first period of the Bulldogs' first game (which included a jock-separation move on Minnesota goalie Kellen Briggs that had media and opposing players raving) and added another goal and an assist as UMD took third in St. Paul. With Bulldog superstar Junior Lessard likely to miss the regional with a knee injury, much of the scoring responsibilities and the expectations of Bulldogs' fans rests squarely on the shoulders of this junior center. Schwabe scored 17 goals in Lessard's shadow. If he can perform well in the spotlight, all may not be lost for the Duluthians.
SATURDAY STORYLINE?
If the top two seeds advance, one would hope the sixth time's a charm for somebody. Minnesota Duluth made history this season by winning its first four meetings with arch-rival Minnesota, giving the Bulldogs four wins over the Gophers in one season for the first time ever. Minnesota gained a measure of revenge last weekend in St. Paul, coming from two goals down to beat the Bulldogs in the Final Five semifinals. Fans all across the State of Hockey are surely of the opinion that a sixth meeting between the schools (with the winner moving on to Boston) is in order.
Special reporting by Mike Eidelbes.