March 30, 2005
NCAA Frozen Four
INCH Measures Up DU's Matt Carle
By Nate Ewell
Plenty of talk leading up to the first Frozen Four semifinal will focus on Colorado College's pair of Hobey Hat Trick forwards, Marty Sertich and Brett Sterling.
But Denver has a dynamic duo of its own. Sophomore Matt Carle and junior Brett Skinner are the best pair of offensive defensemen in the college game. What's more, they're solid in their defensive end as well – Carle especially – which means he's seen a lot of his Front Range rivals in their five meetings this year.
As Denver enjoyed a fairly understated celebration of its Northeast Regional final win over New Hampshire, thoughts were already on the impending matchup with CC. We sat down with Carle to talk about the defending champions and the obstacles between them and another national title.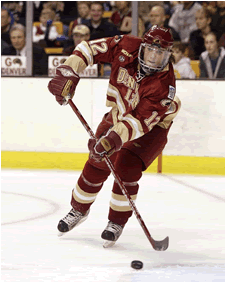 Matt Carle has averaged nearly a point per game this season, with 12-28—40 in 41 GP.
Inside College Hockey: How does this year compare to last year?
Matt Carle: I don't like to compare last year to this year, but it's definitely a stepping stone in our season. We came in here expecting to win this regional, and the boys came out hard today and proved that we deserved to be in the Frozen Four.
INCH: Why do you avoid comparisons to last year? You'd think you'd want to relive that over and over.
MC: Two different teams, two different mentalities, two different seasons. We've done things that last year's team didn't do, and last year's team did things that this year's team didn't do.
INCH: You guys impressed everybody in Boston last year with a really loose, fun-loving approach to the game. Is the atmosphere in this year's locker room the same?
MC: I feel like it is. I think it's going to be fun for us this next week off to let loose a little bit. We've been so focused; we haven't had a weekend off since the middle of January, so it will be good to get a break. Hopefully we can get away from it a little bit and come back focused and ready to go to Columbus.
INCH: You hear all the time about guys who won championships as freshmen not realizing how tough it is to get back to that level. Have you thought about that at all?
MC: I don't expect to do it. I know it's tough. You definitely have to do the work, put in the time, and hopefully good things will happen.
INCH: Talk about the offensive role the defensemen on this team are allowed to play, and even expected to play.
MC: Coach Gwozdecky really lets me and Brett (Skinner) do what we want on the ice, and the forwards do a good job covering for us. It's definitely a fun part of the game to jump up in the play and get involved. It's part of the game that I've been trying to add to, while taking care of my own end.
INCH: What do you think about facing CC again?
MC: There's no better way. You've got to go through the good teams to win championships, and they're a great team. We've seen each other six times this year, so there's not going to be any strangers on the ice, that's for sure. It'll come down to who wants it more and who is willing to pay the price.
INCH: Are you getting sick of seeing (Marty) Sertich and (Brett) Sterling?
MC: No, I love playing against those guys. The two best players in the country, and you always love a good challenge. It'll be fun.
INCH: Think you guys will share a plane out there (like they did for the WCHA Final Five)?
MC: That's up to the NCAA. It's not what everybody thinks it is. We're two teams that respect each other, and nothing happened on the plane.
INCH: Were you intentionally quiet on the flight back after winning the WCHA Final Five?
MC: Yeah, you don't want to rub it in. And we figured it would be coming down to this, and we'd see them in the Frozen Four, so you don't want to wake a sleeping giant.