March 24, 2006
NCAA Tournament
East Regional Preview | Albany, N.Y.
NCAA
EAST REGIONAL PREVIEW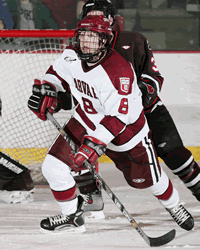 Dan Murphy and Harvard won the ECACHL playoff title in Albany last weekend. They'd like to leave town with two wins once again.
NCAA Tournament Bracket | Info
National TV Schedule
Regional Preview Coverage
East: Capsules
Northeast: Capsules | Preview
Midwest: Capsules | Preview
West: Capsules | Preview
NCAA NORTHEAST REGIONAL
Pepsi Arena
Saturday, March 25
Noon ET: No. 1 Michigan State vs. No. 4 New Hampshire
3 p.m. ET: No. 2 Harvard vs. No. 3 Maine
Sunday, March 26
2 p.m. ET: Regional Final
By Joe Gladziszewski
HOT TOPIC
We're supposed to get your attention and maybe even shock you in the lead of the story.
New Hampshire won the East Regional.
Maine won the East Regional.
Harvard won the East Regional.
Didn't work, did it?
Michigan State won the CCHA Tournament, enters this weekend as the top seed in this regional, and is the favorite to advance to the Frozen Four. If any of the other teams win it wouldn't be all that surprising, because they've all got something going for them that makes them tough to beat.
For second-seeded Harvard, it's momentum. The Crimson are scoring a ton of goals (see below) and won the ECAC Hockey League championship last weekend in this building.
Maine brings some of the best special teams play in the nation and stingy goaltending from Ben Bishop. The Black Bears found their stride in the second half of the Hockey East season and finished second in the league.
New Hampshire played with confidence at the end of the season and features a dynamic group of skilled forwards. They're dangerous enough to give Michigan State fits in the opening round.
BACK STORY
There's a mixed bag of tournament history among these four teams. Ancient history is more kind than recent history and it starts with the Spartans. Perhaps things are aligned for the Green and White as the program's two national championships were won in 1966 and 1986. A 20-year plan suits this current group quite nicely.
Maine won championships in 1993 and 1999 and Harvard won the title in 1989. They staged an absolute classic in this rink in this round of the tournament in 2004. The Crimson held a 4-1 lead entering the third period before the Black Bears scored four times in the final 20 minutes to win the game.
UNH is making its 26th appearance in this tournament and has never won it. Last week's tournament experience wasn't good either. They were smoked 9-2 by Boston University in the Hockey East semifinals and will need to re-build their confidence for this weekend.
While You're There
Albany has been a popular destination for regionals and Frozen Fours and fans traveling with these teams might even have some favorite spots to visit on Pearl Street near the Pepsi Arena. Harvard was there last week, Maine was at a regional in 2004, and Michigan State was at the Frozen Four in 2001. Our experience has shown that Jillian's is very accommodating in showing hockey games being played in other regions. It is also the host site for Maine's pre-game parties on the third floor before Saturday's game and Sunday if necessary.
After hockey, we prefer the Bayou Café which features a laid-back bar atmosphere on one side and live music and dancing on the other. There's enough space in between so that the music won't distract those seeking a quieter night.
ON A ROLL
Playoff time is when the defenses tighten up; officials allow defenders more latitude in holding and hooking; and goaltenders step up to shut down the other teams. Harvard might believe that, but they haven't played like it. The Crimson averaged just 2.8 goals per game in 29 regular-season games but have scored 28 goals in five playoff games, doubling their average at 5.6 goals per game. Harvard scored eight goals in a series-clinching win over St. Lawrence, 10 against Dartmouth in the league semifinals, and six against Cornell in the final. Harvard's power play was 9-for-22 in the last three games, converting at a better than 40 percent rate. They'll need that to continue against Maine, the best penalty-killing team in the country.
MR. CLUTCH
Maine's Greg Moore is the team's leading scorer and he leads them at important times. Four of his team-leading 26 goals are game-winners and 12 of his goals have come on the power play. He had seven points over the course of three playoff games, but was held off the scoresheet in a Hockey East semifinal loss to Boston College. Moore is team captain, a First Team Hockey East selection, and was a semifinalist for the Hockey Humanitarian Award.
SOMETHING TO PROVE
We already mentioned Michigan State's 20-year anniversaries. They're not so crazy about the recent past. The Spartans have failed to score in their last three NCAA Tournament games. They were shut out 5-0 by Minnesota Duluth in 2004, 2-0 by Colorado College in 2002, and 2-0 by North Dakota in 2001. At least they're not playing against a WCHA opponent this time.
ONE TO WATCH
Keep an eye on UNH forward Jacob Micflikier. You know that Michigan State will be. He had both Wildcat goals in the loss to Boston University last weekend and carries a five-game goal-scoring streak into Saturday's early semifinal. He's red-hot right now and of all the players at this regional, he's probably the guy most likely to put up four points in a single game.
SUNDAY STORYLINE
We've established that it won't be a surprise no matter who meets on Sunday afternoon. These are proud programs that expect to make noise in the NCAA Tournament, not just within their conferences. A Frozen Four appearance by any of them puts them right back into the national spotlight and they'll claim bragging rights against rival schools such as Michigan, Cornell, Boston University and Boston College.