March 23, 2006
NCAA Tournament
Northeast Regional Preview | Worcester, Mass.
NCAA
NORTHEAST REGIONAL PREVIEW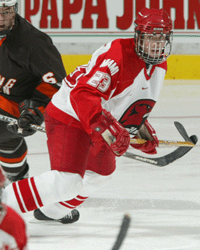 Andy Greene and Miami will be among the many players wearing red at the DCU Center this weekend.
NCAA Tournament Bracket | Info
National TV Schedule
Regional Preview Coverage
East: Capsules | Preview
Northeast: Capsules
Midwest: Capsules | Preview
West: Capsules | Preview
NCAA NORTHEAST REGIONAL
DCU Center
Friday, March 24
4 p.m. ET: No. 1 Boston University vs. No. 4 Nebraska-Omaha
7 p.m. ET: No. 2 Miami vs. No. 3 Boston College
Saturday, March 25
6 p.m. ET: Regional Final
By Nate Ewell and Jeff Howe
HOT TOPIC
Just days removed from an outstanding Hockey East championship game, college hockey fans in Boston are abuzz over the chance of a rematch just one week later.
Boston University and Boston College both find themselves in Worcester's DCU Center this weekend, and wins on Friday would make for their sixth meeting this season. It's all the more special since they went to overtime last Saturday, a game extended by John Curry's strength in net and ended by Brandon Yip's goal at the other end.
But before we plan on those teams and deck out DCU Center in its Beanpot best, it's worth remembering last year. The same two teams were in Worcester, but North Dakota spoiled the fun. The Fighting Sioux stomped BU in the opener, then dismissed BC en route to an all-WCHA Frozen Four.
Have things changed this year? Well, for one, the games in Worcester are the Northeast Regional – last year this was the East Regional. It's just semantics, to be sure – but as long as we're changing the wording on the brackets, BC and BU would love the chance to pencil in a Saturday meeting.
BACK STORY
Nobody likes Nebraska-Omaha right now.
Not Boston newspapers, who see the Mavericks as unavoidable fodder on the way to that inevitable BC-BU showdown. Not fans in Marquette, Mich., where they saw their Wildcats dispatch UNO two weeks ago. And certainly not fans in Denver, who wonder how a fifth-place team from a lesser conference could steal the Pioneers' chance to defend their back-to-back titles.
Maverick head coach Mike Kemp and his players have offered no apologies for their presence – nor should they. They're in fair and square under the current criteria; Friday they'll have a chance, on the ice, to prove that they deserve their first trip to the NCAA Tournament.
While You're There
A short walk from the DCU Center, the Irish Times features a little bit of something for everyone: pub on one level, nightclub on another. The plasma screens on the first floor are your best bet for out-of-town games. There's live music each night as well – catch No Alibi on Friday and Chad LaMarsh on Saturday.

ON A ROLL
No one in the history of the Hockey East tournament had ever collected two hat tricks over the course of their career. That was until BU's David Van der Gulik footed the feat in a whopping span of three games last week. He did it in Game 1 of the Terriers' quarterfinal quagmire with UMass and then again seven days later in the league semifinals against New Hampshire. He has picked up two game-winning goals and one contest-clinching assist in the last four games, and – perhaps most important – BU is 19-2-2 with him in the lineup since he returned from injury on Dec. 30.
MR. CLUTCH
The game is on the line. Your team is in overtime on the brink of winning some gold or taking an early flight home with a lump of coal. So you need a goal as quickly as possible. Or do you? John Curry has allowed just five goals in Boston University's four postseason games while the Terriers made their run to the Hockey East championship. He had his best performance when it mattered most in the title tilt on Saturday, making 10 stops against a hungry Boston College offense in overtime before Brandon Yip scored the game-winner at 14:22. Curry's saves were all of the stand-on-your-head variety; playing center field in traffic, diving to his left and snaring two wristers from close range that crossed him up, among others.
SOMETHING TO PROVE
Both CCHA clubs have something to prove, but Miami is the one that really seems poised to make a statement. The Redhawks, some felt, deserved a No. 1 seed for racing to the CCHA title. Instead, they get two de facto road games.
The RedHawks have been a remarkably consistent team since the puck dropped in October, especially in this season when, it seemed, everybody had a tailspin. But they haven't beaten a tournament team since a sweep against Michigan the first weekend of December, and nobody outside of the CCHA seems to have paid much attention to the guys from Oxford. This weekend they have a chance to grab some attention on the New England – and national – stage.
ONE TO WATCH
Keep an eye on the crafty Scott Parse of Nebraska-Omaha. The nation's leading scorer isn't the type to grab your attention with a highlight-reel move the way Boston College's Chris Collins will, but watch him for a couple of shifts and you'll appreciate his skill. Keep an eye on the way he works with linemate Bill Thomas, playing off each other to create space for the other. Boston University will have to slow those two to advance to the Regional Final.
SATURDAY STORYLINE
As mentioned above, this would mark the sixth game this season between Boston College and Boston University if both advanced. But if the top seeds hold true, it'll be RedHawks vs. Terriers on Saturday night. BU would be looking for its first Frozen Four trip since – brace yourself here, because you won't believe it – 1997, when the tournament last visited Milwaukee. Miami, meanwhile, looking to beat a Boston-based school "on the road" for the second day in a row, would be eyeing its first Frozen Four.