March 30, 2006
NCAA Frozen Four
INCH Measures Up North Dakota's Jordan Parise
By Jayson Hron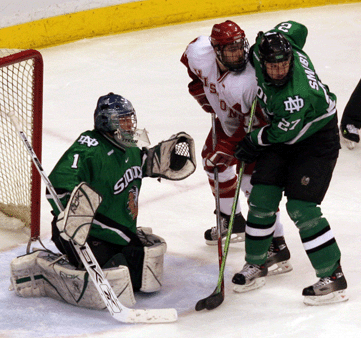 Jordan Parise and the Fighting Sioux beat Wisconsin two weeks ago at the WCHA Final Five. (Photo by Larry Radloff)
North Dakota junior Jordan Parise enters the 2006 Frozen Four as the NCAA's active leader in tournament goaltending victories with six. His most recent triumph also gave the Faribault, Minn., native sole possession of second place on UND's all-time victories list with 55. His .922 career save percentage is the best ever for a member of the Fighting Sioux.
Numbers certainly tell a part of Parise's story, but they don't tell all. The well-traveled son of a former NHL standout has battled doubters, adversity and himself to get where he is now: on the verge of a national championship.
Inside College Hockey: Even though the North Dakota-Boston College rivalry has a pretty extensive history, your Fighting Sioux squad hasn't faced the Eagles this year. What do you know about this Boston College team?
JP: Boston College is a very skilled team and very well coached. They have done very well in their league this year and for the past several years. They have always been a threat. For us, I believe that if we take care of the physical part of the game we should do well. If not, it could be a long night. We have put all of our focus into this upcoming game and if we keep things simple, as we've done in our best performances, then we should have a chance.
INCH: You guys are playing so well right now. What will be the battle cry in practice as you prepare for the Frozen Four and attempt to elevate your game even further?
JP: Our team has been playing well but there is still room for improvement. For the last few weekends, we have been getting production from several different players. Even though it doesn't necessarily show up on the score sheet, everyone now plays a specific role. If we can get contributions from a variety of people, like we have been, I firmly believe that this team can finish on a positive note.
INCH: Talk a bit about playing for P.K. O'Handley and the Waterloo Black Hawks in 2002-03. What impact did that experience have on your development?
Jordan Parise: I was all set to go to play for Salmon Arm in the BCHL, so I was not too concerned about the option of playing anywhere else.
I was working a summer hockey camp called Hockey and Sons, where I met P.K., and he had said that there was still one more spot left in his camp if I decided that I wanted to attend. I figured that I had nothing to lose and I felt that it would give me an opportunity to get some ice time in a competitive situation before I went to Salmon Arm for the season.
I ended up having a very good camp in which, after being the 12th goalie in camp, afterward, I was rated as the No. 1 goalie at the tryout. P.K. suggested that I would potentially have a spot with the Black Hawks if I decided to stay. After weighing the options, I felt that it may, in fact, be a better situation (than Salmon Arm) considering I'd be closer to home and it was in the USHL, which was considered a better league.
After several months of personality issues between P.K. and I, we finally sat down and sorted it out so that we would be on the same page and I could do what he desired of me and he do the same. I realized that he actually wanted me to succeed more than I did. I had never been in a situation where the coach cared so much for his players -- at least I thought I had never been in the situation. Tom Ward, my coach at Shattuck, was very similar in that sense but, at the time, I may have thought I was better than I actually was and I didn't see his intentions. P.K. forced me to commit myself. He instilled a sense in me that I should never be satisfied with myself and that there is always room for improvement. He also taught me what it meant to battle, to never give up, no matter what the circumstances. I still talk with P.K. to this day and truly believe that he was the one that gave me hope in what I could potentially be.
There are two other people that had similar roles in my life, one being Ian Clark, my goalie coach. He helped me understand a very precise style of goaltending and mixed that precision with the ability to battle. He proved to me that this could be the best solution for success. The other is Kevin Constantine, my coach in Pittsburgh. He gave me hope and when things were at the worst for me in my career, he showed me that I could actually be something great. He took a gamble and gave me a chance to make something of the confusion that I felt in my life. These three people are the sole reason that I am at where I am.
Most people would say their dad was the one, but I think [in our case] that his genes were passed on to his two children and it took outsiders to show us what we were actually capable of.
INCH: You and Wisconsin's Joe Pavelski were teammates in Waterloo. If you were to meet the Badgers, who would have the advantage – you or him?
JP: I don't think that either of us would have an advantage. He has developed into an unbelievable force in this league and I have developed into an entirely different person and goaltender, therefore, advantage will go to neither of us.
INCH: What was the best piece of goaltending advice you ever received?
JP: The best piece of goaltending advice I have ever received, which I believe also pertains to life, is "never quit."
INCH: What was the immediate reaction of you and your teammates when Minnesota lost to Holy Cross?
JP: When we were in the locker room before the game against Michigan, we were delayed about 45 minutes and even though we wanted to focus on the game that was at stake, we were desperate to find out what was going on in the game with Holy Cross and Minnesota because all we could hear from our locker room was cheering after any close play. When we found out that Holy Cross had won we were thrilled. With all due respect to Holy Cross, I think that any team in the country would say that they would never want to play against Minnesota. We also understood that Holy Cross beating Minnesota was not a fluke. With the scoring power that Minnesota has, Holy Cross proved to everyone that hard work beats skill when skill doesn't work hard.
INCH: Talk a bit about the current state of your game and how your teammates are playing in front of you.
JP: Our team has gone on an upslope and we just keep getting better. Personally, I just try to keep up with the guys. They've been playing extremely well. I've had to elevate my game in order to keep up with theirs. I work extremely hard and these guys push me to work extremely hard. This is a real special group. We have the ability to motivate each other really well.