March 31, 2006
NCAA Frozen Four
INCH Measures Up Maine's Josh Soares
By Mike Eidelbes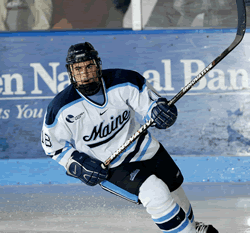 Josh Soares has 40 points as a junior after posting just 26 in his first two years combined.
You probably know about Greg Moore and Ben Bishop, but can you name Maine's second-leading point scorer and team leader in assists? It's Josh Soares, a junior from Hamilton, Ontario, who has seen his point production increase significantly each year that he's been in Orono.
Soares had just three points and dressed in just 15 games for the Black Bears as a freshman in the 2003-04 season. He didn't appear in any of the final 10 games for Maine once the month of March began as the Black Bears went on a run that included a Hockey East championship and an appearance in the national championship game.
His sophomore year was vastly different, as he appeared in 35 of Maine's 40 games last season. Soares had 23 points on the year and six multi-point games.
This year has been another year of improvement for the junior left wing, who plays on the team's top line with Michel Léveillé and Greg Moore. While Soares missed out on that 2004 playoff run, he'll be a key figure in Maine's championship chase in Milwaukee.
Inside College Hockey: When you guys are playing well, what do you do to be successful? What is the key for Maine hockey?
Josh Soares: For our team it's puck pressure. We pressure the puck well. When one guy goes in we have another guy reading and reacting and the other guy stays high. If they do beat that, we try to control the neutral zone. That's a huge part. If you can control the neutral zone you can control the game for the most part. Our defense has really improved a lot on that this year. Defensemen move the puck to us forwards and we're getting back defensively. It's just hard work.
INCH: What about your team's depth?
JS: We have four lines that are really hard working and they can all put the puck in the net. I think that's a big difference from a lot of teams that have two or three really good lines. We have four complete lines, so that's a big edge on our part.
INCH: Do the other lines build on that hard work? When you're going over the boards and you've just seen some other guys out there, does that help you generate momentum?
JS: You see that line of (Rob) Bellamy, (Brent) Shepheard and (Jon) Jankus. They're not superstars by any means but they're great players. They work hard every shift, they take the body, they do all of the little things right, and they chip in goals here and there too. That's a huge lift. In the first period [against Michigan State] we were up 3-0 and we're supposed to be our top line and we didn't have anything to do with that. That just shows how deep our team is. When you see guys like John Hopson stepping up this weekend and Keenan Hopson, those guys just played fantastic and it's a huge key to our success.
INCH: Tell us about Greg Moore. When you watch some other players from around the country they have a distinguishing characteristic that people might notice. For Greg, it seems so effortless. He's always making the right play.
JS: I just think he's so calm out there. He's a student of the game. He knows every situation and what he's supposed to do correctly, and he does it right. He reacts so well to different situations in the game and that's key. He's just so big, strong and fast that he's overpowering out there. His puck pursuit and shot have improved so much this year and his defensive game is unbelievable. He's one of the top defensive players in the league and he's added that offensive part to his game this year. You can't say enough. He's a great leader in the dressing room and he's probably the best captain I've had since I've been here. You really look up to a kid like that. He's worked hard and to be where he's at, he deserves all of the credit he gets.
INCH: Your team had a small celebration at the end of the game but now it's just a little while later and everybody seems pretty laid back. Are you excited about what's going on?
JS: We're definitely excited but we expect to win. We're not satisfied with just getting to the Frozen Four. We expect to win and I think that's why when you saw us win, we had our celebration but it wasn't overdramatic. We won and we want to keep winning. We're going to go on and battle in two weeks.