April 4, 2006
NCAA Frozen Four
Frozen Four Semifinals: Coach's Takes
Inside College Hockey talked to coaches whose teams have played the teams involved in each of Thursday's semifinal games. In exchange for anonymity, they gave us their candid breakdowns of the matchups.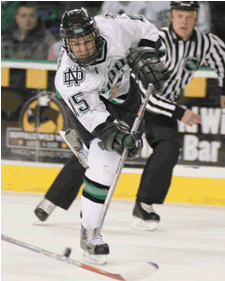 North Dakota forward Travis Zajac.
Boston College vs. North Dakota
North Dakota has very good depth up front. Drew Stafford is a very skilled player and he's supported by a lot of guys like that in Jonathan Toews, T.J. Oshie, Travis Zajac and Ryan Duncan. But they're all very skilled and they protect the puck well.
One thing they'll need to do is to play a puck possession game against Boston College. The fact that North Dakota is good at that will be an advantage for them. They're big, strong and skilled and that will help them if they get into that type of game.
Obviously, they're going to have to find a way to figure out Cory Schneider. He's playing great right now but you can't think that's going to last forever. When you look at those forwards, they can put the puck in the net and they're good at protecting the puck.
BC's forwards are all very dynamic as well and they're a very good transition team that feeds off of other team's turnovers. If you turn the puck over they will make you pay. They won't really cycle and possess the puck against you...I would say they're more of a run-and-gun type team.
You can't turn the puck over and give them quality chances. If you look at the games that BU won against them they played physical, possessed the puck, and kept BC's forwards to the outside. The game they lost in Worcester was because they gave the puck away and it turned into short-handed goals.
Chris Collins is one of the best players in the country. He'll shoot and score from anywhere. Boyle is big and lanky but he is deceptively fast. He can make you look silly if you don't respect his speed and he's got very good hands for a guy that's 6-foot-7.
The North Dakota defense is very physical. They'll take your head off whenever they get a chance. Peter Harrold and Mike Brennan are the leaders and all of the BC defensemen will jump into the play. You have to finish your chances because when Schneider gets in a groove those kids get more confidence, and that confidence makes your anticipation better. You meet the puck and see plays developing.
For both teams, good players will be good players. It's the other guys you might not think about that you have to worry about. Every team can match lines against top lines. For Boston College it was guys like Benn Ferriero and Joe Rooney that really came through at the regionals.
There's no such thing as youth when you get to this point in the season. All of these freshmen have been through the battles and they have played in big games in big rinks. It's not a concern.
If it's a puck possession game, then the edge goes to North Dakota. If it's a test of wills then I think North Dakota has the edge. Don't count them out if it turns into a run-and-gun game, but that's the type of game that would favor BC.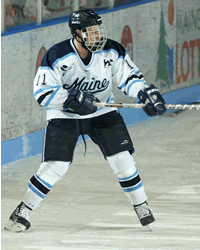 Maine forward Michel Léveillé.
Maine vs. Wisconsin
Maine is more dynamic at the forward position than Wisconsin. Wisconsin just isn't all that dynamic.
Outside of Joe Pavelski and Robbie Earl, who on that team can break people down? There are ways to stop Pavelski and Earl, too. On Maine, Michel Léveillé can break people down and even though he's a defenseman, Bret Tyler can break people down.
The Badgers struggle to score. If they hadn't played Cornell in the Midwest Regional final, they probably would've lost. They played a physical game against Cornell, but you're not going to out-physical Maine.
When we played Maine, they said they were going to come out and hit us hard. I don't think they'll come out and say that about Wisconsin, but it's going to be a battle, especially along the wall.
Defensively, Wisconsin is pretty much in the same situation as they are with the forwards. They've got some solid players, but outside of Tom Gilbert, who back there scares you? Kyle Klubertanz is OK.
Can you name five guys on Maine's roster outside of Greg Moore and Derek Damon? Probably not, but they've got better depth and better personnel from top to bottom than Wisconsin.
The Badgers are a solid team and they play a solid system. But if all else fails, they rely on the big guy in goal [Brian Elliott] to bail them out. That's where the key to this game lies. If Maine's Ben Bishop plays like he did against Michigan State in the East Regional final, Wisconsin will win by three goals. If he doesn't – if everything is pretty much equal – I think the advantage goes to Maine.