March 30, 2008
Northeast Regional | Final
Freshman Fans BC's Frozen Four Flames
Whitney, long-time Eagle fan, nets game-winner against Miami
By Jeff Howe
Boston College 4,
Miami 3 OT

Team
Goal
Str
Time
Assists

First Period

1-MIA
Jarod Palmer (10)
EV
1:30
A. Martinez, K. Roeder

Second Period

2-MIA
Nino Musitelli (9)
EV
8:32
B. Kaufman
1-BC
Nick Petrecki (5)
EA
16:48
P. Gannon, M. Price
2-BC
Nathan Gerbe (30)
EV
17:02
B. Gibbons
3-BC
Ben Smith (23)
EV
18:46
D. Bertram
Third Period
3-MIA
Ryan Jones (31)
EV
9:02
C. Camper
Overtime
4-BC
Joe Whitney (10)
EV
12:12
D. Bertram
Goaltending
BC: John Muse, 72:10, 34 saves, 3 GA
MIA: Jeff Zatkoff, 72:12, 38 saves, 4 GA
Penalties: BC 6/12; MIA 5/10
Power Plays: BC 0-4; MIA 0-5

All-Tournament Team

G: Andrew Volkening, Air Force
D: Alec Martinez, Miami
D: Nick Petrecki, Boston College
F: Nathan Gerbe, Boston College
F: Ryan Jones, Miami
F: Joe Whitney, Boston College
Most Outstanding Player: Whitney
WORCESTER, Mass. – This night had been a long time coming for Joe Whitney.
Until Sunday, the Boston College freshman had only dreamed of lifting the Eagles to an NCAA tournament victory. And then he got his chance.
Whitney said a prayer, took a swipe at a dangling puck, and sent it to the back of the net to give the Eagles a 4-3 overtime victory against Miami in the Northeast Regional championship. BC will head to the Frozen Four for the third straight year and the fourth time in five years.
"I didn't even know it went in until somebody jumped on me," Whitney said. "I think I saw the puck. I had no clue what was going on. It's just unbelievable to give the seniors a chance to live another day and try to capture something they haven't done yet."
Dan Bertram led the break down the right side and took a hard shot that rebounded to the slot where Whitney fought off a defenseman, dove, and took a flailing swing at the puck before landing on his back.
Bobby Orr would be proud.
"I saw it kick out," said Whitney, who played Bertram's shot to rebound wide based on what he's seen from Bertram's bids in practice. "I tried to get to the net, and I think the defenseman overplayed me. He thought I was going to go wide, and I cut in front of him, got a backhander off it. I took a slap at it and didn't know really where it was going to go."
It was twice as sweet for Whitney, who grew up in nearby Reading, Mass., as a Boston College fan. He was sitting in a luxury box – shirt off and chest painted – at the FleetCenter in 1998 when BC fell in overtime to Michigan in the national championship. Two years ago, he was at UMass with a friend and watched the Eagles fall short against Wisconsin in the title game. And last year, Whitney was in a buddy's basement when Michigan State pulled off a giant upset to knock off BC in St. Louis.
He had committed to coach Jerry York after his sophomore year at Lawrence Academy, and Whitney said he felt like he was part of the team each of the last two seasons.
"I had my head in my hands; I was pretty much in shock," Whitney said of watching those two defeats.
But there were no grungy couches, leather recliners, or luxury suites this time around. Instead, Whitney was right there on the ice, wearing No. 15 for the Maroon and Gold and doing his best to make the program proud.
He was smart enough to put himself in the right place at the right time, gutsy enough to sell out and take a flying stab at a loose puck, and modest enough to credit his game-winning bid to something of dumb luck.
"I had no clue," Whitney quipped, "what the hell I was doing out there."
SMART TIMEOUT
While Joe Whitney was the hero, Jerry York deserves much of the credit. His Eagles looked stiff and played like they were scared to lose through the first 9:23 of overtime, so York called a timeout to settle his crew.
Boston College freshman forward Joe Whitney scored the game-winning goal in the Eagles' 4-3 win over Miami in Sunday's Northeast Regional final.
It was the call of the night. Miami was outshooting BC 9-1 at that point in OT – after the Eagles outshot the RedHawks 38-27 in regulation and 25-17 over the final two periods – and goalie John Muse was forced to make a few solid saves to keep his team alive.
"We just seemed to be too tentative," York said. "We were sitting back too much. We were hoping to win the game. You can't play that way. You've got to go after them."
"I think it was really good," Nathan Gerbe said of the timeout. "Coach tried calming us down. We were playing not to lose, and that's how you can't play in overtime. You have to go out and try to take it, and that's what we did.
"I think some guys on the team sat back a bit, not playing their game and kind of hoped that we'd win. You can't do that. That's when you lose."
The Eagles outshot Miami 3-1 in the three minutes after the timeout, including Whitney's winner at 12:12 of the extra session.
"We wanted to win real bad. It's OT. Everybody in the rink was a little nervous," Whitney said. "I'm sure [Miami] was a little nervous. Coach took a timeout to settle us down, told us to clear our heads of everything we were thinking, just play hockey and all it takes is one rush.
"In the back of their head, everyone is thinking what it's going to be like. You're just anticipating what's going to happen. You don't know what's going to happen. After the timeout, I just said, 'You know what? Just play, and whatever happens, happens.' If we play our game, we should come out to win."
SEEN AND HEARD AT THE DCU CENTER
INCH's Three Stars of the Night
3. Nathan Gerbe, Boston College
Gerbe knotted the score by capitalizing on a hard rush to the net in the second period and changed the flow of the game.
1. Ryan Jones, Miami
It seemed like every single time the RedHawks had something going in the BC zone Jones was responsible. He was everywhere once again and also scored the equalizer in the third period.
1. Joe Whitney, Boston College
His game-winning goal might start stealing YouTube hits away from Gerbe's penalty shot against Providence in the Hockey East playoffs.
• Boston College was seen stretching before the game in the hallway outside the locker rooms while Miami used the main concourse. Not sure how the RedHawks kept their focus because the food down there smells awesome.
• Miami's Nathan Davis didn't play due to an "upper body injury," which was disclosed by coach Rico Blasi during Saturday's postgame press conference. The injury was believed to again be his shoulder, which kept him on the shelf for about half of his senior season.
• Miami had a pair of coaches sitting nearby in the press box, and to say they were mildly disappointed with their team's inability to put shots on net in the first period would be like saying Simon Cowell would be indifferent to listening to Roseanne Barr sing the national anthem. Miami ended up putting 10 shots on net in the first period, its most in any period of the game (except the 10 in overtime).
• We in the media are all about the free food, but when you can't figure out what the meal is, it's just safer to stay away. The desserts, however, were awesome.
• Can't say we didn't warn you. In yesterday's regional semifinal notebook, we spotlighted a potential heavyweight throwdown between Miami's Ryan Jones and BC's Nick Petrecki, both of whom wear No. 26. Well, 40 seconds into the game, they got into a scrum near in the BC zone and were sent off for roughing.
• After BC defenseman Mike Brennan was questionably called for hooking at 13:58 of the second period, teammate Kyle Kucharski skated into the Miami zone and flipped the puck into the stands.
• A quiet crowd went bananas after Nathan Gerbe scored the equalizer in the second period – 14 seconds after Petrecki cut the deficit to 2-1 – and began chanting "Hobey Baker."
• John Muse set Boston College's single-season total saves record. He made 34 in the game, including 10 in overtime, to bring his season total to 1,122. Cory Schneider held the old record with 1,111 saves in 2006-07.
• Everyone in Denver for the Frozen Four should expect to see at least one game go to overtime with my recent track record for bonus hockey (five total overtimes in the last six games).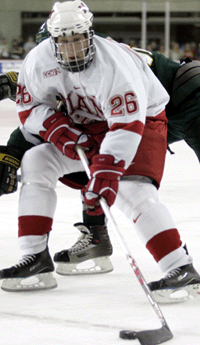 Miami senior forward Ryan Jones scored his 31st goal of the season in the third period of the RedHawks' 4-3 overtime loss to Boston College in Sunday's Northeast Regional final.
• Jones was very emotional sitting at the podium at the postgame press conference and reflected on his last season at Miami: "I'm sitting here in my jersey for a reason. It's kind of scary thinking about taking it off for the last time. I came back to play with a bunch of guys that I love, and that's what I did this year. It's sad. I can't even put it into words what it meant to come back this year. Even though we lost, I think these guys are champions, and I think we took the program a long way. I'll be the first alum to call when they go to the Frozen Four, and hopefully I'll be watching them on TV some day."
• Jones on the difference – or lack thereof – between BC and Miami: "I give BC credit for winning the game, but I wouldn't say BC's hockey team is that much better than Miami's hockey team. They buried one more chance than we did tonight. I heard a comment that Miami strives to be BC, but Miami just strives to be Miami. Love and honor to Miami, and this team is going to be there some day."
• Blasi on Miami's season: "Anytime you win 33 games, you're doing something right. I'm as proud of this team as if we won a national championship. These guys gave it everything they had every day. The way they conducted themselves in the community for Miami University, the way they represented our league, these guys are champions in my book."
• Joe Whitney on being named the regional's Most Outstanding Player: "They're cool to throw up on the mantel, but the team goal is to win a national championship. That's going to mean the most to me."
• BC's freshmen led the charge against Miami. Whitney scored the game-winner. Muse stood on his head between the pipes. Brian Gibbons made a great pass to set up Gerbe for the second-period equalizer. And Petrecki got the Eagles off the shnide with their first goal of the game.
"I think we've got a great class," Whitney said. "BC does a great job of recruiting guys, and I'm fortunate enough to be a part of those five guys. It's comfortable in the locker room and on the ice when the seniors are not giving you a hard time. You hear of teams where there's hazing and giving a hard time. We don't have any of that. Everyone is an equal, and I think we're a good team."
• Petrecki and Gerbe connected on a pair of goals 14 seconds apart in the second period, the third fastest consecutive goals in regional history and the fastest in Northeast Regional history.
• Gerbe on what the Eagles need to do differently to change their fate in the Frozen Four: "Don't lose it in the last minute. The last two years have been tough losses, 18 seconds last year. You just have to be smart, not take too many risks and I think that's what we tried to do last year."
PLUSSES AND MINUSES

Miami sophomore forward Gary Steffes was the recipient of a cheap shot after a whistle with 15:31 remaining in the second period while he was backed up into the BC net, but Steffes did everything in his power to make sure he didn't fall back and step on goalie John Muse's leg.

Miami junior goaltender Jeff Zatkoff gets the plus for a great pad save on a point-blank bid by Boston College's Dan Bertram with 5:22 to play in the third period, but ...

... the goal judge gets the minus for turning on the red light, expecting Bertram to convert.

Watching Nathan Gerbe and Ryan Jones create opportunity after opportunity for their respective teams was something no one in attendance should ever take for granted. These are two special hockey players.
WHAT'S NEXT
Boston College advances to its third straight Frozen Four – the Eagles have been to eight of the last 11 – and will take on North Dakota for the third straight season in the national semifinals. BC has fallen in two straight title games and will head to Denver with the purpose of erasing those demons.
"We know the tradition," BC senior captain Mike Brennan said. "We understand the tradition. Ten years in the making. Guys like Marty Reasoner, [Brian] Gionta, Brooks Orpik, they wore the sweater. And you want to win championships when you put that sweater on. I think that's what we're trying to achieve here, and I think we have the team to do it."
Jerry York improved to 21-8 with Boston College in the NCAA tournament. This will be BC's 21st trip to the Frozen Four, and it is 8-12 in the national semifinals.