INCH's 2008 NHL Entry Draft Center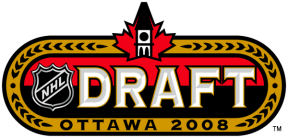 June 20-21, 2008
Scotiabank Place
Ottawa, Ontario
The 2008 NHL Entry Draft should be a big event for college hockey. It's doubtful that we'll see current or former collegians taken with the second and third overall picks, as was the case in 2007. But there's no doubt that many talented current and future college players will have their names read by NHL teams looking to build depth and talent in their organizations.
We'll have team coverage of all seven rounds from Ottawa, starting with Friday's first round and continuing through 30th pick of the seventh round — No. 211 overall — that wraps up the proceedings for another year.
Coverage from Ottawa coming this weekend ...
Friday's First Round: Notebook | Picks
Saturday's Rounds 2-7: Notebook | Picks
INCH's Prospect Previews
Part I: Defensemen and Goalie
Part II: Forwards
2008 Draft Previews
CSS Final Rankings
Draft Rankings
Mock Drafts
From the INCH Archives
INCH's 2007 NHL Draft Coverage
INCH's 2006 NHL Draft Coverage
INCH's 2005 NHL Draft Coverage