July 6, 2004
The Next One
He's just 16, but Kessel could be college hockey's superstar in waiting
By Nate Ewell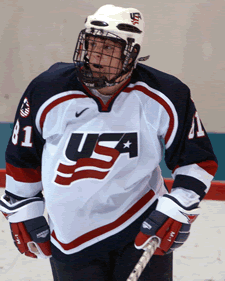 Boston University, Michigan, Minnesota and Wisconsin are among those contending to land top prospect Phil Kessel of the U.S. NTDP.
High school basketball players make the cover of Sports Illustrated on an annual basis. Teenage golf phenom Michelle Wie competes in professional tournaments, against both men and women. Freddy Adu joined Major League Soccer full-time this spring. Stop by a hockey equipment shop and you can buy a stick pattern designed for 16-year-old Sidney Crosby.
In the fast-food world of sports today, it's not just what's available now. We're identifying future menu items years in advance.
College hockey's no different. If you haven't heard his name yet, listen up: 16-year-old Phil Kessel is coming to a campus rink near you in the not-too-distant future.
Kessel wowed scouts during Team USA's silver-medal performance at the 2004 Under-18 World Championship. The youngest member of the American team, Kessel led the tournament in goals with seven in six games, and finished one point shy (10) of the tourney scoring lead. He broke the U.S. National Team Development Program goal-scoring record last season, which was previously held by Nashville Predator and former Michigan State Spartan Adam Hall. This summer he'll skate with players nearly three years his senior at the U.S. National Junior Team Evaluation Camp.
"He's a natural born goal scorer," said John Hynes, the former Wisconsin assistant coach who now leads the NTDP and coached Kessel at the Under-18 tournament. "Phil has the ability, kind of like Brett Hull, with a natural quick release where the puck just seems to find the net. He's extremely fast, and his skating is exceptional."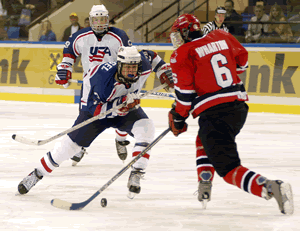 Kessel led all players in the Under-18 World Championship with seven goals in six games. John Hynes, who coached him in that tournament, compares him to Mike Modano or Brett Hull.
That talent level has college recruiters salivating, a full year before NCAA rules allow them to contact Kessel directly. Major junior officials, meanwhile, hope Kessel eschews college and follows the route of Crosby, who is currently in the QMJHL.
That, according to the forward from Madison, Wisc., isn't going to happen.
"I'm going to go to college," Kessel declares confidently. "All colleges are amazing; I've just got to decide which one is right for me."
Kessel isn't narrowing his choices at this point, at least not publicly. Sources indicate that Boston University, Michigan, Minnesota and Wisconsin are the leading candidates, in no particular order.
At 5-foot-10 and 160 pounds, Kessel is a dynamic player with offensive flair. While small now, he still has room to grow – remember, he won't be 17 until Oct. 2. Kessel cites Peter Forsberg and Joe Sakic as his favorite players; scouts compare his combination of skating and scoring ability to another American, Mike Modano.
"He's an up-tempo, high-energy type of player," Hynes said. "He could have the ability of a Forsberg, but he doesn't have that much grit to his game yet. He's more of an up-and-down type of guy, like Modano."
What's most remarkable, Hynes said, is that Kessel's game still has room for growth.
"To this point, he's done what his ability says he's capable of," Hynes said. "But for him to play a more complete game, and to be able to make the rest of his teammates better, he still has room to grow."
Five More Next Ones
Needless to say, Kessel isn't the only 1987 birthdate generating excitement among college scouts. Here are five others to keep an eye on:
Andrew Cogliano: The hand-wringing has begun in Canada over this OPJHL star's decision to play college hockey instead of major junior. He's committed to Michigan.
Jeff Frazee: The quick, acrobatic NTDP goaltender has committed to Minnesota.
Nathan Gerbe: At 5-foot-5 with talent and grit, the Brian Gionta comparisons were inevitable, even before he committed to Boston College.
Zach Jones: Terrific defensively, he was the top U.S. defenseman at the Under-18 World Championship as a 16 year old. Uncommitted.
Jack Skille: The Wisconsin commitment may not have the flash of a Kessel or Gerbe, but he's a prototypical power forward.
Kessel has a laid-back, happy-go-lucky approach to life that you'd expect from a 16-year-old. But he takes his hockey seriously, and he is confident in his choice of college hockey over major juniors.
"It was a pretty easy decision," he said. "I've grown up watching college hockey, and I really like the atmosphere of the college game. Getting to play in front of those kinds of crowds would be amazing."
The next choice – where to go – will depend on a number of factors. He favors a school that plays an up-tempo, offensive style and features a classic college hockey atmosphere. Location won't be a deciding factor, as he shrugs off suggestions that Wisconsin might have an edge since he's from Madison.
While Kessel may be set on attending college, the major junior option remains – something that the OHL's Saginaw Spirit, which owns his rights, will likely remind him of regularly until he gets to campus. The Spirit's new general manager is former college hockey player and coach Bob Mancini, and he's well aware of the impact Kessel could have in his lineup.
"He's a dynamic player with NHL potential, who from our point of view should be playing in the Ontario Hockey League," said Mancini, who will make another push for Kessel's services this month. "There's nothing more important than what the family thinks is right for Phil Kessel. We respect that, and we think we are a great option for him and his family to consider. He knows that we would love for him to come play in Saginaw."
Meanwhile, Kessel prepares for a second season with the U.S. NTDP in Ann Arbor, an experience he calls "one of the best opportunities of my life." He's also trying to accelerate his high school studies, an option that would allow him to enter college in the fall of 2005, as a 17-year-old.
Finishing high school in three years is increasingly popular among blue-chip recruits, potentially speeding up the development process and giving them an extra year of high-level hockey before they are eligible for the NHL Entry Draft.
It may also mean one less year for us to wait before the consensus "next superstar" is playing in college hockey.