April 3, 2004
Reason to Cheer
The Sandelin family has plenty to be happy about – not even counting the Bulldogs' success
By Jess Myers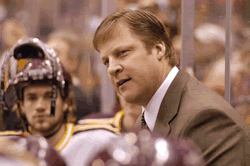 Scott Sandelin is Inside College Hockey's 2003-04 Coach of the Year.
Less than three minutes remained in the Midwest Regional title game, and Minnesota Duluth held a two-goal lead over arch-rival Minnesota, when the arena's sound system blasted a tune that neatly sums up so much about Bulldog hockey.
"We'll be singing, when we're winning. We'll be singing … I get knocked down, but I get up again. You're never gonna keep me down …" sang a quickly-forgotten group named Chumbawamba. If Wendy Sandelin was signing along from her seat in section 123, it would've been perfectly appropriate.
While hockey fans in the Twin Ports are witnessing an amazing comeback – with their team going from last in the WCHA to the Frozen Four in four years – one cannot fully comprehend the comeback story of Minnesota Duluth hockey without knowing about the Sandelin family, and Bulldog hockey's most miraculous comeback. But it could be seen clearly in that section of Van Andel Arena, as Wendy and her five-year-old son, Ryan, cheered, yelled and cried for the team, and for their husband and father, Scott, who was directing traffic from his perch behind the Bulldogs bench.
Early in 1998-99 season, a little more than a year before Scott was named the Bulldogs' head coach, the Sandelins were enjoying one of the most exciting times of their lives, living in Grand Forks while Scott served as the assistant coach for the top college hockey team in the nation that season, the North Dakota Fighting Sioux. Wendy – then 30 – was pregnant with the couple's first child, and all seemed right with the world on the eastern North Dakota prairie.
But on a Friday afternoon in early November, all of that changed. Wendy has a nursing degree from Penn State, and her medical background told her something might be amiss when she discovered a lump on one of her breasts. She underwent an examination, and during a visit to the doctor's office, the Sandelins learned that their child was healthy, but Wendy had breast cancer.
"We got the news at about four o'clock, and two hours later I was at the rink for a game against Clarkson," said Scott. "Complete shock. It was one of those moments where you kind of go numb."
Describing the time as "a blur," Scott admits that he watched the games from a different perspective, and was probably more focused on hockey while the game was going on than ever before. Wendy's doctors immediately performed a mastectomy (which involves surgical removal of a breast). After waiting eight weeks to make sure the cancer had not spread to her lymph nodes, they induced labor a week prior to her due date.
On January 3, 1999, Ryan Sandelin was born on a Sunday while the Sioux were hosting Notre Dame. Scott and Wendy's son was perfectly healthy, save for one small issue.
"The only problem was he was crying when he was born because we got beat by Notre Dame that night," Scott joked. "I had the radio on and was following the game – Wendy didn't know that. But Ryan got to learn to not like to lose right away."
For Wendy, there was little time for post-natal relaxation. Shortly after Ryan's birth, she began four months of intensive chemotherapy. While the support she received from Scott, their families, and the entire Sioux hockey community was helpful, she admits that it was a trying time, physically and emotionally. Wendy underwent reconstructive surgery to normalize her outward appearance, but dealt with a sense of disfigurement commonly felt by mastectomy patients. And the chemotherapy caused complete hair loss. In keeping with her seemingly always-sunny approach to life, Wendy says the baldness brought about a striking resemblance between her and her infant son.
"I was bald, and so was Ryan," she joked. "We were like Me and Mini-Me!"
Wendy grew up in a Maryland suburb of Washington, D.C., and met Scott while she was working as a nurse and he was playing for the Hershey (Pa.) Bears of the AHL. She'd gone to college in a relatively small town, and had followed Scott to playing and coaching stints in Kalamazoo, Mich., and Fargo, N.D., so the Sandelins knew something about close-knit communities. It was in their time of need that winter and spring that they felt Greater Grand Forks rally around them.
"Throughout all of it, Dean (Blais) was great and the people in Grand Forks were very supportive," said Scott. Dealing with a crisis was nothing new to people in Grand Forks by 1999. The Sandelins had been there in 1997, and had lived through the devastating floods that spring, learning to cope and to recover with their neighbors.
When Ryan was barely a year old, Minnesota Duluth released coach Mike Sertich late in his 18th season in charge of the Bulldog program. A national search was conducted, and Scott's name made the list of finalists to replace Sertich. After a second round of interviews, Scott was offered the job. Despite their affection for the people in Grand Forks and the success the Sioux had with Scott at Blais' side, something about the move to Duluth felt right to the Sandelins.
"When the job came up, he was ready to take it," said Wendy, who had gotten a masters' degree in nursing at North Dakota during their time in Grand Forks. "I'd finished my treatment and it seemed to us like the right time to try something new."
That "something new" took a little while to feel like "something better," at least during that challenging first winter in Duluth. While the Sioux won the MacNaughton Cup and made it to the NCAA title game that year, the Bulldogs went a dismal 7-28-4 during Scott's first season at the helm.
"That was a big change," said Wendy, who works as a nurse anesthetist at a Duluth hospital. "We went from UND which had won a title and had full houses every night, to the DECC, where there wasn't a lot of interest in the Bulldogs at the time. It was pretty quiet in there that first year."
Three years later, it's been plenty noisy inside the DECC, and on the road for the Bulldogs. There was a lot of noise at Van Andel after UMD beat Minnesota that Sunday afternoon in Grand Rapids, to get to the Frozen Four. But Scott stayed true to his reserved nature as he calmly answered questions from the media at post-game press conference. Sitting in the back row, behind the reporters, were a smiling blonde nurse and a five-year-old mini-mite, who could barely contain their glee.
While answering questions about beating Minnesota and how they'll try to beat Denver at the FleetCenter, Scott looked past the reporters to those smiling faces in the back row, and got a reminder of how far he, his team, and his family have come in five years.
"As coaches, we get so caught up in the season, and I'm still bad that way," Scott said afterward. "But I always go back to that time five years ago and realize that it is a game, and winning and losing is certainly part of it, but your family is what really matters."