INCH UPDATE DESK
February 17, 2008
Niagara's Reaney Leaves College For Pro Contract

Former Niagara University center Les Reaney signed a professional contract with the Edmonton Oilers organization on Saturday and was assigned to the Oilers' top minor-league affiliate, the Springfield Falcons of the American Hockey League.
Reaney was a junior for the Purple Eagles, who had 15 points in 25 games this season for Niagara. For his career, Reaney had 99 points in 97 games.
As a Purple Eagle, Reaney was a two-time member of the All-CHA second team. Following his sophomore campaign, Reaney ranked third in the conference with 44 points and 28 assists. Reaney also finished the regular season tied for 13th in the nation for point scoring.
As a freshman Reaney was named Co-CHA Rookie of the year with teammate Ted Cook, and finished the season being ranked fourth in the nation with 1.14 points per game as a rookie.
February 14, 2008
Finalists for Lowe's Senior CLASS Award Announced
Ten finalists today were announced for the 2008 Lowe's Senior CLASS Award. Now in its second year for college hockey, the honor is presented to a senior who exemplifies excellence on and off the ice.
The finalists are Colgate's Mark Dekanich, Bryce Hollweg of Army, Denver's Peter Mannino, St. Cloud State's Marty Mjelleli, Justin Pesony of St. Lawrence, Michigan's Kevin Porter, Frank Schiavone of Air Force, Cornell's Topher Scott, Princeton's Landis Stankievech, and Notre Dame's Mark Van Guilder.
Fans are able to cast their votes through March 28 at www.seniorclassaward.com. The winner will be announced during the Frozen Four in Denver.
February 7, 2008
Former Denver Player Brock Trotter Signs With Montreal

Officials with the Montreal Canadiens confirmed to Inside College Hockey on Thursday, and the University of Denver announced that former Pioneer forward Brock Trotter has signed a three-year contract with the NHL organization.
Trotter, who was missing from Pioneers practice and games for the past week, led the team offensively with 31 points in 24 games. The sophomore from Brandon, Manitoba, played six games two years ago before sitting out the rest of the season with a severed tendon in his leg. Last season he scored 40 points in 40 games and was named INCH's WCHA Freshman of the Year, becoming the first DU freshman to lead the team in scoring since Dave Shields in 1986-87.
Trotter, an undrafted free agent, signed an entry-level contract with the Canadiens. According to DU's release, Trotter will be assigned to Hamilton of the American Hockey League.

"We're really happy for Brock and his opportunity with the Montreal Canadiens," Denver head coach George Gwozdecky said. "Brock accomplished a lot in his three years with our program and we wish him continued success during his professional hockey career."
— Jess Myers
February 4, 2008
North Dakota Coach Hakstol Benched Two Games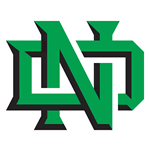 North Dakota head coach Dave Hakstol was suspended for the Fighting Sioux's next two games by the university for inappropriate actions during Saturday night's game at Minnesota. During the game, Hakstol made a vulgar gesture toward an official. He issued an apology on Sunday, and the ensuing suspension was announced by the school on Monday.
The disciplinary action was determined by the University of North Dakota and was made independent of any decision or action by the Western Collegiate Hockey Association. The WCHA accepted North Dakota's punishment of its coach and will not issue further reprimand.
"We hold all University of North Dakota coaches and student-athletes to the highest standards of sportsmanship, conduct and ethical behavior," co-acting athletic director Betty Ralston said. "We expect our coaches to keep themselves and their teams in control at all times. Profane language and poor behavior on the part of our coaches and student-athletes is unacceptable."
UND President Charles E. Kupchella said, "Obviously we were disappointed by the grossly inappropriate actions of Dave Hakstol last Saturday. There is simply no excuse for such displays, anywhere, anytime, under any circumstances."
North Dakota is 8-0-1 in its last nine games, and does not play this weekend. Hakstol will serve his suspension during the Feb. 15-16 series at Denver.
February 4, 2008
WCHA Suspends Referee Indefinitely

WCHA commissioner Bruce McLeod confirmed to INCH that referee Randy Schmidt has been suspended by the league. McLeod said no formal announcement would be made and the terms of the suspension were indefinite, but Schmidt is not expected to work any more games during the 2007-08 season.
McLeod added that whether or not Schmidt will work as a WCHA referee next season or ever again has not been decided. The decision was made by McLeod in consult with WCHA supervisor of officials Greg Shepherd after the league twice issued apologies for errors made by Schmidt this season.
Most recently, the WCHA issued a statement saying an apparent goal by Wisconsin in the final second of the Badgers' game at Denver Jan. 11 should have counted. The play, which would have tied the game at 3-3 and forced overtime, was initially ruled a goal by Schmidt, then after a review he incorrectly ruled that time had expired before the puck crossed the goal line, giving Denver a 3-2 win.
The Wisconsin State Journal reported that Schmidt met privately with Wisconsin coach Mike Eaves to apologize for the error the next day. Schmidt, who works as a police officer in North Dakota full-time, has been a WCHA official for 14 years.
— Jess Myers
February 4, 2008
Walter Brown Semifinalists Announced
The Gridiron Club of Boston announced the list of semifinalists for the Walter Brown Award. The award, presented annually since 1953, is given to the top American-born Division I hockey player in New England.
Providence had three nominees, the most of any school. Boston College, Boston University, and New Hampshire each had two semifinalists. This year's winner will be announced the week of March 24.
The complete list of semifinalists.
Boston College: F Benn Ferriero, F Nathan Gerbe
Boston University: F Bryan Ewing, F Peter MacArthur
Harvard: F Jon Pelle
Maine: D Bret Tyler
Massachusetts: F James Marcou
New Hampshire: G Kevin Regan, F James vanRiemsdyk
Providence: F Jon Rheault, G Tyler Sims, D Matt Taormina
Quinnipiac: F Ben Nelson
UMass Lowell: G Nevin Hamilton
Yale: G Billy Blase
February 4, 2008
Frozen Four Skills Challenge Voting Underway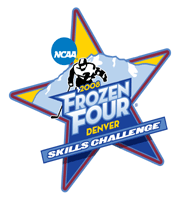 Voting is underway to select the players who will participate in this year's NCAA Frozen Four Skills Challenge in Denver.
Fans visiting the NCAA Skills Challenge website can select six skaters and two goaltenders to determine the lineup for four teams — the East men's and women's squads, and the West's men's and women's units. Voting ends Feb. 14.
The NCAA Frozen Four Skills Challenge takes place on Friday, April 11, at the Pepsi Center.

February 2, 2008
Michigan's Quick Dismissed From Team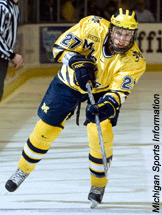 Michigan coach Red Berenson announced Friday that freshman defenseman Kevin Quick has been dismissed from the team.
"This decision was made because Kevin violated our team rules and the trust of the team," Berenson said in a news release.
Quick, a native of Buffalo, N.Y., played in 21 of Wolverines' 26 games this season, scoring two goals and two assists and amassing 12 penalty minutes. In INCH's annual preseason recruiting rankings, Quick was rated the seventh-best freshman defenseman in the country.
The Tampa Bay Lightning selected Quick in the third round of the 2006 National Hockey League Entry Draft.
February 2, 2008
Rensselaer, Vermont Set to Play in Quebec Next Season
Vermont and Rensselaer have agreed to play a regular-season game in Quebec City in October. The contest, which will take place on Oct. 11 at the Pavillon de la Jeunesse, is part of Quebec's 400th anniversary celebration.
Each school will also have a legendary hockey alum as an honorary captain — both of whom are Quebec natives. Rensselaer will be represented by Joe Juneau, a two-time All-American who scored 213 career points for the Engineers prior to embarking on a 13-year National Hockey League career. Serving as UVM's honorary captain is Martin St. Louis, Vermont's all-time leading scorer and a three-time All-American and winner of the NHL's Hart, Ross, and Pearson trophies in 2004.
INCH Update Desk Archives:
2008: January
2007: December | November | October | September | August | July | June | May | April | March | January
2006: December | November | October | September | August | July | June | May | April | March | February | January
2005: December | November | October | September | August | July | June | May | April