INCH UPDATE DESK
May 31, 2005
St. Cloud Names Motzko Assistant Coach

St. Cloud State University athletic director Dr. Morris Kurtz announced the appointment of Bob Motzko as an assistant coach on Tuesday. Motzko is scheduled to start at St. Cloud State on Monday, June 13.
Motzko has served as a men's hockey assistant coach at Minnesota since 2001. He was part of NCAA Division I national championship teams in 2002 and 2003, and helped the Gophers win WCHA playoff crowns in 2003 and 2004.
A 1987 graduate of St. Cloud State University, Motzko was a two-year varsity letterwinner for the SCSU hockey team from 1983-85. As a Husky hockey player, Motzko scored 13 goals and 10 assists. Motzko began his coaching career in 1986-87 as an assistant coach for the legendary Herb Brooks at SCSU, when he also worked with current SCSU head coach Craig Dahl.
"Bob (Motzko) and I have talked for many years about him returning to St. Cloud State, so I'm thrilled that we have this opportunity to add him to our staff," Dahl said. "I firmly believe that we1ve added one of the top assistant coaches in the nation to our program, and I'm delighted that Bob will once again be part of Husky hockey."
May 27, 2005
CC's Sertich Wins USA Hockey Honor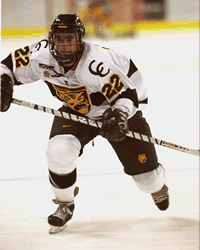 Colorado College forward Marty Sertich today was named 2005 USA Hockey College Player of the Year as the top American-born player in the NCAA ranks. The Hobey Baker Memorial Award recipient from Roseville, Minn., scored 27 goals and added 37 assists last season, leading the Tigers to a share of the WCHA regular-season championship and a trip to the NCAA Frozen Four.

Goaltender Jeff Lerg, who will be a freshman at Michigan State this fall, won two awards. The Livonia, Mich., native, who played for the USHL's Omaha Lancers last season, was honored as USA Hockey's Junior Player of the Year and earned the Dave Peterson Goalie of the Year Award, which is picked from a pool of netminders who attended USA Hockey's National Goaltender Camp or the organization's Select 16 and Select 17 Festivals.

Minnesota-bound forward Phil Kessel captured the Bob Johnson Award for excellence in international play. Kessel paced the U.S. to a gold medal at the IIHF World Under-18 Championship in April, leading the tournament in scoring with 16 points. The Madison, Wis., product also scored five goals and an assist in helping the U-18 squad to a first-place showing at the Five Nations Cup in February, and notched four goals and two assists for the U.S. team at this year's World Junior Championship.
Princeton goaltender Jeff Mansfield was named USA Hockey Disabled Athlete of the Year. Mansfield, who is deaf and communicates via sign language, played in three games for the Tigers during his freshman campaign and posted an 0-2-0 record.
May 26, 2005
Woodward Named MSU Volunteer Assistant
Former Michigan State forward Rob Woodward (1989-93) will serve as the Spartans' volunteer assistant coach for the 2005-06 season, head coach Rick Comley announced. Woodward, who will begin his duties Aug. 1, will assist in all facets of practices and games, with a specific focus on coaching the team's forwards.
"I believe that Rob will be a good fit for our program," said Comley. "He brings a tremendous amount of experience, enthusiasm, dedication and commitment. He understands the Michigan State hockey program and the goals we are working towards. He will be a compliment to our coaching staff."
Woodward spent the past five seasons (2000-2005) as the head coach of Lansing Catholic Central High School where he compiled a 71-51-5 overall record. Woodward, who took over the program in 2000-01, went 9-13-3 in his first season. During the past two seasons, the Cougars recorded a 30-17-2 overall mark (25-5-2 conference). In addition, LCC captured the conference title for the first time in 27 years in 2004. During his tenure, he was selected as the Capital Area Activities Conference Coach of the Year in 2004 and 2005.
May 26, 2005
Clark Named USA Hockey's Fishman Intern
Alex Clark has been hired as a member of USA Hockey's media and public relations staff as The Brian Fishman Intern for the 2005-06 season. Clark, who graduated summa cum laude on May 15 from Colgate, will begin his duties with USA Hockey in late June.
The Brian Fishman Internship, in its seventh year, is named after the late Brian Fishman, who passed away on Jan. 7, 1999, at age 28. Fishman was the manager of communications and marketing for the USA Hockey National Team Development Program in 1998-99 and served as the sports information contact for the University of Michigan men's hockey team from 1995-97.
Clark will assist in all facets of USA Hockey's media and public relations effort, including feature writing for USA Hockey Magazine.
"Alex typifies the integrity, enthusiasm and passion for hockey that so distinguished Brian, and I am confident he will be a strong asset to USA Hockey," said Barry Fishman (Potomac, Md.), Brian's father. "Brian's mother, Ruth, and I are pleased to welcome Alex to the tradition of excellence that the internship has come to represent."
May 24, 2005
Union Assistant Gasparini Leaves
Tony Gasparini, an assistant coach at Union the past two seasons on Nate Leaman's staff, will be leaving the school to move back to South Dakota with his family.
Gasparini, whose father, Gino, is the commissioner of the USHL and former North Dakota head coach, was the head coach of the USHL's Sioux Falls Stampede prior to joining the Skating Dutchmen.
May 24, 2005
Maine Names Dumont Graduate Assistant
Jamie Dumont, an Oswego State graduate who spent the past three seasons as an assistant coach at Bowdoin, has been named a graduate assistant coach at Maine. Dumont is a Lewiston, Maine, native.
May 12, 2005
Eligibility Oversight May End Career of
NMU's Contois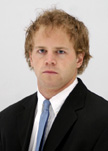 Northern Michigan forward Andrew Contois, the team's leading goal scorer last season, has probably played his last game for the Wildcats. According to the Marquette Mining Journal, a misinterpretation between the NMU and the NCAA when Contois transferred from Lake Superior State led the school to believe he had one more year of eligibility remaining.

The article doesn't mention the basis for the confusion, but school officials may have believed the Marquette native had another year of eligibility left because he sat out the second semester of his freshman season and the first semester of his sophomore campaign. Contois played in nine contests with the Lakers in 2001-02, then transferred to Northern Michigan. He gained eligibility at NMU in December 2002 and played in 23 games for the Wildcats that season.

Last season, Contois ranked among the top 10 goal scorers in the CCHA with a career-best 19 goals and 36 points in 39 games. The school is appealing Contois' status.

May 2, 2005


Mercyhurst Extends Gotkin's Contract

Mercyhurst athletic director Pete Russo announced Monday that the school has extended the contract of head coach Rick Gotkin through the 2008-09 season.
"We are very appreciative of the work that Rick and his coaching staff have done", said Russo, "and we want to make certain that both current team members and prospective student athletes know he is going to be here a long time."
Gotkin directed the Lakers to the 2005 Atlantic Hockey title and nearly upset top-seeded Boston College in the NCAA Tournament, losing 5-4. Mercyhurst finished tied for second place during the regular season, but won eight straight down the stretch, including three straight playoff wins to claim the conference's automatic bid.
Under Gotkin's leadership, Mercyhurst owns a six-year Division I record of 129-75-17, three regular season conference titles, three regular season runners-up, six conference playoff appearances, three conference tournament championships and one conference tournament runner-up.

May 2, 2005
Palazzari Resigns USA Hockey Post
USA Hockey executive director Doug Palazzari resigned his position after six years on the job.

"I enjoyed my time at USA Hockey tremendously," said Palazzari, "I'm proud of the things that have been accomplished over the past six years and know that the organization will continue to make great strides as it moves forward. It was time for a change, both for myself and USA Hockey."
Palazzari, a former standout at Colorado College and the WCHA Most Valuable Player in 1974, came to USA Hockey in 1991 as director of the organization's youth and education programs. He was appointed executive director on June 12, 1999.

A national search will begin immediately to find a successor to Palazzari.

INCH Update Desk Archives: April