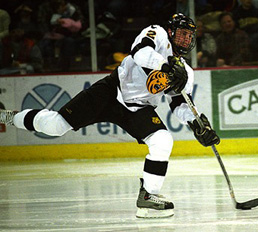 Colorado College's Mark Stuart is the top-rated college defenseman in the NHL CSB final rankings (photo courtesy Colorado College sports information).
The National Hockey League's Central Scouting Bureau released its final rankings of North American prospects eligible for next month's entry draft Wednesday, and the list features six college stars among the top 21 players.
Minnesota's Thomas Vanek, the Frozen Four MVP and Inside College Hockey Rookie of the Year, is rated third among North American forwards and defensemen. He's followed by WCHA rival Zach Parise of North Dakota, who's listed ninth. Another sophomore-to-be – Ohio State's Ryan Kesler – is ranked 16th, one ahead of Colorado College blueliner Mark Stuart. Dartmouth standout Hugh Jessiman rounds out the top 20, with Michigan's Jeff Tambellini rated 21st.
Among draft-eligible North American goaltenders, Maine's James Howard is ranked second behind only Canadian major junior product Marc-Andre Fleury, who some prognosticators feel is the top prospect in this year's draft. Only two other college backstops – Minnesota's Travis Weber (15th) and Yale's Josh Gartner (21st) – made the list. The fourth spot in the goalie ratings is blank; should Alvaro Montoya of Michigan make himself eligible for this year's draft and forfeit the remaining three years of his college eligibility, he would fill that space.
Other notables in the final CSB rankings include Wisconsin recruit Ryan Suter (seventh), Boston College's Patrick Eaves (31st), Michigan's Danny Richmond (41st), Shane Hynes of Cornell (53rd) and Minnesota recruit Ryan Potulny (55th), the brother of Gopher captain Grant Potulny.
Red Line Report, an independent scouting review, released its top 20 draft-eligible prospects this week. The list, which includes European skaters, ranks Vanek sixth overall. Jessiman is rated 10th, Parise is at 13th and Stuart is 20th.
The NHL Entry Draft takes place June 21-22 in Nashville.
Junior samples: The United States Hockey League entry draft, which was conducted earlier this week, featured a few names of interest to college hockey fans.
Goaltender Justin Tobe, who struggled in his first season at Michigan State, was selected in the second round by Danville. With the emergence of Matt Migliaccio and heralded recruit Dominic Vicari in the fold for next season, Tobe's days in green and white look to be numbered. However, sources close to the MSU program say the Northville, Mich., native would prefer to play closer to home, a difficult prospect considering the junior team he used to play for - Plymouth, Mich.-based Compuware of the North American Hockey League - decided to suspend operations.
Wisconsin forward Alex Leavitt was selected by Lincoln in the third round. Leavitt had a highly publicized run-in with first-year coach Mike Eaves in Grand Forks in November that led to his departure from the team late in the season.
River City used its seventh-round pick to take Air Force's Steve Cook. The forward scored two goals and eight points in 34 games as a freshman. In the ninth round, Des Moines tabbed Brian Boulay of Merrimack. The rookie defenseman did not score a point in 19 contests in 2002-03.
In perhaps the ultimate flyer pick, Lincoln chose Shattuck-St. Mary's Sydney Crosby in the 14th round. The 15-year-old Crosby, a native of Dartmouth, Nova Scotia, has been touted as the next Wayne Gretzky and is the sure-fire top overall selection in next month's Quebec Major Junior Hockey League draft. However, rumors persist the Crosby, who scored 162 points in 57 games last season, is considering the college route.
Like the big boys: Hockey East coaches are in favor of implementing a pair of initiatives in 2004-05 that are currently used in the National Hockey League, Maine head coach Tim Whitehead told the Bangor Daily News.
At the recent coaches meetings in Florida, Hockey East coaches voted in favor of trying a two-referee, two-linesman system and a four-on- four overtime format. The NCAA Ice Hockey Rules Committee would need to approve the use of both proposals in Hockey East games.
The two-referee, two-linesman system has been tried in college hockey before, at 25 CCHA games in 1999-2000. It received lukewarm support among league coaches and was dropped after one appearance during the 2000-01 season, even though it had been approved by the NCAA for use during 25 games that year as well.
"The two-referee, two-linesman system would give us better ice coverage and it would also allow us to add some young referees to the old boy network," Whitehead told the Daily News. "Everyone talks about getting some new, young referees in the game, but they need opportunities. You could pair a new referee with a veteran so he could learn from him. Each referee would be responsible for half the ice. The same for the linesmen."
Hockey East coaches voted 5-2 in favor of the system, with two abstentions.
The officiating system has been in place in the NHL since 1998-99 despite occasional criticisms of inconsistency between the two referees. Recently, the league has experimented with slightly different mechanics – tweaking the coverage area for each official – on the AHL level.
Four-on-four overtime debuted in the NHL in 1999-2000 in an effort to limit the number of games finishing in a tie. Under the NHL system, the winning team in overtime earns two points, while the team suffering an "overtime loss" still gets one point.
The distribution of points in overtime games was not considered in the Hockey East vote, which was 4-3 in favor with two abstentions.
The NCAA Rules Committee would have to approve the proposals at next spring's meetings before they could be put into effect.
TOURNAMENT FIELDS FOREVER
The start of the 2003-04 is more than five months away, but it's not too soon to take a quick look at some of the teams participating in the early-season tournaments (host team listed first).
Nye Frontier Classic (Oct. 17-18; Anchorage, Alaska): Alaska Anchorage, Air Force, Mass.-Lowell, Miami
Black Bear Classic (Oct. 17-18; Orono, Maine): Maine, Holy Cross, Sacred Heart, U.S. Under-18 Team
Ice Breaker Tournament (Oct. 10-11; East Lansing, Mich.): Michigan State, Boston College, Findlay, Minnesota-Duluth
Lefty McFadden Invitational (Oct. 3-4; Dayton, Ohio): Miami, Denver, Ohio State, St. Lawrence
Maverick Stampede (Oct. 10-11; Omaha, Neb.): Nebraska-Omaha, Maine, Minnesota, Wisconsin
Punch Imlach Tournament (Oct. 24-25; Buffalo, N.Y.): Canisius and Niagara (co-hosts), Mass.-Lowell, New Hampshire
Nault nixed: Sticking with the Maine theme, the college career of defenseman Francis Nault is over, prematurely cut short because of an NCAA rule regarding outside competition.
According to the bylaw in question, a student-athlete who takes part in any outside competition after turning 21 prior to enrollment loses a year of eligibility. Nault, named to the INCH All-America third team after scoring 36 points in 39 games for the Black Bears last season, left his junior team upon reaching his 21st birthday in February 2000, but participated in a pair of tournaments that summer.

"I had asked around to see if was OK for me to play in those tournaments and people told me since they weren't sanctioned by USA Hockey and since the academic year was over, they assumed it was OK," Nault told Larry Mahoney of the Bangor Daily News. "I played in those tournaments just to have fun."
Maine appealed the ruling, but the NCAA denied the request. Nault retains the option of keeping his scholarship, continuing work on a degree in marketing, practicing with the Black Bears and helping out as a student assistant coach. The subtraction of Nault from the lineup leaves coach Tim Whitehead without his top six scorers from last season.
The Tracy, Quebec, native would rather test the pro hockey free-agent market, however. One scout, speaking on the condition of anonymity, said it's unlikely Nault will sign a NHL deal, but should attract attention from AHL teams.
Lower-case d: In a recent issue of Sports Illustrated, former NHL coach Pierre McGuire, now an analyst for Canada's TSN sports network, says general managers are searching for smaller defensemen who can skate well and move the puck – guys like New Jersey rearguard and Wisconsin alum Brian Rafalski and Tampa Bay's Dan Boyle, the former Miami skater who had a breakout season for the Lightning. Such a shift would bode well for Nault, ex-Michigan State star John-Michael Liles and Boston College senior-to-be J.D. Forrest, all of whom are under six feet tall and weigh less than 200 pounds.
From D to AD?: Among the candidates rumored to be in line for the vacant director of athletics post at Minnesota-Duluth is Tom Kurvers. The Bloomington, Minn., native was a four-year letterwinner for the Bulldogs under coach Mike Sertich and won the Hobey Baker Award and earned WCHA MVP honors in 1984. He then embarked on an 11-year professional career that included stints with Montreal (where he won a Stanley Cup in 1986), Buffalo, New Jersey, Toronto, Vancouver, the New York Islanders and Anaheim.
Since retiring, Kurvers has been part of the Phoenix Coyotes organization, spending one season as the team's radio color analyst and the last five seasons as a professional scout. He also picked up an MBA degree after his playing career ended to go with his bachelor's degree in communication from UMD.
The school is looking to fill the position previously held by Bob Corran, who last week assumed similar duties at Vermont.
Spartan skates into spotlight: Michigan State alumnus Shawn Horcoff had a bit of a breakout year in 2002-03, posting 33 points for the Edmonton Oilers as he spent the entire year in the NHL for the first time. But that was nothing compared to the performance the third-year pro turned in during the Stanley Cup Playoffs and the World Championship that followed.
Horcoff led the Oilers in goals (3) and shared the team lead in points (4) during their first-round series against Dallas, often skating alongside Boston College product Marty Reasoner. At the World Championship, where Canada took home the gold, he was third on the team and tied for 17th in the tournament in points with 7 (3 goals, 4 assists).
"During the (Stanley Cup) playoffs and world championships, I've played at a level I've been trying to get to since I came into the league," Horcoff told the Edmonton Journal before the championship game at the world tournament in Finland. "I want to build on that and become an even better player. This year was a big step for me; something I always felt I could do.
"I was patient. I had to wait for my opportunity and it came. I gained some confidence and when you have that it's an easier game to play. It especially helps a young player."
Horcoff's breakout is similar to the one he enjoyed as a senior at Michigan State. After three years playing behind current Oiler teammate Mike York on the Spartan depth chart, he led the nation in assists (51) and was a Hobey Baker finalist as a senior.
Another Hobey finalist from that season, Steve Reinprecht (Wisconsin), played on Horcoff's line at the World Championship. Other collegians who took home the gold were Anson Carter (Michigan State, who scored the winning goal in the gold-medal game), Mike Comrie (Michigan), Dany Heatley (Wisconsin, who led the team in scoring) and Krys Kolanos (Boston College).
The old college try: While college hockey fans may have allegiances to particular players and teams, they shouldn't be too disappointed in a Minnesota-New Jersey Stanley Cup final. If the Wild and Devils advance, the series would feature no fewer than 13 former Division I players and at least a pair of representatives from the CCHA, ECAC, Hockey East and WCHA. The list: