July 27, 2003
Postcard: Nobody beats the Wiz
It's mail call again at INCH World Headquarters and unfortunately, the INCH Wizard beat us to all the letters sent to us by readers – and the Rolling Stone with Angelina Jolie on the cover. We know we'll never see the magazine again, but the Wizard was kind enough to scratch out a few responses to questions posed by you, the loyal INCH readers.
For Schizzle Wizzle: Detroit got totally hosed by the NCAA. No Frozen Four in 2007 or 2008? Passed over in favor of St. Louis and Denver? Detroit IS Hockeytown, for the love of Pete! To quote Hank Hill, "That ain't right!"
Joe in Livonia, Mich.
Joe: First and foremost, Hockeytown is Warroad, Minn., and don't let anyone tell you otherwise. They make a great window in Warroad, too.
Did the NCAA Ice Hockey Committee do Detroit wrong? Maybe. Here's the rub, however: Detroit is a miserable city. You saw "8 Mile", right? Is it a stereotype? Yeah. But is it also the truth? Hell, yeah! Tiger Stadium is still standing, even though no one has played a game there since Cecil Fielder weighed less than 300 pounds. Ironically, it's one of the better-looking structures within the city limits, what with boarded-up homes and desolate office buildings, warehouses and manufacturing facilities dotting the landscape. D-town would make a great setting for a post-apocolyptic movie.
And if you thought downtown Buffalo was a little desolate, you've never been to downtown Detroit. Let's put it this way: if you like coney dogs and gambling (there are a handful of casinos in the downtown area), you'll have a great time.
Then there's Joe Louis Arena. It looks great on TV, when it's packed and the crowd is going crazy. Up close, it's a monument to the hard-working men and women of the concrete industry. Because of its location – the rink is sandwiched between Cobo Arena, a parking ramp, a couple highways and the Detroit River – it looks like something built for the 1968 World's Fair.
To be fair, I should make one thing clear. This diatribe in no way tarnishes the reputation of the great city of Windsor, Ontario, home to a great arena (the venerable Windsor Gardens), a clean, inviting downtown area and a really nice Tim Horton's. All that, and it's the birthplace of Shania Twain.
Wizard: St. Louis and Denver as future Frozen Four sites...what's your take?
Mel in St. Charles, Mo.
Mel: I'm excited. St. Louis should be pretty good. Nice arena, decent restaurants, giant arch. If there happens to be a Cardinals' game that weekend, gravy. Denver will be fantastic. The Wiz has spent some time in the Mile High City and makes this guarantee: if Denver isn't the greatest Frozen Four as far as restaurants and nightlife, I'll eat my sorcerer's cap. By the way, stay away from the Denver Chop House. You wouldn't want to eat there. (Psst...Chop House? Table for ten, please.)
Here's an added bonus: add Milwaukee (2006) to St. Louis (2007) and Denver (2008), and you'll get to visit the Richard, Beliveau and Lafleur of American breweries in back-to-back-to-back seasons.
IW: Although Randall Simon's clubbing of one of the sausages in the Miller Park sausage race earlier this month was a great disservice to a fine family of foodstuffs, it was funny. Which college hockey mascot would you like to club?
Dale in Waukegan, Ill.
Dale: Great question. This is actually a no-brainer.
The University of Denver had a great mascot called Pioneer Pete. Created by Walt Disney Studios, you may remember him as the cherubic character with the chin-strap beard and coonskin cap. A likeable fellow, he was the face of DU athletics for 30 years.
Of course, the university upgraded its athletic facilities and decided to "upgrade" its mascot at the same time. So when Magness Arena opened in 1999, the school axed Pete and welcomed Ruckus, who's supposedly a red-tailed hawk. As an aside, the "bird" that appears on the most recent DU logo is supposed to be a red-tailed hawk, even though it looks more like a) a chewed-up frisbee or, b) a deformed Bat Signal.
Anyhoo, Ruckus doesn't appear to be a red-tailed hawk, but seems more like Foghorn Leghorn's dark-feathered brother. Brutal. To make matters worse, he doesn't wear a hockey jersey or any type of athletic uniform in public. Ruckus is clad in a red vest and an oversized cowboy hat, which makes him look like he came straight from his day job as greeter at the Pueblo Wal-Mart.
Ruckus – can anyone think of a derisive nickname for this guy? Perhaps a derivation of his name? – does have his endearing qualities, however. The Wizard's Denver spies report that the feathery behemoth tumbled down the stairs at a volleyball game last year. Alas, no injuries were reported.
Who would be on your all-time fantasy hockey team?
Sign up for Inside College Hockey's league on whatifsports.com, a sports simulation site that lets users create a dream team of NHL players throughout history to compete against other users. The site charges $9.95 per team. Naturally, in our league, you can only take former college players.

Wizard: If you could choose six players for your all-time fantasy hockey team, what would your roster look like?
Terry in Kenora, Ontario
Terry: Didn't the Kenora Thistles win a Stanley Cup right around the turn of the century? Can anyone verify this?
OK, on to the question. If you asked this question to 100 people, I'd guess 95 of them would load up their teams with the most talented guys they could name off the top of their heads – Nieuwendyk, Chelios, Leetch. You get the point.
But not me. My selections are based solely on personal satisfaction. So here goes...
G: Adam Hauser, Minnesota: Sure, he won a national title. But if I got the chance to watch him in person for 40 games, I'd have enough material to last five hockey seasons.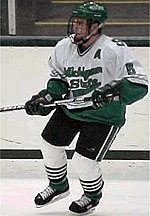 Weave was a great college hockey player, and he's an easy pick for the INCH Wizard's all-time fantasy team.
D: Mike Weaver, Michigan State: He was a darn good college rearguard. But even more important, he designed this web site.
D: Doug Murray, Cornell: Here's why he's on the team. He's from Sweden, and his name is Doug Murray. The Cornell coaching staff reels in a recruit from Scandinavia and the best they can do is Doug Murray? Couldn't they find a Hakan Loob or a Jesper Parnevik or even a freakin' Kent Nilsson? This isn't supposed to happen.
F: Bryce Cockburn, Northern Michigan: Do I even need to explain this to you?
F: Kevin Stevens, Boston College: I hear he's a great guy in the room. But if the team advances to the 2007 Frozen Four in St. Louis, we'll probably have to leave him home.
F: Niko Dimitrakos, Maine: He gets the nod because when I first heard his name, I thought he was the evil guy from "Days of Our Lives." Then I remembered that dude was Ron Mason-clone Victor Kiriakis.
INCH Wizard: Early in the 2002-03 season, we were promised a further investigation into a tailgating game called Beer Darts. To quote Judge Smales of "Caddyshack" fame, "Well, we're waiting!"
Mark in Burnsville, Minn.
Mark: I'm a man of my word, Mark, unless you work for the parking services department at any NCAA Division I institution. Then you don't know me.
I've actually checked out the web site devoted to beer darts (the aptly named www.beerdarts.com) and here's what I've been able to ascertain thus far:
• Beer darts is a tailgating game, with its main purpose being to kill time before and/or after a sporting event in a parking lot near you.
• It's a hybrid of the kind of drinking games one plays in college and North America's favorite lawn game, Jarts. By the way, outside of hockey, has mankind come up with a better game than Jarts? I would love to meet the guy who was hanging around the water cooler one day and said to a co-worker, "Wouldn't it be great to play horseshoes with something lighter like, say, miniature spears?" When I was a kid, we didn't have to worry about gangs, drugs or anything like that. We were too busy dodging Jarts and trying not to get hit in the face with a red rubber orb during dodgeball. But I digress...
• As far as I can tell, competitors sit roughly 25 feet apart. Each has a full can of beer placed at his/her feet. The object of the game, I think, is to hit your foe's can with a dart; the receiver of said dart must drink enough of his beverage to prevent it from leaking through the newly formed hole. The player who finishes his drink first is the loser.
Seems harmless, although I'm not so sure throwing a dart in your buddy's general direction after your sixth or seventh Molson is such a great idea. Perhaps this should be a demonstration sport at the 2004 NCAA Frozen Four in Boston. Anywhere but Detroit.
That's it for now. Thanks for your questions. Keep your head up.
Got a question for the INCH Wizard? Send it to inch@insidecollegehockey.com.