October 21, 2012
This feels a bit like a sudden-death loss, but those of us close to the site have known it
to be inevitable for some time now – it's time for Inside College Hockey to hang up the
skates.
Essentially, real life has caught up with us. Family, jobs, and other responsibilities have
encroached – not on our affinity for college hockey – but on our ability to consistently
generate Power Rankings, First Shifts, conference notebooks, INCH Podcasts, Napkins,
Hobey Trackers and all the other elements that we've consistently produced. It's not fair
to our loyal readers, and all of those participants that make college hockey great, to give
them anything less than our best efforts.
We'll still be at the rinks and following as closely as ever. We will even share some of our
thoughts from time to time, and we've set up inchwriters.com for that purpose. But posts
(and podcasts) there may be sporadic, at least relative to what you're accustomed to here.
When we launched this site, we felt like there was room for more college hockey
coverage, and we still believe that – our game, most college hockey fans will agree,
hardly gets the attention it deserves. We were proud to provide innovative ways to
present stories and ideas that changed the way college hockey is covered by many
traditional and new media outlets.
We also thought there was room for college hockey coverage with a more national
perspective, and with a sense of humor.
We hope we've provided all of that, and we had an absolute blast doing it.
Thanks for reading,
Inside College Hockey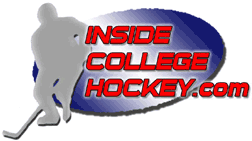 Proceed to InsideCollegeHockey.com | inchwriters.com