INCH UPDATE DESK
March 31, 2008
Wisconsin One-and-Done: Turris Signs With Phoenix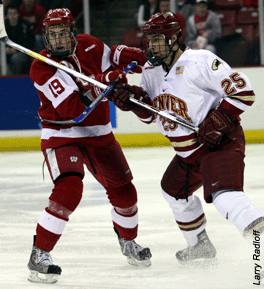 What was among the worst-kept secrets in college hockey history became a formality less than 24 hours after Wisconsin saw its season come to an end, as freshman forward Kyle Turris signed an entry-level contract with the Phoenix Coyotes Monday.
Turris, who led the Badgers in scoring this season with 11 goals and 24 assists in 36 games, was chosen by the Coyotes with the third overall pick in last year's NHL Entry Draft. His signing upon the completion of Wisconsin's season had been rumored for the better part of a month.
The New Westminster, B.C. native is expected to dress for the Coyotes' three remaining regular-season games. Phoenix was eliminated from playoff contention Sunday.
March 20, 2008
2008 Hobey Baker Award Finalists Announced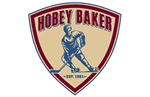 The Hobey Baker Memorial Award Foundation Thursday announced the 10 finalists for the 2008 Hobey Baker Memorial Award. This year's winner will be announced at a ceremony in Denver, site of the NCAA Frozen Four, on Friday, April 11.
The finalists are, in alphabetical order:
The list of finalists will be trimmed to three with the announcement of the Hobey Hat Trick on Wednesday, April 2.
Two of the top juniors in college hockey elected to bypass their final year of eligibility and sign contracts with NHL clubs.
The New Jersey Devils signed Alaska defenseman Tyler Eckford to a entry-level contract. Eckford, who scored eight goals and 31 points in 35 games this past season, last week became the first Nanook skater to be named to the all-CCHA first team. The Langley, British Columbia, native is also a finalist for the league's Best Offensive Defenseman award, which will be announced Thursday in Detroit.
Eckford was the 217th overall pick in the 2004 NHL Entry Draft. During his Alaska career, he scored 16-55—71 in 112 career games.
Michigan Tech goaltender Michael-Lee Teslak signed a free agent deal with the Devils' Atlantic Division rival, the Philadelphia Flyers. He's expected to be in uniform for the Flyers' American Hockey League affiliate, the Philadelphia Phantoms, when they face Hartford Wednesday.
Teslak made 23 starts for the Huskies this past season, posting an 8-11-4 overall record, a 2.20 goals against average, and a .918 save percentage. For his career, the Fernie, British Columbia, product compiled a 26-33-11 record in 73 career games. He ranks third at Michigan Tech in career goals against average (2.66) and third in save percentage (.910).
Also, Providence junior defenseman Cody Wild signed an amateur tryout agreement with the American Hockey League's Springfield Falcons. Wild, who was drafted by the Edmonton Oilers in the fifth round with the 140th overall selection in the 2006 NHL Draft, had 4-18—22 in 32 games this past season and registered 16-41—57 in 100 career games with the Friars.
March 17, 2008
Knee Injury Ends Season For Notre Dame's Condra

Notre Dame junior forward Erik Condra, the team's leading scorer with 38 points in 41 games, will miss the remainder of the season after hurting his left knee in the first period of the Fighting Irish's 2-1 win against Ferris State in the deciding game of a CCHA best-of-three quarterfinal series.
In addition to pacing Notre Dame in points, Condra, a native of Livonia, Mich., leads the team with 23 assists and three shorthanded goals, and he ranks second among Fighting Irish skaters in goals (11), power-play goals (six), and game-winning goals (four). In 119 career games, Condra has 38 goals and 85 assists for 120 career points.
Notre Dame, which finished fourth in the CCHA regular-season standings, plays Miami in league playoff semifinal contest at Joe Louis Arena in Detroit Friday afternoon.
March 17, 2008
Pohl Hospitalized in Mayo ICU With Head Injury

Minnesota senior forward is hospitalized in intensive care at the Mayo Clinic in Rochester, Minn., with a skull fracture, the result of an injury suffered Sunday during the Gophers' win at Minnesota State.
Doctors at St. Mary's Hospital in Rochester, where Pohl was airlifted, performed surgery to stabilize the fracture and stop bleeding on the brain.
Pohl was hurt a little more than six minutes into the second period of the deciding game in the best-of-three WCHA playoff series after he was elbowed in the head by Maverick sophomore forward Jason Wiley. Pohl's head then hit the boards before he went down on the ice. Wiley was given a five-minute major penalty and a game disqualification for the hit.
March 17, 2008
Canisius's Smith Gets Contract Extension
Canisius coach Dave Smith last week agreed to a contract extension that will keep him behind the Golden Griffins' bench through the 2010-11 season.
Smith, a former assistant at Mercyhurst, Bowling Green, and Miami, guided Canisius to an 11-20-6 overall record and a 10-13-5 mark in Atlantic Hockey play, good for a sixth-place finish in the league standings. In three seasons with the Golden Griffins, Smith has compiled a 30-66-11 overall record.
March 11, 2008
Maine's Bishop Signs With St. Louis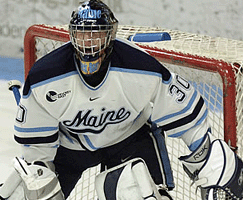 Just days after his team failed to qualify for the Hockey East playoffs, Maine junior goaltender Ben Bishop opted to bypass his final season of college eligibility by signing a contract with the St. Louis Blues.
Bishop, who backstopped the Black Bears to Frozen Four appearances in 2006 and 2007, posted a 13-18-3 record this past season along with a 2.43 goals against average and a .920 save percentage. For his career, Bishop registered a 55-34-7 record. He leaves the school ranked third all-time in games played (99), second in saves (2,399), fourth in goals against average (2.29), fifth in wins (55).
A native of Des Peres, Mo., Bishop was selected by the Blues in the third round of the 2005 NHL Entry Draft with the 85th overall pick. He'll start his professional career with the Peoria Rivermen, the Blues' American Hockey League affiliate.
INCH Update Desk Archives:
2007: December | November | October | September | August | July | June | May | April | March | January
2006: December | November | October | September | August | July | June | May | April | March | February | January
2005: December | November | October | September | August | July | June | May | April