Recruiting Trail
Inside College Hockey's Recruiting Trail features updated commitments by the future stars of the college hockey world. But our recruiting coverage doesn't stop there: we also tackle the issues that colleges and teenage hockey players face as they navigate the recruiting landscape.
The 2006-07 Rankings
Inside College Hockey compiled our 2006 Recruiting Rankings with extensive input from college and junior coaches, as well as professional scouts. Their take on the newcomers:
• Top 20 Forwards
• Top 20 Defensemen
• Top 10 Goalies
• Top 15 Classes
• All-Name Team
Notebook: All in the Family
More than any other sport, it seems, hockey bridges the generational divide. Every year the son, grandson or nephew of a former NHLer pops up to make headlines like their ancestors once did. This year is no exception. | Full Story
Notebook: Year-End Review
The world of college hockey welcomed 2006 much like everyone else did – with hopes and dreams for bigger and better things in the year to come. The events of December on and off the ice, however, allow a few clubs to springboard into the New Year. | Full Story
Notebook: Meet Me in St. Louis
Even though St. Louis's NHL team is in the midst of a dismal season, the Gateway City remains a hockey hotbed thanks to a burgeoning crop of talented junior players. | Full Story

Notebook: Futures Market
One of Wall Street's most critical occupations is that of the futures trader. College hockey has its futures traders as well. They're called assistant coaches. Rarely in the limelight, a typical D-I assistant spends countless hours in a car or in airports on little sleep – all for the purpose of finding the best players. Differentiating a first-liner from a frequent scratch can be a crapshoot. Still, the fate of a D-I program hinges on it. | Full Story
Notebook: Early Season Scouting
You think the college season is long? Try following juniors or midget AAA for a while. Just as the collegians are setting foot on campus in September, the junior, bantam and midget icers are well into training camp. Many, in fact, had already seen meaningful game action, be it preseason, regular season, or in various showcase tournaments throughout the U.S. and Canada. Regardless of the location, the pro and D-I scouts were there. So, too, was Paul Shaheen. | Full Story
The 2005-06 Rankings
Inside College Hockey compiled our 2005 Recruiting Rankings with extensive input from college and junior coaches, as well as professional scouts. Other ratings:
• Top 20 Forwards
• Top 15 Defensemen & Top 10 Goalies
• Top 15 Classes
• Top Players by Origin
• All-Name Team
Notebook: Big Red Machine
Remember the star-studded "Big Red Machine" baseball nines of the '70s in Cincinnati with future Hall of Famers Bench, Morgan, Seaver and the only thing scandalous about Pete Rose was his awful haircut? Three decades later, Cornell coach Mike Schafer is amassing a similarly impressive array of talent. Paul Shaheen highlights members of the next two Big Red freshman classes in this month's Recruiting Notebook. | Full Story
Notebook: Future Watch
They say past performance is a good indicator for future results. Minnesota Duluth certainly hopes so. A group of future Bulldogs put together impressive performances in the 2004-05 postseason, efforts that could bode well for UMD in the years ahead. Paul Shaheen explores that and much more in the latest Recruiting Notebook. | Full Story
Notebook: Youth is Served
If 16-year old Freddy Adu can be considered one of the country's top soccer players and 15-year-old Michelle Wie can rank among the world's best female golfers, it should come as no surprise that college hockey coaches are devoting more time to identifying prospects at an earlier age. Paul Shaheen has more in this Recruiting Notebook | Full Story
Notebook: Rock Solid Recruiting Class


With two straight Frozen Four titles under its belt, the present state of the University of Denver program is as solid as it has ever been. Now it's the future the Pioneers are working hard to protect. And they're doing so by utilizing their typical "spanning the globe" approach. Paul Shaheen explores the next wave of DU standouts in his Recruiting Notebook. | Full Story
Gophers Get their Phil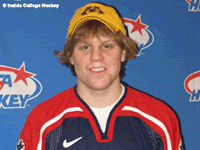 U.S. National Team Development Program superstar recruit Phil Kessel
announced his intentions to attend Minnesota
in the fall at a press conference this afternoon in Ann Arbor. INCH was among the first to
introduce you to Kessel
; then we were the first to let you chat with him thanks to
his appearance in ESPN.com's The Show
after the announcement.
Found on a Cocktail Napkin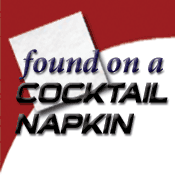 No coach has ever admitted to a bad recruiting class – at least not until the guys step foot on campus. Given that universal truth, sometimes it's hard to figure out what you're getting when you hear a coach talk about his team's commitments. We set out to crack that code and here are nine coaches' recruiting comments, along with their translations, that we Found on a Cocktail Napkin.
Central Scouting Releases Mid-Term Rankings
A slew of college recruits earned mention on the NHL Central Scouting Service's Mid-Term Rankings for the 2005 NHL Entry Draft, led by Jack Johnson (Michigan) and Jack Skille (Wisconsin).
The 2004-05 Rankings
As college hockey freshmen across the country make their introductions on college campuses, INCH is here to introduce you to the best of them.
• Top 20 Forwards
• Top 15 Defensemen & Top 10 Goalies
• Top 15 Classes
• Top Players by Origin
• All-Name Team
Story Archive
Postcard: The Surreal Life
When a bunch of college-bound players meet up with some NHL stars, Kid Rock, and Tara Reid, it leads to an unforgettable scene.
The Next One: Phil Kessel
College scouts are salivating over the prospect of luring Phil Kessel to campus. The 16-year-old says he'll go to college, not major junior, but where he'll end up is anybody's guess.
States of the Game: Strangers in Strange Lands
A guy from Minnesota is the captain at Boston College. What's the college hockey world coming to? As Inside College Hockey takes a close look at where college players are coming from in our second annual States of the Game report, we find that more and more players are moving out of their home areas to go to school.
The 2003-04 Rankings
• Top 15 Freshmen Forwards
• The Top Defensemen & Goalies
• The Top 12 Classes by School
INCH's Recruiting All-Name Team
Who, just by their name appearing in a box score, will bring a smile to our faces? Who can replace the likes of Bryce Cockburn, Scooter Smith and Mike Funk? These guys just might have the stuff to carry on that legacy.
Early Decisions
Talk about your Diaper Dandies. Dick Vitale would have a field day with college hockey, where verbal commitments are pouring in from 15- and 16-year-olds at an unprecedented rate. It seems like something to celebrate at the time for both the team and the player, but will they still think so two or three years later? And is this trend good for the game? Inside College Hockey explores the issue.
States of the Game
How do players from California, Arizona, or Austria end up playing college hockey? All kinds of reasons, and they are becoming more and more common.